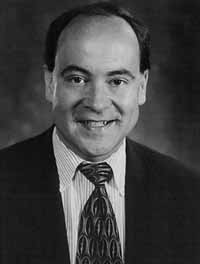 Litigating for Local Liberty: Fighting Grassroots Tyranny in the Schools, City Hall, and Other Government Bureaucracies
CLINT BOLICK
WEDNESDAY, OCTOBER 30, 2002 LUNCH
Clint Bolick cofounded the Institute for Justice in 1991 to engage in constitutional litigation protecting individual liberty. For the past 12 years, he has led the nationwide effort to defend school voucher programs, which provide public money for children to attend private schools. He has won school choice victories in the Wisconsin, Ohio, and Arizona Supreme Courts and most recently won a landmark ruling, Zelman v. Simmons-Harris, in the United States Supreme Court. He has also successfully litigated cases involving issues as diverse as property and occupational rights, affirmative action, interracial adoptions, and the interstate shipping of wine.

Bolick's remarks will address the recent Zelman case, but the overarching theme of his talk will center on the threat local governments pose to individuals' natural rights and constitutional liberties.

The Salvatori Center at Claremont McKenna College is sponsoring Clint Bolick's visit to campus. Lunch begins at 11:45 a.m. Mr. Bolick will speak at 12:15 p.m.