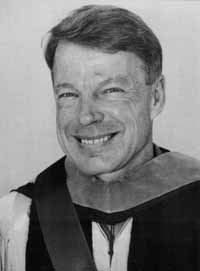 United States Strategy in the 21st Century
P. EDWARD HALEY
WEDNESDAY, NOVEMBER 13, 2002
In his forthcoming book, Strategies of Dominance, Professor P. Edward Haley argues that during the past decade American strategy has moved along an arc from the modesty, self-restraint, and multilateralism of the first Bush administration to the zeal, universalism, and unilateralism of the current Bush administration. His lecture will be a preview of this forthcoming book: a study of American strategy and diplomacy since the end of the Cold War that traces the underlying assumption of each administration about U.S. interest and threats to those interests.

Haley holds the W.M. Keck Foundation Chair of International Strategic Studies at Claremont McKenna College and is Acting Director of the Keck Center for International and Strategic Studies. His scholarly expertise lies in international security and American foreign policy, including arms control, great power relations, U.S.-European relations, and U.S. policy in the Middle East. He was an International Affairs Fellow at the Council on Foreign Relations, a Foreign Affairs Assistant in Congress and in the Senate, and the dean of the School of International Studies at the University of the Pacific. His education includes Bachelor's and Master's degrees from Stanford University and a Ph.D. from Johns Hopkins University.

Professor Haley has edited numerous books including The United States and Europe (1999) and Nuclear Strategy, Arms Control, and the Future (1988). He is the author of Qaddafi and the United States Since 1969 (1984) and Revolution and Intervention: The Diplomacy of Taft and Wilson with Mexico, 1910-1917 (1970), which was awarded the Premio Sahagun by the Mexican National Institute for Anthropology and History. He is also a frequent contributor to the Op-ed page of the Los Angeles Times.

Professor Haley's lecture is part of the ongoing Athenaeum series Faculty Ideas in Progress.