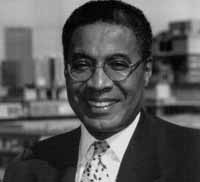 The Impact of Racism and Prejudice on Children
ALVIN POUSSAINT
MONDAY, JANUARY 27, 2003
Few fans realized that the inspiring force behind The Cosby Show and its spin-off, A Different World, was Dr. Alvin Poussaint, a psychiatrist known more for his insightful studies into the needs of the African American family than for his screenwriting talents.

Clinical Professor of Psychiatry at Harvard Medical School, Dr. Poussaint was chosen as script consultant for the two NBC series after his passionate advocacy for more positive black images in American culture came to the attention of the shows' creators. His influence helped break new ground in the depiction of African Americans on television.

Poussaint has advised the State Department, the Department of Health, and even the FBI on racial issues. He is the coauthor of Raising Black Children (1992), as well as his latest work, Lay My Burden Down: Suicide and the Mental Health Crisis Among African Americans (2000).
Born in East Harlem, Poussaint attended Columbia and received his M.D. from Cornell. He received his psychiatric training at UCLA. From 1965-67 he was Southern Field Director of the Medical Committee for Human Rights in Jackson, Mississippi, providing medical care to civil rights workers and aiding in the desegregation of hospitals and health facilities throughout the South. He joined Harvard Medical School in 1969.

Poussaint speaks with refreshing candor on the dynamics of prejudice and the necessities of diversity. He also educates on the use of the media as a learning tool and the impact of televised violence on children and families.

Dr. Poussaint's lecture commemorates the birthday of Dr. Martin Luther King Jr., and is jointly sponsored by the Berger Institute for Work, Family, and Children and the Athenaeum.