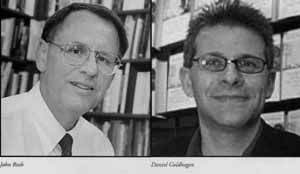 The Vatican, Daniel Goldhagen, and the Holocaust: A Panel Discussion
MICHAEL BERENBAUM
EVE FLEISCHNER
DANIEL GOLDHAGEN
JOHN ROTH
JONATHAN PETROPOULOS, moderator
TUESDAY, FEBRUARY 18, 2003 7:00 pm, McKenna Auditorium
Holocaust scholar Daniel Goldhagen does not pull any punches. In his controversial new book, A Moral Reckoning: The Role of the Catholic Church in the Holocaust and Its Unfulfilled Duty of Repair (2002), Goldhagen asks: To what extent does the Roman Catholic Church bear responsibility for the Holocaust? Contending that discussion has focused too much on Pope Pius XII and too little on the Catholic Church throughout Europe, Dr. Goldhagen argues that the Church's complicity, as well as Pius XII's, in the persecution of the Jews goes much deeper that has been previously understood. In this Athenaeum event, which is part of this semester's series Confronting Evil: Lectures on the Holocaust and Genocide, Dr. Goldhagen will be joined by three panelists, who will discuss Goldhagen's work concerning the role of the Catholic Church in the Holocaust. The panelists will be Michael Berenbaum, this year's William F. Podlich Distinguished Visitor, Eva Fleischner, and John Roth. Daniel Goldhagen holds a Ph.D. in Political Science from Harvard University and taught at Harvard for a number of years. He is the author of Hitler's Willing Executioners: Ordinary Germans and the Holocaust, an important and much debated book about the Holocaust that appeared in 1996.

John Roth is the Russell K. Pitzer Professor of Philosophy at Claremont McKenna College, where he has taught since 1966 and presently chairs the department of philosophy and religious studies. He is the author or editor of numerous books about the Holocaust, including Pope Plus XIl and the Holocaust (2002).

Eva Fleischner, a noted Catholic theologian, is professor emerita at Montclair State University. She has also taught at Colorado College and Marquette University. The author of several Holocaust-related books, she has served on the advisory board of the United States Catholic Bishops' Office on Catholic-Jewish Relations and the International Catholic-Jewish Historical Commission, which investigated archival material from the Vatican that pertains to the Holocaust period.