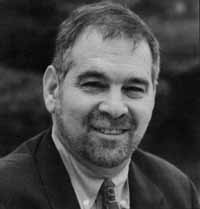 Creating Something from Nothing: The Scholar as Entrepreneur
MICHAEL BERENBAUM
TUESDAY, FEBRUARY 25, 2003
How do we remember a tragedy? Can a museum or a monument help us to actively preserve this memory in a sensitive and edifying manner? Do the U.S. Holocaust Memorial Museum, the National Civil Rights Museum, the Armenian Genocide Museum and Memorial, and most recently the various proposals for a memorial at the site of the World Trade Center help us to understand? In his second Atheneaum lecture, William F. Podlich Distinguished Visitor Michael Berenbaum will discuss the scholar's role in the building of such institutions that have ethical memorialization as their mission.

Michael Berenbaum is a writer, lecturer, and museum development consultant. For three years he was President and Chief Executive Officer of the Survivors of the Shoah Visual History Foundation and previously served as Director of the U.S. Holocaust Research Institute at the U.S. Holocaust Memorial Museum, overseeing its creation. Berenbaum is the author and editor of twelve books, scores of scholarly articles and hundreds of journalistic pieces including his book, After Tragedy and Triumph: Modern Jewish Thought and the American Experience (1991). In film his work as coproducer of "One Survivor Remembers: The Gerda Weissman Klein Story," (1995) was recognized with an Academy award, an Emmy Award and the Cable Ace Award. Currently, Berenbaum is director of the Sigi Ziering Center for the Study of the Holocaust and Ethics at the University of Judaism in Los Angeles, where he is also an Adjunct Professor of Theology.

Berenbaum is a graduate of Queens College (B.A.) and Florida State University (Ph.D.) and has studied at the Hebrew University, the Jewish Theological Seminary, and Boston University.