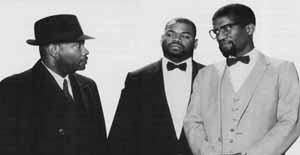 Pin Points Theatre: The Meeting
ERSKY FREEMAN, Malcolm X
JOHN WALKER, Martin Luther King, Jr.
MARK ANDERSON, Bodyguard
THURSDAY, FEBRUARY 27, 2003
Nonviolence is the answer to the crucial political and moral questions of our time: the need for man to overcome oppression and violence without resorting to oppression and violence. Man must evolve for all human conflict a method which rejects revenge, aggression, and retaliation.

-Dr. Martin Luther King, Jr.

Concerning nonviolence, it is criminal to teach a man not to defend himself when he is the constant victim of brutal attacks.

-Malcolm X

A historical hypothetical will come to life as members of the Washington, D.C.-based Pin Points Theatre presents "The Meeting," a fictional encounter between civil rights leaders Malcolm X and Dr. Martin Luther King, Jr., one week before the assassination of Malcolm X. In reality the two men's paths never crossed. In the play the pair meets in a Harlem hotel, at Malcolm X's invitation. They discuss their respective and opposing views on combating injustice-King's philosophy of nonviolent opposition versus Malcolm X's "by any means necessary." Pin Points Theatre's contemporary and historic adaptations have been highly acclaimed by the Smithsonian Institute and the D.C. Commission on the Arts & Humanities. "The Meeting" received the Louis B. Mayer Ward and six New York Audelco nominations, and eight NAACP Theatre Awards. The company was founded in the belief that "theater should be enlightening, as well as entertaining." In this evening's performance, Ersky Freeman will play the role of Malcolm X, John Walker as Dr. Martin Luther King, Jr., and Mark Anderson as Bodyguard.