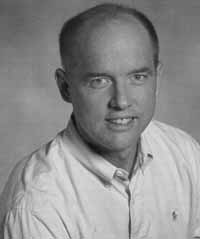 Research in Corporate Finance
HAROLD MULHERIN
WEDNESDAY, MARCH 5, 2003
Merger and acquisition activity tends to cluster around certain periods of time and in certain sectors of the economy. What are the driving forces behind this macro economic trend? How does public policy affect firm behavior? What role does technological innovation play? These are just a few of the questions Professor Harold Mulherin will address in his Athenaeum lecture.

Professor Mulherin has been teaching a course at CMC this semester in which he and his students are conducting research on how technological change and government policy affect how firms conduct business. In his lecture he will present the highlights of this research using case examples from particular industries. A professor at CMC since 2001, Professor Mulherin is being honored this spring as the Don and Lorraine Freeberg Professor of Economics and Finance. Previously, Mulherin was the McKinley Executive Programs Professor at Penn State University. His other academic appointments have included Dartmouth College and Clemson University. He was a Senior Research Scholar at the U.S. Securities and Exchange Commission for three years and also served as a corporate economist at Getty Oil Company and the Federal Home Loan Mortgage Corporation. He received his Ph.D. in economics from UCLA.

Professor Mulherin is a coeditor at the Journal of Corporate Finance. He also serves as an ad-hoc referee for a variety of journals in finance and economics. His research has appeared in a number of publications including the Journal of Financial Economics, the Journal of Finance, the Review of Financial Studies, the Journal of Political Economy, and the Journal of Law and Economics. The central theme of his research is the importance of transaction costs and property rights in explaining the causes and effects of organizational design. His recent research includes "The Impact of Industry Shocks on Takeover and Restructuring Activity" (with Mark Mitchell 1996) and "Comparing Acquisitions and Divestitures" (with Audra Boone 2000).