Athenaeum Location
Print Newsletter
September 8, 2003
Vol. 19, No. 01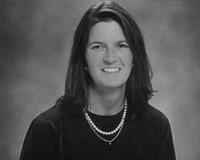 Dinner for the Class of 2007
50 Years of DNA: Where Are We Now?
MARY HATCHER-SKEERS
MONDAY, SEPTEMBER 8, 2003
Popular professor and celebrated scientific scholar Mary Hatcher-Skeers will address the Class of 2007 at this special dinner. All members of the freshman class are automatically signed up for the dinner and must call the Athenaeum (ext. 18244) if unable to attend.

With the increasing popularity of DNA evidence in the courtroom, scientific research involving this molecule has tremendously affected both the medical and legal professions. Perhaps one of the most diversely applicable scientific ideas in the 21st century, the DNA double helix celebrates its 50th anniversary this year. Much has been learned about this amazing molecule since 1953 but there remain many questions about its role in biological functions. With numerous years of experience in DNA-related research, Professor Hatcher-Skeers will highlight the significant findings of the past 50 years and describe some of the exciting research being done today.

Associate Professor in the joint Science Department and Clare Booth Luce Chair of Chemistry, Hatcher-Skeers earned her Ph.D. in Physical Chemistry from the University of Washington in 1996. She was an NIH Postdoctoral Fellow at MIT and Brandeis from 1996-1998. Hatcher-Skeers has been awarded numerous honors for both teaching and research since joining the Claremont faculty in 1998. She is currently working on a project called "DNA Structure and Dynamics in BanHI-DNA Interactions" with a generous grant from the National Institute of Health.

Her research about life and human genomes extends well beyond the classroom as Professor Hatcher-Skeers is a mother expecting her second child in December.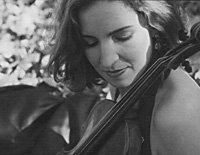 Encore Concert
DEBORAH BUCK, violin
KEVIN FITZ-GERALD, piano
TUESDAY, SEPTEMBER 9, 2003
Violinist Deborah Buck is no stranger to the Athenaeum. Strad Magazine has described her as "particularly impressive for her surpassing degree of imagination and vibrant sound." Such power of performance and artistry has brought this Los Angeles native and Manhattan resident before international audiences as a soloist and chamber musician and now, back by popular demand, to Claremont McKenna College.

Highlights of past seasons have included a performance of the Brahms Sextet in G Major with ltzhak Perlman; a recording of all the violin solos for the original silent film, "The Scarlet Letter" (Turner Classics); a twenty-eight concert tour of Brazil and two performances at the Ath in 1999 and 2002. An active collaborator, Ms. Buck is a member of the critically acclaimed "Lark String Quartet".

Ms. Buck has recorded numerous new works on the North South label and is currently on faculty at the Kinhaven Music School in Wesson, Vermont. She received a Bachelor of Music degree from the Juilliard School, where she was a Starling Scholarship Student of Dorothy Delay. Her Master of Music degree is from the University of Southern California, where she was as a student of Robert Lipsett, and recipient of the 1996 Jascha Heifetz Violin Prize.

Kevin Fitz-Gerald, professor of piano and collaborative arts at the USC Thornton School of Music, Los Angeles, will join Deborah Buck for this evening's recital. He also enjoys a versatile performing career as recitalist, orchestra soloist, and chamber musician. Fitz-Gerald's concert tours and performances have taken place in such notable venues as Carnegie Recital Hall, New York; National Arts Center, Ottowa; Suntori Hall, Tokyo; and frequent recordings for CBC, NPR, KUSC, and K-Mozart radio networks. Born in British Columbia, Mr. Fitz-Gerald studied at the Victoria Conservatory of Music, the Banff School of Fine Arts, and the Royal Conservatory of Music in Toronto.

Deborah Buck and Kevin Fitz-Gerald will perform Beethoven's Piano and Violin Sonata in G Major, No. 8, Poulenc's sonata for Violin and Piano, and Tchaikovsky's "Waltz-Scherzo."

Please join your friends at the Athenaeum for this splendid opening concert.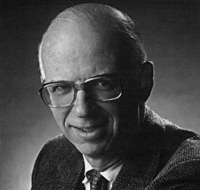 American Politics Beyond Recall
DAVID BRODER
TUESDAY, SEPTEMBER 16, 2003
Broder is not famous like Peter Jennings, he's not glamorous like Torn Brokaw, but underneath that brown suit there is a superman.

-Ron Powers, CBS-TV

David Broder, national political correspondent for The Washington Post, also writes a twice-weekly column, syndicated by The Washington Post Writers Group, that is carried by more than 300 newspapers across the globe.

In 1990 a survey by Washingtonian magazine of the opinion-page editors of the largest 200 newspapers rated Broder as "Best Reporter," "Hardest Working," and "Least Ideological" among some 123 columnists. In March 2001 the magazine rated Broder among the top four best and most influential journalists, calling him "the most unpredictable, reliable and intellectually honest columnist working today," adding "no one gets a better sense of the pulse of American opinion."

Broder was awarded the Pulitzer Prize in May 1973 for distinguished commentary. Other awards, include the prestigious 4th Estate Award from the National Press Foundation and the National Society of Newspaper Columnists Lifetime Achievement Award.

Before joining the Post in 1966, Broder covered national politics for The New York Times, The Washington Star and Congressional Quarterly. He has covered every national campaign and convention since 1960.

Broder is a regular commentator on CNN's "Inside Politics" and makes regular appearances on NBC's "Meet the Press" and "Washington Week in Review." He is author or coauthor of seven books including: Democracy Derailed: Initiative Campaigns and the Power of Money (Harcourt, 2000) and Changing of the Guard: Power and Leadership in America (Simon & Schuster, 1980 and Penguin, 1981).

Broder received his bachelor's degree and an M.A. in political science from the University of Chicago, served two years in the U.S. Army, and began his newspaper career at the Bloomington (Ill.) Pantagraph. He has been a Fellow of the Institute of Politics of the John F. Kennedy School of Government at Harvard University and a Fellow of the Institute of Policy Sciences and Public Affairs at Duke University.
Political Dissent During National Security Crises: A Panel Discussion
JAMES WALSH
JENNY BINDEL '04
SARAH RICE '04
JOHN MEANY, moderator
WEDNESDAY, SEPTEMBER 17, 2003
The United States Constitution guarantees freedom of speech and association, as well as protection against unreasonable search and seizure. In the wake of catastrophic crises and national tragedies, such as those on September 11, patriotic zeal and campaigns to protect the nation against domestic and international terror may threaten those liberties. Although it may identify criminal activity, many citizens and immigrants may find their rights curtailed by enhanced surveillance, investigations of political groups and charitable donations, guilt by association and profiling, and deportations and detentions of 'persons of interest.'

This program will feature an excerpt from the documentary film, "Point of Order" (1963), a review of the 1954 Army-McCarthy hearings, a landmark event in American media politics and the first nationally televised Congressional investigation.

After the film, there will be a moderated panel discussion with audience participation. The panel will feature James Walsh and the award-winning students of The Claremont Colleges Debate Union (CCDU). Walsh is executive director of Harvard University's Managing the Atom project at the Belfer Center for Science and International Affairs, and founder and chair of the Harvard International Working Group on Radiological Weapons. An expert in terrorism, the production of weapons of mass destruction, security studies, and civil liberty issues, Walsh has testified before the United Stares Senate on the issue of nuclear terrorists and served as an expert witness in federal deportation litigation. He has appeared on a variety of television and radio programs, from the BBC, NPR, and CNN to MTV. Walsh's writings have appeared in scholarly journals and editorial pages, including the The New York Times, The Washington Post, the Los Angeles Times, and the Times of London.

The 5-college CCDU is the nation's premiere college debating society, winning scores of awards annually in national and international competition in addition to public debate and educational outreach honors.

John Meany, director of the successful Claremont Colleges Debate Union since 1987, will moderate the panel discussion.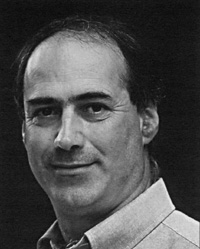 Racism: The Social Consequences of Personal Prejudices
JOHN DOVIDIO
THURSDAY, SEPTEMBER 18, 2003
How are personal prejudices manifested in society? And can people work to change them? In his Athenaeum talk, John Dovidio will discuss the nature of racism in contemporary American society, psychological processes that are associated with racism, and ways to reduce racism and discrimination "People want to be non-prejudiced, but we have unconscious biases which are expressed in subtle ways," states psychologist John Dovidio. Dovidio believes that psychology can allow people to learn more about human behavior in order to improve their own behavior. "If you understand the principles operating around you, you can be free of them."

John Dovidio is a professor of psychology at Colgate University, where he also serves as interim provost and dean of the faculty. Dovidio's research focuses on issues in stereotyping, prejudice, and discrimination; social power and nonverbal communication; and altruists and helping. He has published more than 100 books, articles, and book chapters on these topics; he has recently contributed a chapter, "On the nature of contemporary prejudices: the causes, consequences and challenges of aversive racism" to a book on the problems and response to racism. He is editor-elect of the Journal of Personality and Social Psychology-Interpersonal Relations and Group Processes.

Dovidio received his A.B. from Dartmouth College and his M.A. and Ph.D. degrees from the University of Delaware. In 1985 and 1998 he shared the Gordon Allport Intergroup Relations Prize with Samuel L. Gaertner for their work on aversive racism and ways to reduce bias; in 2000 he won the prize with Kerry Kawakami for their research on reducing spontaneous stereotyping. He has presented to the Panel for the President's Initiative on Race and has worked as a consultant for the Department of Defense, the Air Force, and the New York Senate on race and bias issues.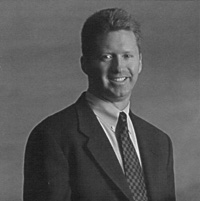 U.S.-German Relations in the Aftermath of the Iraq War
THOMAS KELSEY '88
MONDAY, SEPTEMBER 22, 2003
A career foreign service officer, Tom Kelsey currently serves as Country Desk Officer for Germany in the United States State Department. In this role, he is responsible for the daily monitoring and overview of U.S. political relations with one of the most important allies of the United States and involves intensive and continual interaction with senior officials in both the German and U.S. governments. Prior to his current posting, Kelsey has been at the center of American foreign policy, serving as special assistant to U.S. Secretaries of State Madeline Albright and Colin Powell.

Other postings have included Watch Officer in the State Department Operations Center, Economic Officer in the U.S. Embassy in Kuwait, and Vice Consul and Political Officer in the Embassy in Athens.

Before being commissioned into the Foreign Service in 1994, Kelsey served in the U.S. Army, commanding a company, and was deployed to Operation Desert Storm. He was awarded the Bronze Star Medal for his service in the first Iraq war.

Kelsey has had an extremely successful career in one of the most competitive and demanding arenas of public service. We are pleased to welcome him back to CMC where he will lead a timely discussion about current U.S-German relations. This talk should provide important insights into the differing views of the Iraq War, international relations, and relations with Germany, an historic and vitally important ally.

Tom Kelsey will also meet separately with students who are interested in careers in the Foreign Service. Please check with the Career Services Center for further information on this session.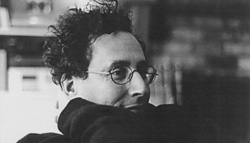 A Conversation with Tony Kushner
TONY KUSHNER
JAMES MORRISON
TUESDAY, SEPTEMBER 23, 2003
By the time Angels in America premiered on Broadway in 1993, Tony Kushner was already a well-known playwright with one important work to his credit, a challenging drama of the Nazi era called A Bright Room Called Day (1985). Even so, though Angels in America: A Gay Fantasia on National Themes (1993) was years in the making and already nearly a legend by opening night, nobody could have predicted the astonishing impact of this capacious, extravagant political fantasia of America in the eras from McCarthy to Reagan and beyond. To say that it is the most important American play of the 1990s is surely no exaggeration; it has been said often, and a raft of prizes -the Pulitzer, the Tony, the Drama Desk and Dramatists Guild awards, to name only a few - attests to that judgment.

Kushner's work is marked by fierce political conviction and extraordinary dramatic resourcefulness. A political play in the tradition of Bertolt Brecht-whose work Kushner has adapted into English -Angels in America equals the commitment and adventurousness of Brechtian drama with none of the shrillness. His subsequent work has been both remarkably prescient and dauntlessly theatrical: Slavs (1995) concerns the breakdown of the Soviet republic, and Homebody/Kabul (2000) was treating political crises in Afghanistan well before the Taliban was known to most Americans. Like Kushner's earlier work, both plays deal with the necessity of moral choice in periods of political turmoil -which is to say, almost always- and they derive from a very distinctive aesthetic. "You have to be interesting and you have to be daring and you have to be willing to write things that shock," says Kushner. "Shock is part of art. Art that's polite is not much fun."

Kushner remains one of the most active figures in modern American theater. A new version of Homebody/Kabul will open in Chicago and Los Angeles in the coming months, and a film version is being directed by Mira Nair. Meanwhile, a miniseries based on Angels in America premieres on HBO this Fall, and Kushner continues to work with author and illustrator Maurice Sendak, a collaboration that resulted most recently in the acclaimed children's opera Brundibar (2003). We are delighted to welcome him to the Athenaeum in conjunction with the Gould Center Seminar on Gay and Lesbian writers of the 20th Century.

James Morrison, associate professor of literature and film studies at CMC, will conduct the onstage interview with Tony Kushner.

Seating for the program is on a first-come basis, with overflow viewing in McKenna Auditorium.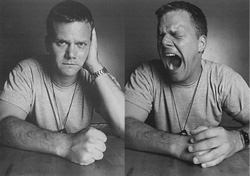 Spoken Word Performance
TAYLOR MALI
WEDNESDAY, SEPTEMBER 24, 2003
He is like nothing you have ever seen before at the MMCA. Four-time National Poetry Slam champion Taylor Mali wows every audience with his dynamic, and brutally honest wit. An Oxford-educated actor with an M.A. in English literature, Mali recently put those skills to use teaching math to sixth graders. Such a background explains his major source of inspiration . . . teaching. What teachers make, or, You can always go to law school if things don't work out is one of Mali's most popular works thanks to its biting humor and his obvious theatrical expertise. In the words of one teacher, "his work is filled with the energy, joy, pathos, and humor of everyday life in the classroom."

Taylor Mali will perform original pieces from his newest CD, Conviction (2003), as well as two previously released CD's entitled Poems from the Like Free Zone (2000) and The Difference Between Left and Wrong (1995). In addition to being a poet and teacher, Mali penned the book, What Learning Leaves (Hanover Press, 2002). The actor has also graced the eternal stage in two 1998 films: Slam, the Sundance Film Festival winner, and Paul Devin's documentary SlamNation. The slam poet recently showcased his new one-man show, Teacher Teacher (2000) for NBC after performing numerous times on HBO's Def Poetry Jam.

Described as "a ranting comic showman and literary provocateur . . ." by the New York Times, Taylor Mali's appearance at the Athenaeum will be an unforgettable event.

Mali's performance is jointly sponsored by the Dean of Students Office and the Marian Miner Cook Athenaeum.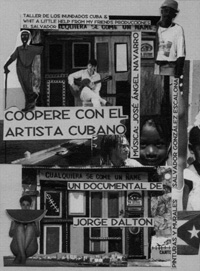 Independent Cuban Short Films
JUAN ANTONIO GARCIA BORRERO, critic and film historian
EVERARDO CHAVEZ, film and performing arts producer
ERNESTO FUNDORA, film and video director, screenwriter
ALEJANDRIO RIOS, drama and literary critic, essayist
THURSDAY, SEPTEMBER 25, 2003
While Cuban cinema-which began with newsreel footage of the Spanish-American War-was born in the last decade of the 19th century, it was not until the 1959 revolution that it broke free of Hollywood's influence and the United States' concurrent cultural domination. Within three months of the rebels' victory over Batista's forces, the revolutionary government established the Cuban Institute of Art and Film Industry (ICAIC), which over the next several decades devoted itself to producing feature films, short subjects, and documentaries that cultural arbiters determined were the kind of cinema best suited to the needs of the people and rulers of the new Cuba.

Twentieth-century history has amply demonstrated that genius finds ways to prosper in even the most authoritarian, repressive, and isolationist of regimes. Such has been the case with Cuban cinema, which has emerged as a prevailing force in the collective memory of the Cuban people. For more than 40 years, master filmmakers like Tomas Gutierrez Alea (whose studies in Rome imbued his and others' work with the influence of Italian neorealism), Santiago Alvarez, Sara Gomez, and Humberto Solas have celebrated the lives of their fellow islanders by conscientiously and uncompromisingly addressing the domestic, socioeconomic, and political realities of everyday life. With such landmark films as Lucia (1969), Memories of Underdevelopment (1968), The Adventures of Juan Quin Quin (1966), and The First Charge of the Machete (1969), these and other directors established a perspective and a sense of place unique to, and reflective of, the Cuban experience.

This Athenaeum program will feature screenings of excerpts from several contemporary Cuban short films, with a presentation and commentary by prominent film and video directors and critics. These include film and performing arts producer Everardo Chavez, who will serve as program coordinator for this event; critic and film historian Juan Antonio Garcia Borrero, author of Guia critica del cine cubano de ficcion ("A Critical Guide to Cuban Fiction Cinema") La edad de la herejia ("The Age of Heresy"), and Rehenes de la sombra ("Hostages of Shadows"); film and video director, screenwriter, and Latin Grammy nominee Ernesto Fundora; and drama and literary critic and essayist Alejandro Rios. This event, coordinated by Professors Esther Hernandez and Mercedes Limon, is sponsored by the Gould Center for Humanistic Studies.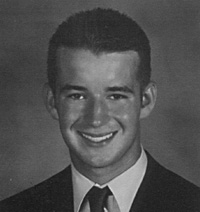 Note from the Director
BONNIE SNORTUM
The 2003-2004 academic year marks the 20th anniversary of the Marian Miner Cook Athenaeum, sometimes referred to as the "Jewel of the Claremont Colleges". It is always a challenge to meet these high expectations, but the Athenaeum team is once again ready to welcome you to what will be an engaging and occasionally provocative series of guest speakers and performances this fall, all accompanied by a gourmet meal prepared by our very own kitchen staff.

I urge you to read the Fortnightly with care. While celebrating our anniversary you will notice that we are also recognizing other significant landmarks. It has been fifty years since the McCarthy hearings, Brown vs. Board of Education, the execution of Julius and Ethel Rosenberg, the end of the Korean War, and the discovery of the DNA double helix. You will find lectures and discussions about such diverse topics as election politics, the First Amendment, economics, personal and public health, conflict resolution, ethical leadership, perspectives on the Holocaust, gay and lesbian writers of the 20th century, and the environment in crisis. Not wishing to slight the arts, you will have the opportunity to meet world-class musicians, poets, and writers.

There are two ways to reserve space at the meal preceding each program. You may fill out the reservation form on the last page of the Fortnightly and deposit it in the box in the Athenaeum lobby, or simply reserve online at www.claremontmckenna.edu/mmca. Reservations are not required if you prefer to attend just the program that begins at 6:45 p.m. CMC students may also sign up to sit with distinguished guests during dinner. Sign up sheets for the head table are in the office.

The Athenaeum was created to enrich the lives of everyone in this college community. The entire staff extends a very warm welcome to you all.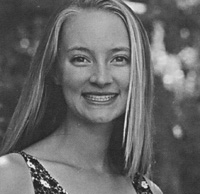 From the Athenaeum Student Fellows
JUSTIN HANCE `06
APRIL WILSON '04
Justin is a dual major in economics and legal studies, however this could still possibly change. In his free time, he enjoys playing tennis, watching movies, and keeping up on the latest political news. This year Justin well also be working as an educational technology assistant, writing for The Claremont Political Journal, and participating in many Intervarsity and Student Alumni Relations Council activities. After graduation, which is fortunately still some time away, Justin plans to attend graduate school for either business or law. Justin encourages everyone to enjoy the Athenaeum's diverse and exciting program for the upcoming academic year.

April Wilson is an International Relations and Spanish dual major entering her final year here at CMC. Originally from Seattle, she enjoys outdoor activities such as hiking, soccer, tennis, and going to the beach. When she is not chatting at the Athenaeum, you will find April planning projects at the Community Service Office, working as ESL-tutoring director, or dancing around her apartment to 80's music. This member of the class of 2004 enjoys singing at Intervarsity activities and eating food at I-Place with cool people from around the world. In the spring, you can find her on the stage in CMC Musical Theater and dancing Flamenco at the International Festival . . . until then, she asks that you please come meet her at the Athenaeum to enjoy delicious food, great company, and incredible speakers.