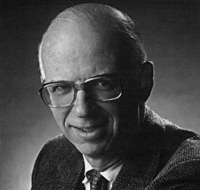 American Politics Beyond Recall
DAVID BRODER
TUESDAY, SEPTEMBER 16, 2003
Broder is not famous like Peter Jennings, he's not glamorous like Torn Brokaw, but underneath that brown suit there is a superman.

-Ron Powers, CBS-TV

David Broder, national political correspondent for The Washington Post, also writes a twice-weekly column, syndicated by The Washington Post Writers Group, that is carried by more than 300 newspapers across the globe.

In 1990 a survey by Washingtonian magazine of the opinion-page editors of the largest 200 newspapers rated Broder as "Best Reporter," "Hardest Working," and "Least Ideological" among some 123 columnists. In March 2001 the magazine rated Broder among the top four best and most influential journalists, calling him "the most unpredictable, reliable and intellectually honest columnist working today," adding "no one gets a better sense of the pulse of American opinion."

Broder was awarded the Pulitzer Prize in May 1973 for distinguished commentary. Other awards, include the prestigious 4th Estate Award from the National Press Foundation and the National Society of Newspaper Columnists Lifetime Achievement Award.

Before joining the Post in 1966, Broder covered national politics for The New York Times, The Washington Star and Congressional Quarterly. He has covered every national campaign and convention since 1960.

Broder is a regular commentator on CNN's "Inside Politics" and makes regular appearances on NBC's "Meet the Press" and "Washington Week in Review." He is author or coauthor of seven books including: Democracy Derailed: Initiative Campaigns and the Power of Money (Harcourt, 2000) and Changing of the Guard: Power and Leadership in America (Simon & Schuster, 1980 and Penguin, 1981).

Broder received his bachelor's degree and an M.A. in political science from the University of Chicago, served two years in the U.S. Army, and began his newspaper career at the Bloomington (Ill.) Pantagraph. He has been a Fellow of the Institute of Politics of the John F. Kennedy School of Government at Harvard University and a Fellow of the Institute of Policy Sciences and Public Affairs at Duke University.