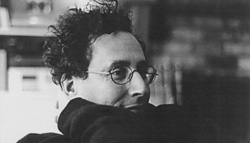 A Conversation with Tony Kushner
TONY KUSHNER
JAMES MORRISON
TUESDAY, SEPTEMBER 23, 2003
By the time Angels in America premiered on Broadway in 1993, Tony Kushner was already a well-known playwright with one important work to his credit, a challenging drama of the Nazi era called A Bright Room Called Day (1985). Even so, though Angels in America: A Gay Fantasia on National Themes (1993) was years in the making and already nearly a legend by opening night, nobody could have predicted the astonishing impact of this capacious, extravagant political fantasia of America in the eras from McCarthy to Reagan and beyond. To say that it is the most important American play of the 1990s is surely no exaggeration; it has been said often, and a raft of prizes -the Pulitzer, the Tony, the Drama Desk and Dramatists Guild awards, to name only a few - attests to that judgment.

Kushner's work is marked by fierce political conviction and extraordinary dramatic resourcefulness. A political play in the tradition of Bertolt Brecht-whose work Kushner has adapted into English -Angels in America equals the commitment and adventurousness of Brechtian drama with none of the shrillness. His subsequent work has been both remarkably prescient and dauntlessly theatrical: Slavs (1995) concerns the breakdown of the Soviet republic, and Homebody/Kabul (2000) was treating political crises in Afghanistan well before the Taliban was known to most Americans. Like Kushner's earlier work, both plays deal with the necessity of moral choice in periods of political turmoil -which is to say, almost always- and they derive from a very distinctive aesthetic. "You have to be interesting and you have to be daring and you have to be willing to write things that shock," says Kushner. "Shock is part of art. Art that's polite is not much fun."

Kushner remains one of the most active figures in modern American theater. A new version of Homebody/Kabul will open in Chicago and Los Angeles in the coming months, and a film version is being directed by Mira Nair. Meanwhile, a miniseries based on Angels in America premieres on HBO this Fall, and Kushner continues to work with author and illustrator Maurice Sendak, a collaboration that resulted most recently in the acclaimed children's opera Brundibar (2003). We are delighted to welcome him to the Athenaeum in conjunction with the Gould Center Seminar on Gay and Lesbian writers of the 20th Century.

James Morrison, associate professor of literature and film studies at CMC, will conduct the onstage interview with Tony Kushner.

Seating for the program is on a first-come basis, with overflow viewing in McKenna Auditorium.