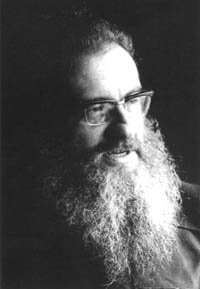 Reading from His Work
W.D. SNODGRASS
TUESDAY, NOVEMBER 11, 2003
Responsible for the emergence of American confessional poetry- and an important influence on Robert Lowell and Anne Sexton- W.D. Snodgrass won the 1960 Pulitzer Prize with his first book, Heart's Needle (1959). The title is taken from an old Irish saying that "An only daughter is the needle of the heart," and it refers to his sequence of poems celebrating his encounters with his young daughter, the only child of a broken marriage. Snodgrass saw much of our domestic suffering as occurring against a backdrop of a universal suffering, and he said that one of his inspirations for Heart's Needle was Gustav Mahler's Kindertotenlieder (1904), a sequence of elegiac songs on the death of children. Snodgrass followed his astonishing first book with After Experience: Poems and Translations (1968), poems preoccupied with social and philosophical subjects as well as lyrics inspired by paintings. Snodgrass then developed a series of dramatic monologues spoken by nine men and women who died in Hitler's bunker in the last days of the Second World War. Collected as The Fuhrer Bunker: The Complete Cycle (1995), the cycle became one of the most controversial books of contemporary poetry as some accused Snodgrass of inviting sympathy for the most contemptible human beings. In fact, Snodgrass was searching for the source of evil often denied in our common humanity.

Born in Wilkinsburg, Pennsylvania, Snodgrass was educated at Geneva College and the University of Iowa and has taught at Cornell, Syracuse, and the University of Delaware. In addition to his poetry, Snodgrass has also published remarkable volumes of critical prose including, In Radical Pursuit: Critical Essays and Lectures (1975), To Sound Like Yourself: Essays on Poetry (2003), and De/compositions (2001), which was a finalist for the 2002 National Book Award.

W.D. Snodgrass returns to CMC as part of the series Athenaeum Encores celebrating the 20th anniversary of the Marian Miner Cook Athenaeum.