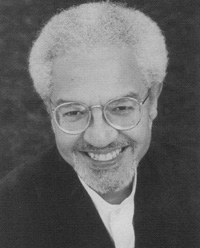 Integration Denied/Equality Deferred: The Failure of Brown vs. Board
MANNING MARABLE
TUESDAY, JANUARY 27, 2004 7:00 p.m. MCKENNA AUDITORIUM
Fifty years have passed since the Supreme Court handed down a landmark ruling in Brown vs. Topeka Board of Education. The ruling was supposed to be the end of the "separate but equal" doctrine established in 1896 in the case of Plessy vs. Ferguson. But, have we progressed as far as many seem to think in this attempt to provide equal opportunity for all? Noted historian, political theorist, and human rights activist Dr. Manning Marable will address this question in a public lecture sponsored by The Claremont Colleges Dr. Martin Luther King,. Jr. Commemoration Committee.

Manning Marable is one of America's most influential historians and political interpreters of the Black experience. A professor of history and political science at Columbia University in New York City since 1993, Marable also serves as the founding director of the Institute for Research in African American Studies. Previously he was founding director of Colgate University's Africana and Hispanic Studies Program, and chaired the Black Studies Department of Ohio State University. Widely respected for his insight on the politics of race in America, Manning Marable also champions the struggles of racial minorities, women, lesbian, gay, labor, and social justice groups.

With nearly twenty books and a nationally syndicated column, Manning Marable is one of the most widely read intellectuals in the United States. His books and anthologies include: The Great Wells of Democracy: The Meaning of Race in American Life (2003); Let Nobody Turn Us Around: Voices of Resistance, Reform, and Renewal with coeditor Leith Mullings (2000); Dispatches from the Ebony Tower: Intellectuals Confront the African American Experience, editor (2000); Black Leadership (1998); Black Liberation in Conservative America (1997); Speaking Truth to Power: Essays on Race, Radicalism and Resistance (1996); and Beyond Black and White (1995). Marable's syndicated political affairs commentary series, "Along the Color Line," appears in more than 400 publications throughout the United States and internationally.

In 2002 Marable launched the "Africana Criminal Justice Project," to encourage the development of civic capacity building and leadership training among former prisoners. The Project also proposes fundamental legal reforms within the criminal justice system and the prison industrial complex.

Dr. Marable's address begins at 7:00 p.m. in McKenna Auditorium at CMC and is free and open to the public. Reservations for dinner are limited and on a first-come basis. Reservations are not needed to attend just the lecture.