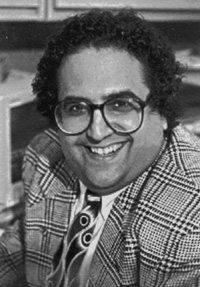 Everything You Ever Wanted to Know About Shyness but Were Too Shy to Ask
BERNARDO CARDUCCI
THURSDAY, FEBRUARY 26, 2004
AIthough more pervasive than commonly expected, shyness is a complex and highly misunderstood personality characteristic. Dr. Bernardo Carducci will address the myths (e.g., Are we born shy?) and misinformation (e.g., Shyness is caused by low self-esteem.) about shyness and discuss the nature and underlying dynamics of shyness. The experience of shyness from the perspective of shy individuals, as well as their responses to their shyness, and tips for dealing with shyness will also be discussed.

Carducci has been studying shyness for over 20 years. He received his Ph.D. in 1981 from Kansas State University and is now a Professor of Psychology and Director of the Shyness Research Institute at Indiana University Southeast. In addition to his multiple appearances on ABC's Good Morning America and other national and international media services, Carducci's writings and advice have been featured in such diverse publications as Psychology Today, U.S. News and World Report, Vogue, Glamour, JET, Parenting Magazine, Good Housekeeping, Essence, Child Magazine, Reader's Digest, Redbook, Entrepreneur, Fitness Magazine, The Wall Street Journal, the London Times, the Los Angeles Times, and The New York Times.

Dr. Carducci has written two books on shyness, Shyness: A Bold New Aproach (2000, HarperCollins), a popular-press book offering strategies for controlling shyness in adults and children, which has been translated into five languages. The Shyness Breakthrough: A No-Stress Plan to Help Your Shy Child Warm Up, Open Up, and Join the Fun (Rodale, 2003), is a step-by-step guide for the parents of shy children or teens. He has also written two other books: The Porker Guide to Making Successful Small Talk: How to Talk to Anyone Anytime Anywhere About Anything (1999, Pocket Guide Publishing), an easy-to-use summary of the techniques for mastering the art of conversation, and The Psychology of Personality: Viewpoints, Research, and Applications (1998, BrooksCole Publishers), a college-level textbook.

Professor Carducci's visit is sponsored by the Berger Institute for Work, Family, and Children.