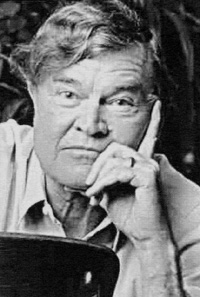 The Poetry of Three Wars: World War I, World War II, and Vietnam
PAUL FUSSELL
MONDAY, MARCH 22, 2004
In a career spanning fifty years since the publication of his first book, Paul Fussell has become one of the most prolific, original, and controversial critics in the United States. Born in Pasadena, California, Fussell attended Pomona College before seeing action in World War II. In the spring of 1945, young Lieutenant Fussell was severely wounded by shrapnel in southeastern France. After his war service, for which he received the Bronze Star and Purple Heart, Fussell returned to Pomona College. He then entered Harvard, where he received his Ph.D. in English, going on to achieve distinction as a literary scholar with his studies of poetic form and eighteenth-century literature.

In 1976, Fussell achieved wider fame with the publication of The Great War and Modern Memory, which received the National Book Award for its brilliant evocation of World War I and the attitudes that informed both the conduct of that war and the literature written about it. Since then, Fussell has published numerous other books dealing with various aspects of literature, politics, and culture, including The Boy Scout Handbook and Other Observations (1982), BAD or, the Dumbing of America (1991), Class: A Guide through the American Status System (1983), Thank God for the Atom Bomb and Other Essays (1988), and Uniforms: Why We Are What We Wear (2002). He is also the author of a candid, irreverent memoir, entitled Doing Battle: The Making of a Skeptic (1996). Most recently, Paul Fussell has returned to the subject of war with his book, The Boy's Crusade: The American Infantry in Northwestern Europe, 1944-1945 (2003). In addition to his writing, Fussell taught English for many years at Rutgers University and at the University of Pennsylvania, where he is Donald T. Regan Professor Emeritus of English Literature. He lives with his wife, Harriette Behringer Fussell, in Philadelphia.

From war to English prosody to the symbolic status of blue jeans, Paul Fussell tackles his subject with intelligence, energy, and acerbic wit. This lecture is sponsored by the Gould Center for Humanistic Studies at Claremont McKenna College.