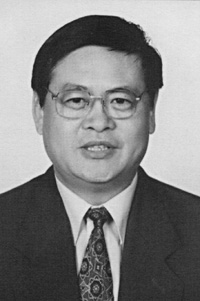 China's Policy Toward the United States
JISI WANG
WEDNESDAY, MARCH 24, 2004
LUNCH 11:45 a.m., LECTURE 12:15 p.m.
The election in Taiwan on March 20, 2004, will make a tremendous impact not only on the island itself but on its relationship with the People's Republic of China. Will the Mainland and the new Taiwanese leadership be able to open a dialogue leading to a reduction of hostility? Or will the two sides be engaged in an escalation of tensions and even a military conflict? The changing cross-strait relationship will, in turn, provide new determinants in China-U.S. relations as well as the security and economic environment in Asia.

A leading Chinese foreign policy analyst, Professor Jisi Wang will present a Chinese perspective on the Taiwan issue in the context of the PRC's foreign relations and domestic politics. Professor Wang has been director of the Institute of American Studies at the Chinese Academy of Social Sciences since 1993. He is concurrently director of the Institute of International Strategic Studies at the Central Parry School, Communist Party of China, and a guest professor of several Chinese universities, including the National Defense University of the People's Liberation Army. He is also consulted by a number of American institutions such as the Pacific Council on International Policy, the Asia Society, the Harvard Asia Center, and the Brookings Northeast Asian Security Program.

Jisi Wang's education was interrupted by the Cultural Revolution, when he was a farmer and factory worker for ten years. Then he studied in Peking University's Department of International Politics, obtained an M.A. in 1983, and taught there until 1991. He was a visiting fellow at Oxford University in 1982-83, a visiting scholar at the University of California at Berkeley in 1984-85, and a visiting associate professor at the University of Michigan at Ann Arbor in 1990-91.

He served as a Freeman Visiting Professor for Asian Affairs at Claremont McKenna College in the fall of 2001. Professor Wang's research and teaching focus on China-U.S. relations and Chinese foreign policy.

The Keck Center for International and Strategic Studies is honored to host Jisi Wang's visit to CMC as a Freeman Foundation Visiting professor.