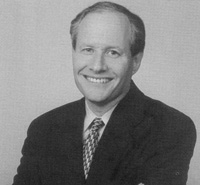 What is at Stake in the 2004 Election?
WILLIAM KRISTOL
THURSDAY, APRIL 8, 2004
LUNCH 11:45 a.m., LECTURE 12:15 p.m.
America faces fateful choices in the coming election, ranging from domestic issues like gay marriage, economic policy, and the judiciary, to America's role in the world. The Henry Salvatori Center and the Marian Miner Cook Athenaeum are pleased to present William Kristol, who will address the importance of the election in light of these concerns.

William Kristol is the founder and editor of the influential Washington-based political magazine, The Weekly Standard. Widely recognized as one of the nation's leading political analysts and commentators, he is a regular guest on television's top news programs. Mr. Kristol recently coauthored The New York Times bestseller The War Over Iraq: Saddam's Tyranny and America's Mission (2003).

Before starting The Weekly Standard in 1995, Kristol led the Project for the Republican Future, where he helped shape the strategy that produced the 1994 Republican congressional victory. Prior to that, he served as chief of staff to Vice President Dan Quayle during the Bush administration and to Secretary of Education William Bennett under President Reagan. Kristol earned his A.B. and Ph.D. from Harvard University. Before coming to Washington in 1985, he taught politics at the University of Pennsylvania and Harvard's Kennedy School of Government.

During his years in government and journalism, William Kristol has acquired a reputation as one of the shrewdest and most insightful observers of American politics. Whether perceiving the first President Bush's political weakness while serving in the White House in 1991, warning Newt Gingrich against overreaching in 1995, or calling attention to the McCain phenomenon ahead of almost everyone else in 1999, Kristol has been ahead of the electoral curve. What does he see for the key 2004 elections, and beyond? Don't miss this important discussion.