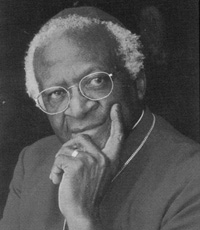 Bridging the Chasm Between Black and White
DESMOND TUTU
TUESDAY, MARCH 30, 2004
LECTURE: BRIDGES AUDITORIUM, 450 N. COLLEGE WAY, 7:00 p.m.
RECEPTION: ATHENAEUM, 8:00 p.m.
One of the most recognized individuals in South African history, Archbishop Desmond Tutu is a noted international figure in the struggle for justice throughout the world.

In 1958 Archbishop Tutu entered the ministry in the Church of the Province of Southern Africa and became an ordinand at St. Peter's Theological College, Rosettenville. After he was ordained to the priesthood in 1961, he left for London where he obtained a Bachelor of Divinity Honours and Master of Theology degree.

In 1976 South Africa was in the wake of the Sowcto uprising and deep in turmoil. Archbishop Tutu was asked to take up the post of General Secretary of the South African Council of churches (SACC). It was in this position, a post he held from 1978-1985, that Archbishop Tutu became a national and international figure. Under Archbishop Tutu's direction, the SACC became a vital institution in South African spiritual and political life. In 1984, Archbishop Tutu's contribution to the cause of racial justice in South Africa was recognized when he received the highest award the world can offer- the Nobel Peace Prize.

In December 1995 President Mandela appointed Archbishop Tutu to head the Truth and Reconciliation Commission. On October 29, 1998 the Commission submitted its first official report to President Mandela, marking yet another significant step in the struggle for justice in South Africa. He retired from office as Archbishop of Cape Town in June 1996, but was named Archbishop Emeritus in July 1996.

Currently, Archbishop Tutu is Chancellor of the University of the Western Cape. He holds honorary degrees from numerous universities, including Harvard, Oxford, Columbia, the Ruhr, Kent, and Aberdeen.

The Res Publica Society of CMC and the Marian Miner Cook Athenaeum are the sponsors of Archbishop Tutu's visit to Claremont. The lecture in Bridges Auditorium is free and open to all, however tickets are required to guarantee a seat in the auditorium. Information on obtaining free tickets will be forthcoming. Please check your campus e-mail for more information, or call Dorothy Buchanan at (909) 621-8456 (ext. 18456). The Athenaeum reception is by reservation and open to CMC persons only.