Athenaeum Location
Print Newsletter
September 13, 2004
Vol. 20, No. 01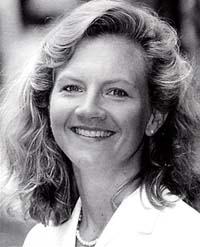 Dinner for the Class of 2008
Oh! The Places You'll Go: The Study of Cultures and National Identity
CARRIE CHORBA
MONDAY, SEPTEMBER 13, 2004
The first Athenaeum dinner of each year is reserved exclusively for members of the freshman class. Traditionally, a member of the CMC faculty is invited to deliver this introductory lecture.

Carrie Chorba began teaching courses in Spanish language and Latin American literature at CMC in 1998. An assistant professor in the department of modern languages, she has become one of the most popular teachers among students at all levels of language study. Professor Chorba also directs CMC's Fulbright applications, a national grant that sends graduates to 140 nations to study, research, and teach. Seven CMC students were awarded Fulbright grants in 2004.

Professor Chorba received an A.B. in Comparative Area Studies from Duke University and completed her doctorate in Hispanic Studies at Brown University. After graduating from Duke, she spent a year as a Fulbright scholar in Colombia studying local poetry traditions. As a graduate student at Brown she received the University-wide Presidential Award for Teaching Excellence.

Her recently completed book manuscript, Mexico from Mestizos to Multicultural: National Identity and Recent Representations of the Conquest, is based on her doctoral thesis in which she focused on how the representation "Mexican" has changed over time in literature, film, art, and theatre. It is a broad look at the intellectual life and national identity of the Mexican culture at the end of the 20th Century.

Everyone at the Marian Miner Cook Athenaeum- staff, faculty, and students- looks forward to welcoming members of the class of 2008 on this special occasion. Freshmen are automatically signed up for the dinner. If you are unable to attend please call the Athenaeum ext. 18244 to cancel.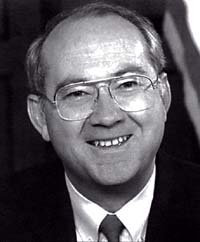 A Conversation with Senator Gramm
PHIL GRAMM
TUESDAY, SEPTEMBER 14, 2004
During 18 years of service in the United States Senate, Phil Gramm has been a relentless opponent of big government, championing the need for balanced federal budgets, tax relief, and responsible overhaul of health care. Since retiring from the Senate in 2002, Senator Gramm has become a vice chairman and investment banker for UBS Investment Bank—one of the largest financial services firms in the world.

Senator Gramm first won election to the House of Representatives as a Democrat, but when the Democratic leadership stripped him of his House Budget Committee seat in retaliation for coauthoring the Reagan economic program, he became the only member of Congress in the twentieth century to resign from Congress and to seek re-election as a member of another political party.

The Gramm legislative record includes such landmark bills as the Gramm-Latta Budgets which reduced federal spending, rebuilt national defense, and mandated the Reagan tax cut. Those budgets launched an economic recovery that created 21 million new jobs. Two years later, Senator Gramm passed his Gramm-Rudman Act, which placed the first binding constraints on Federal spending. Those spending constraints have become a part of each subsequent American budget and together with the strong economy helped to produce the first balanced budget in 30 years. As chairman of the National Republican Senatorial Committee, he led the successful effort to restore a Republican majority in the Senate in 1994.

Senator Gramm holds a Ph.D. in economics, the subject he taught at Texas A&M University for 12 years. He has published numerous articles and books on subjects ranging from monetary theory and policy to private property to the economics of mineral extraction, and served as chairman of the Senate Banking Committee.

The Pacesetters Fellowship Program is the culmination of the hard work and dedication of alumni from the classes of 1948, 1949, and 1950— the Pacesetters. The program attracts leaders in business, academia, and public affairs to Claremont McKenna College for one-on-one interactions with students. Senator Gramm is the fifth Pacesetters Fellow.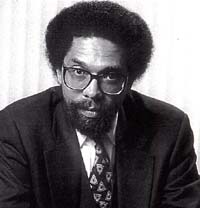 Democracy Matters: Winning the Fight Against Imperialism
CORNEL WEST
THURSDAY, SEPTEMBER 16, 2004
Praised by The New York Times for his "ferocious moral vision" and hailed by Newsweek as "an elegant prophet with attitude," Cornel West is one of America's most gifted, provocative, and important public intellectuals. His work has been described as a "polemical weapon that attempts to transform linguistic, social, cultural, and political tradition to increase the scope of individual development and democratic actions." West's writing, speaking, and teaching weave together the American traditions of the Baptist Church, transcendentalism, socialism, and pragmatism.

A sequel to Cornel West's best-selling book Race Matters (1993), West's latest book Democracy Matters: Winning the Fight Against Imperialism (2004) aims to "look unflinchingly at the waning of democratic energies and practices in our present age of American empire." West argues that American democracy is threatened by free market fundamentalism, aggressive militarism, and escalating authoritarianism. If America is to become a better steward of democratization around the world, he says, we must first wake up to the long history of imperialist corruption that has plagued our own democracy.

Cornel West is the Class of 1943 University Professor of Religion and African American Studies at Princeton University. He holds degrees from Harvard and Princeton, and has also taught at Union Theological Seminary, Yale Divinity School, and Harvard University. Race Matters has been in print since 1993 and has sold more than four hundred thousand copies. Dr. West has won numerous awards, including the American Book Award, and has received more than twenty honorary degrees.

The dinner is open for CMC persons only. All are welcome to attend the lecture at 6:45 p.m. Seating is on a first-come basis.
The Past, Present, and Future of Stem Cell Research
ROBERT LANZA
MONDAY, SEPTEMBER 20, 2004
Stem cells are primitive cells from which other, more specialized cells, develop. Many scientists believe stem cells may someday be useful as therapies for a variety of diseases and conditions, including Alzheimer's, Parkinson's disease, and spinal-cord injuries. But the most useful stem cells come from early human embryos, which are destroyed in the process of retrieving them. As a result, many people oppose stem cell research on moral grounds. As this debate has heated up in the past few years, stem cell research has become a sensitive political issue.

Dr. Robert P. Lanza, Vice President of Medical and Scientific Development at Advance Cell Technology in Worcester, Massachusetts, is on the cutting edge of stem cell research. An Adjunct Professor of Surgical Sciences at Wake Forest University School of Medicine and former Fulbright Scholar, Dr. Lanza has been nominated for a MacArthur Foundation "genius" award. He has over 200 scientific publications, books and patents, including Principles of Tissue Engineering (1996), Yearbook of Cell and Tissue Transplantation (1996), One World: The Health and Survival of the Human Species in the 21st Century (1996), and Xeno: The Promise of Transplanting Animal Organs into Humans (2000). His current area of research focuses on the use of stem cells and nuclear transplantation in regenerative medicine.

Dr. Lanza received his B.A. and M.D. degrees from the University of Pennsylvania, where he was both a University Scholar and Benjamin Franklin Scholar, and has studied with some of the greatest scientific minds of the 20th and 21st centuries. He has worked closely with Jonas Salk (the Salk Institute), Gerald Edelman (Rockefeller University) and Richard Hynes (Center for Cancer Research at MIT). In addition, he has coauthored a series of papers with Christian Barnard, M.D. and B.F. Skinner, Ph.D.

This is a rare opportunity to learn about this widely discussed but little understood issue from one of the premier experts in the field.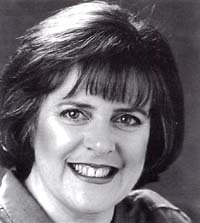 Spiritual Practice and Social Justice
KATHLEEN NORRIS
TUESDAY, SEPTEMBER 21, 2004
Kathleen Norris is an award-winning poet, writer, and the author of New York Times bestsellers The Cloister Walk (1996), Dakota: A Spiritual Geography (1993), Amazing Grace (1999), A Vocabulary of Faith (1999), and The Virgin of Bennington (2001). She lived for 30 years in her grandparent's home in Lemmon, South Dakota, before moving to Hawaii. Norris has drawn upon the harsh landscape of her home in her spiritual musings, which are at once intimate and historical, rich in poetry and meditations, brimming with exasperation and reverence, deeply grounded in both nature and spirit, sometimes funny, often provocative, and always important.

Norris's most recent book, The Virgin of Bennington, chronicles her life before she moved to South Dakota. She describes the internal and external journey of a young artist in trying to find a place for herself amid the cultural tumult of the 1960s and 70s. The book chronicles her relationship with her mentor, Betty Kray. Norris says, "The book that resulted is about me as much as it is about Betty Kray, and I find myself amazed at the tale I've told. It is my life, but it's hard to recognize myself in the nave girl nicknamed The Virgin of Bennington, who emerged from the turbulent sixties with a vocation as a writer.

Norris has been the recipient of grants from the Bush and Guggenheim Foundations. She has twice been in residence at the Institute for Ecumenical and Cultural Research at St. John's Abbey in Collegeville, Minnesota, and has been oblate at a Benedictine Monastery in North Dakota for ten years.
Failing States or Failing Policies? Interpreting the Andean Crisis
CATHERINE CONAGHAN
WEDNESDAY, SEPTEMBER 22, 2004
In an age when we are focused on the war on terrorism, the wars from previous decades get pushed off the front page. Yet, in the Andean region, the war on drugs continues to be waged against guerrilla fighting groups. Though the media's focus may have shifted to the Middle East, the United States remains heavily involved in eradicating drug trafficking in Latin America. What are the consequences of continued U.S. participation in the region? Catherine M. Conaghan is a specialist on Latin American politics whose research interests include politics in the Andes, parties and interest groups in Latin America, political corruption, and U.S.-Latin America relations. Her field research has included work in Ecuador, Peru, and Bolivia.

Conaghan serves as the associate director of the Centre for the Study of Democracy at Queen's University in Canada. She has held research posts at the Woodrow Wilson Center, Princeton University; the Kellogg Institute of the University of Notre Dame; the North-South Center of the University of Miami; and the Instituto de Estudios Peruanos. In 2000 Conaghan held the Knapp Chair of Liberal Arts at the University of San Diego. Her latest book is entitled The Permanent Coup: Deception and the Public Sphere in Fujimori's Peru (University of Pittsburgh Press, forthcoming 2005).

Professor Conaghan's current research includes work on democratization in Latin America, a project sponsored by the United Nations, and ongoing collaboration in the Social Science Research Council (New York) workshops, "Crises in the Andes." Conaghan's appearance at the Athenaeum is part of the series Democracy in Latin America and is sponsored by the Keck Center for International and Strategic Studies and the Athenaeum.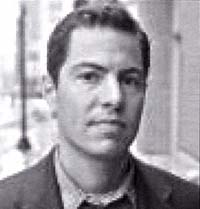 Speaking Out: A Gay Republican's Personal Journey
PATRICK GUERRIERO
THURSDAY, SEPTEMBER 23, 2004
A former mayor, state representative, and candidate for lieutenant governor from Massachusetts, Patrick Guerriero has served as executive director of Log Cabin Republicans and as president of the Liberty Education Forum since January 2003. In his career he has earned a reputation as a dedicated, effective, and compassionate public servant. As a Republican, Guerriero has championed issues important to all citizens: lower taxes, smaller government, improved public schools, safer neighborhoods, and equal rights. In addition, he has advocated for anti-hate-crime legislation and AIDS funding, as well as expansion of domestic partnership benefits.

Guerriero served three terms in the Massachusetts House of Representatives and two terms as mayor of Melrose, Massachusetts. In 2002 he received national attention when Governor Jane Swift of Massachusetts invited him to join the Republican ticket as her running mate. Guerriero campaigned as a fighter for lower taxes, fiscal discipline in government, and improved public schools. Governor Swift eventually stepped aside to support fellow Republican Mitt Romney's candidacy, but Guerriero's candidacy made history as the first time an incumbent governor selected an openly gay politician as a running mate.

Guerriero's advocacy for strong local government earned him the 1998 Fenn Award for Political Leadership from the Kennedy Library's New Frontier Society and the Massachusetts Municipal Association. In the words of Governor Swift, Patrick Guerriero is a "person of talent, of integrity, of commitment and class."

Patrick Guerriero's visit to CMC is jointly sponsored by the Office of the Dean of Students and the Marian Miner Cook Athenaeum.
LOVE MAKES A FAMILY
"A family is a bunch of people, or not so many, who love each other"
—explains seven-year-old Liza Styles, who has two moms

The Dean of Students Office with support from the James Irvine Foundation, the Marian Miner Cook Athenaeum, and the Office of Student Activities are hosting a display of the critically acclaimed photo-text exhibit "Love Makes a Family: Portraits of Lesbian, Gay, Bisexual, and Transgender People and Their Families."

At a time in history when GLBT people continue to fight for basic human rights including the right to legally marry, the right to lead a Boy Scout troop, the right to have access to partner health benefits, and the right to be adoptive and foster parents, Love Makes a Family helps cut through all the political arguments right to the heart of the issue by showing the love, caring, and connection that are so basic to all families. By allowing viewers to come face-to-face with GLBT people, Love Makes a Family sends powerful messages simultaneously that "different is wonderful" and "we're not so different after all."

Photographs by Gigi Kaeser depict a variety of gay, lesbian, bisexual, and transgender people and their families of all races in familiar family settings. The black and white photos are accompanied by text edited by Peggy Gillespie from in-depth interviews she conducted with each family member—including children like Liza—who speak candidly about their lives, their relationships, and the ways in which they cope with the realities of prejudice, bias, and intolerance on a day-to-day basis.

The exhibit will be on display in the Marian Miner Cook Athenaeum on the Claremont McKenna College campus from August 31st through October 8th and in McKenna Auditorium from October 11th through October 14th.

Family Diversity Projects, Inc., a nonprofit educational organization, created Love Makes a Family as a tool to combat homophobia by breaking silence and making the invisible visible. Since it began touring in 1996, the exhibit has traveled to over 1000 communities. Ten copies of Love Makes a Family tour nationwide throughout the year to universities, schools, public libraries, corporate headquarters, statehouses, and houses of worship, supporting the grassroots efforts of activists, friends, and allies who are working in their communities to combat the cycle of ignorance and bigotry toward GLBT people. It serves as a divining rod for informed dialogue in communities where GLBT issues are emerging onto the public agenda.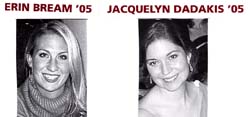 MEET THE ATHENAEUM FELLOWS
ERIN BREAM '05
JACQUELYN DADAKIS '05
Erin Bream is a senior from Tacoma, Washington, majoring in international relations and economics. After spending a semester on the Washington Program and another in Havana, Cuba, during her sophomore and junior years, she is eager for the opportunity to spend an entire year in Claremont as part of the most dynamic place on CMC's campus! When she isn't eating chocolate-covered strawberries at the Ath, you can find her in the student apartments, playing tennis, or watching The Daily Show. Erin hopes to have a hand in bringing engaging speakers on salient issues, and invites other students to let her know their suggestions for events and speakers they would like to see at the Ath this and next year. She hopes that her fellow students will take advantage of the many opportunities that the Ath provides.

Jacquelyn Dadakis is entering her senior year at Claremont McKenna College. She spent her first 18 years in Greenwich, Connecticut, but took off to the West Coast on a whim for her college years. She is very happy with how her gamble has paid off and particularly enjoys phoning her family from the Scripps pool in January. After much debate she finally settled on a major in economics with a particular interest in the economies of developing countries.

When not at the Athenaeum, Jacquelyn represents the Class of 2005 on the ASCMC Executive Board and serves as coeditor of the Claremont Port Side. She has always been a dedicated attendee at Athenaeum events and intends to make this year as memorable as years' past. When seated at the head table during dinner, Jackie encourages you to engage her on issues of politics, art, and the fact the Yankees are going to win the World Series this year.
FROM THE DIRECTOR
BONNIE SNORTUM
The Athenaeum team is once again ready to welcome all of you—new and returning students, faculty, and staff—to what should be an engaging and provocative series of programs this fall. In addition, you will be able to enjoy gourmet meals prepared by Chef David Skinner and our very own kitchen staff.

I urge you to read the Athenaeum newsletter, The Fortnightly, when it appears in your mailbox every other week. The articles provide a description of each program as well as reservation forms for meals. There are two ways to reserve space at the meal that precedes each program. You may fill out the reservation form on the last page of The Fortnightly and deposit it in the box in the Athenaeum lobby, or simply reserve online at www.claremontmckenna.edu/mmca. Reservations are not required if you prefer to attend just the program that begins at 6:45 p.m.

CMC students may also sign up to sit with the distinguished guests during dinner. Sign up sheets for the head table are located in the Athenaeum office inside the lobby.

The fall calendar of guest speakers and programs is also available online. Some themes being developed this academic year include Issues in the 2004 Presidential Election; Torture, Human Rights, and the Geneva Convention; The Islamic World: Past and Present; Frontiers in Medicine; The Environment in Crisis; Financial Economics; Issues in California Criminal Justice; Religion and the American Presidency; Democracy in Latin America; and A Hundred Years of Relativity. As always, music and theater performances will enhance our schedule.

Finally, and perhaps the most important news of all, Ath Tea begins on Monday, September 13th from 3:00 to 4:30 p.m. You and your friends will enjoy homemade treats baked fresh daily by Sid, our renowned pastry chef, and his student helpers.

See you at the Ath!