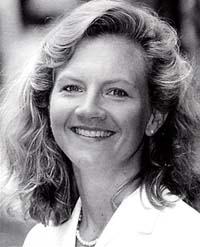 Dinner for the Class of 2008
Oh! The Places You'll Go: The Study of Cultures and National Identity
CARRIE CHORBA
MONDAY, SEPTEMBER 13, 2004
The first Athenaeum dinner of each year is reserved exclusively for members of the freshman class. Traditionally, a member of the CMC faculty is invited to deliver this introductory lecture.

Carrie Chorba began teaching courses in Spanish language and Latin American literature at CMC in 1998. An assistant professor in the department of modern languages, she has become one of the most popular teachers among students at all levels of language study. Professor Chorba also directs CMC's Fulbright applications, a national grant that sends graduates to 140 nations to study, research, and teach. Seven CMC students were awarded Fulbright grants in 2004.

Professor Chorba received an A.B. in Comparative Area Studies from Duke University and completed her doctorate in Hispanic Studies at Brown University. After graduating from Duke, she spent a year as a Fulbright scholar in Colombia studying local poetry traditions. As a graduate student at Brown she received the University-wide Presidential Award for Teaching Excellence.

Her recently completed book manuscript, Mexico from Mestizos to Multicultural: National Identity and Recent Representations of the Conquest, is based on her doctoral thesis in which she focused on how the representation "Mexican" has changed over time in literature, film, art, and theatre. It is a broad look at the intellectual life and national identity of the Mexican culture at the end of the 20th Century.

Everyone at the Marian Miner Cook Athenaeum- staff, faculty, and students- looks forward to welcoming members of the class of 2008 on this special occasion. Freshmen are automatically signed up for the dinner. If you are unable to attend please call the Athenaeum ext. 18244 to cancel.