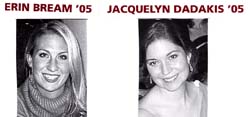 MEET THE ATHENAEUM FELLOWS
ERIN BREAM '05
JACQUELYN DADAKIS '05
Erin Bream is a senior from Tacoma, Washington, majoring in international relations and economics. After spending a semester on the Washington Program and another in Havana, Cuba, during her sophomore and junior years, she is eager for the opportunity to spend an entire year in Claremont as part of the most dynamic place on CMC's campus! When she isn't eating chocolate-covered strawberries at the Ath, you can find her in the student apartments, playing tennis, or watching The Daily Show. Erin hopes to have a hand in bringing engaging speakers on salient issues, and invites other students to let her know their suggestions for events and speakers they would like to see at the Ath this and next year. She hopes that her fellow students will take advantage of the many opportunities that the Ath provides.

Jacquelyn Dadakis is entering her senior year at Claremont McKenna College. She spent her first 18 years in Greenwich, Connecticut, but took off to the West Coast on a whim for her college years. She is very happy with how her gamble has paid off and particularly enjoys phoning her family from the Scripps pool in January. After much debate she finally settled on a major in economics with a particular interest in the economies of developing countries.

When not at the Athenaeum, Jacquelyn represents the Class of 2005 on the ASCMC Executive Board and serves as coeditor of the Claremont Port Side. She has always been a dedicated attendee at Athenaeum events and intends to make this year as memorable as years' past. When seated at the head table during dinner, Jackie encourages you to engage her on issues of politics, art, and the fact the Yankees are going to win the World Series this year.