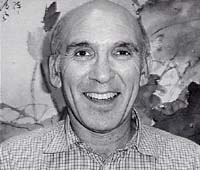 I'll Take You to the Verge of Death: Toward an Understanding of Torture
MICHAEL NUTKIEWICZ
HECTOR ARISTIZABEL, performance artist
ENZO FINA, drums
TUESDAY, OCTOBER 5, 2004
"Torture," writes Dr. Michael Nutkiewicz, "is evil, not for the pain it inflicts but for its attempt to undermine the victim's belief in relationships. The torturer does not so much undermine the victim's sense of self as much as make the victim think he is abandoned and alone. If a survivor cannot rebuild trust and relationships, he is condemned to live along in the anguish of his inner wilderness."

Michael Nutkiewicz is the Executive Director of the Program for Torture Victims, a nonprofit torture treatment program in Los Angeles. He believes that suffering can never be understood outside a social context. As such, the torture survivor challenges us to think about how relationships contribute to rehabilitation and healing.

A UCLA-trained historian, Nutkiewicz lectures and publishes in the areas of Holocaust history, social justice education, and trauma narratives. He has served as Senior Historian of the Survivors of the Shoah Visual History Foundation, and is the oral history consultant for a multidisciplinary study at the UCLA Pediatric Pain Clinic on "Anxiety, Pain, and Self-Efficacy in Children." In 1999, he was an invited speaker to the White House Presidential Scholars Program in Washington DC, where he spoke on "Lessons Learned from a Violent Century."

Hector Aristizabel was born and raised in Medellin, Columbia. Hector was forced to flee because of his commitment to human rights. He is a licensed therapist and an actor and director in the movement known as the Theater of the Oppressed. Aristizabel has received several grants, including one from the California Arts Council that allowed him to work with the Program for Torture Victims' "Healing Club."

Enzo Fina plays frame drums, fina, guitar, mandolin, percussion, putipu, jaw's har, flutes, and sings. Originally from Salice, Italy, he holds a degree in painting, and has trained in various expressive arts, including dance, mime, and puppeteering.

Dr. Nutkiewicz's talk is sponsored by the Athenaeum and by the Center for the Study of the Holocaust, Genocide, and Human Rights.