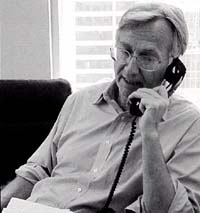 Inside Iraq's Abu Ghraib Prison
SEYMOUR HERSH
WEDNESDAY, OCTOBER 6, 2004
American investigative journalist Seymour Hersh first gained worldwide recognition in 1969 for exposing the My Lai massacre and its cover-up during the Vietnam War, for which he won the Pulitzer Prize for International Reporting. Since then, he's challenged America's power elite by publishing the stories that others can't or won't tell.

In May 2004, Hersh published a series of articles exposing the torture of Iraqi prisoners of war by U.S. military police in the Abu Ghraib prison. The world was scandalized by the graphic photos of abuse that accompanied his article. Hersh went on to allege that the abuses were part of a secret interrogations program, known as "Copper Green", expanded to Iraq with the direct approval of Defense Secretary Donald Rumsfeld to deal with the growing insurgency there. In Hersh's recently published book, Chain of Command: The Road from 9/11 to Abu Ghraib (2004) he draws upon his experience in Iraq to answer the critical question of the last three years: how did America get from the clear September morning when hijackers crashed airplanes into the World Trade Center and the Pentagon to the war in Iraq?

Hersh currently contributes regularly to The New Yorker on military and security matters. He has won more than a dozen major journalism prizes, including the 1970 Pulitzer Prize for International Reporting and four George Polk Awards. His book The Price of Power: Kissinger in the Nixon White House (1983) won for him the National Book Critics Circle Award and the Los Angeles Times book prize for biography.

Please join us for an unforgettable discussion with one of the major reporters of our time.