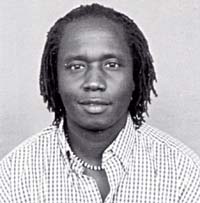 Religion, Race, and the Humanitarian Disaster in Sudan
JOK JOK
TUESDAY, OCTOBER 12
Born and raised in Sudan, Jok Madut Jok grew up in an environment of political instability, dictatorial governments, economic uncertainty, and conflict. His first book, Militarization, Gender, and Reproductive Health in South Sudan (1998), addressed how violence spreads within communities during times of violent political conflict. He based it on his research in Sudan and refugee camps in neighboring countries.

During his recent fellowship at the Woodrow Wilson Center, Jok chronicled the atrocities committed during the war in Sudan and the actions of mediators who have been trying to get the warring parties to advance the peace process. Jok believes that mediation by developed countries in conflicts that are occurring in developing countries is usually marred by the mediators' own history, national interests, and the perceptions held by the country in conflict. He says a peace deal reached between the warring parties has very little relevance to those who actually live in war. The victims of the war are neglected. Today, the war in Sudan drags on and the peace process teeters on collapse in what has become a vicious cycle. "To move forward," Jok says, "we must look for mechanisms to find justice by way of reparations and compensation for the victims."

Jok received his B.A. from University of Alexandria in Egypt; his M.A. from American University in Cairo; and his Ph.D. from University of California, Los Angeles. He is currently an assistant professor of history at Loyola Marymount University.

Professor Jok's Athenaeum presentation is sponsored by the Center for the Study of the Holocaust, Genocide, and Human Rights as part of the series Torture, Human Rights, and the Geneva Convention.