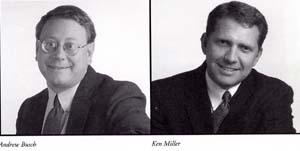 Election Night: Analyzing the Results
ANDREW BUSCH
KEN MILLER
TUESDAY, NOVEMBER 2, 2004
It is a tradition at the Athenaeum to serve a special election night dinner and watch the returns on the big screen. Throughout the evening as the results come in, professors Andrew Busch and Ken Miller will answer questions and spur discussion on what is happening in real time- providing commentary on the presidential election, national congressional races, and California's referendums.

Ken Miller joined the CMC's government department faculty in 2003. A native Southern Californian, Miller graduated from Pomona College in 1985. While at Pomona, he participated in the CMC Washington Program and interned for Congressman David Dreier (CMC '75). He graduated from Harvard Law School in 1988 and practiced full-time at the law firm of Morrison & Foerster, LLP before earning a Ph.D in political science at Berkeley in 2002. While at Berkeley, Miller won a departmental teaching award and served as the administrator of the John Gardner Public Service Fellowship Program. Miller's research has focused on the conflict between direct democracy and representative government. He has a forthcoming article entitled, "The Davis Recall and the Courts."

Andrew Busch, associate professor of government at CMC, joined the faculty this fall from the University of Denver's political science department, where he received the Teacher-Scholar of the Year award in 2002. His research interests include American elections and public policy and the Reagan presidency. He has published 7 books, including The Perfect Tie: The True Story of the 2000 Presidential Election (2001) and Horses in Midstream: U.S. Midterm Elections and Their Consequences, 1894-1998 (1999). Busch received his B.A. in political science and history from the University of Colorado, and his Ph.D. in government from the University of Virginia.

Dinner will he served at the normal time with commentary continuing throughout the course of the meal. Due to the popularity of this event, dinner reservations are for CMC persons only.