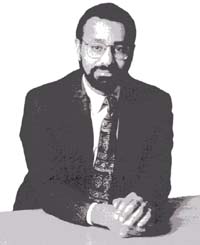 Martin Luther King, Jr. Commemorative Speaker
The Future of the Civil Rights Movement
CHRISTOPHER EDLEY, JR.
MONDAY, JANUARY 24, 2005
Professor Christopher Edley, Jr., who has taught at Harvard Law School since 1981, has been recently named dean of the University of California, Berkeley, School of Law (Boalt Hall). He will be the first African American dean to lead a top-ranked U.S. law school. Edley is founding codirector of The Civil Rights Project, a multidisciplinary research and advocacy think tank based at Harvard, that focuses on a number of cutting edge issues of racial justice. Among many other activities, he is serving a six-year term as a member of the bipartisan U.S. Civil Rights Commission, and he is a member of the oversight committee for the Division of Behavioral and Social Sciences and Education of the research arm of the National Academy of Sciences.

Edley's book, Not All Black & White: Affirmative Action, Race and American Values (1996), stemmed from his work as Special Counsel to President Clinton and Director of the White House Review of Affirmative Action. Between 1997-99, he served in a consulting capacity as Senior Adviser to Clinton for the President's Race Initiative.

Edley's academic work focuses primarily on civil rights, but also delves into administrative law and the role of law in the policy-making process. His courses have included environmental law, federalism, budget policy, defense department procurement law and national security law. He is author of a treatise, Administrative Law: Rethinking Judicial Control of Bureaucracy (1990).

Following graduate school, Edley began his career serving in the Carter Administration as Assistant Director of the White House Domestic Policy Staff, with responsibility for welfare reform, Social Security, and other antipoverty measures. He later served as National Issues Director on the Dukakis presidential campaign. Edley re-entered the political arena in 1992 as a Senior Advisor on Economic Policy for the Clinton-Gore Presidential Transition, and then served for two years in the Clinton Administration as a senior budget and policy official.

Christopher Edley's address marks the Athenaeum's 18th annual commemoration of Dr. Martin Luther King, Jr.

All are welcome.