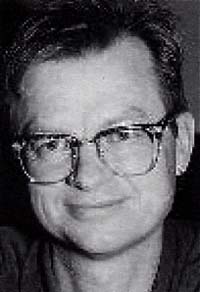 No Need for Miracles: Simulation and the Supernatural
RICHARD HANLEY
WEDNESDAY, JANUARY 26, 2005
What is the nature of humanity? What does it mean to be conscious? How can we live the best life possible? These are just some of the big questions explored by philosopher Richard Hanley in his work on philosophy and science fiction. From Star Wars to Star Trek, Manley mines the science fiction literature for important philosophical insights. He is perhaps best known for his book Is Data Human? The Metaphysics of Star Trek (1997), a philosophical enterprise aimed at providing his readers with an introduction "to the contemporary debates concerning humankind's place in the world, as they apply to the diverse fiction that is Star Trek."

In recent pieces on The Matrix (1999), he takes on diverse subjects ranging from the Christian notion of heaven to Baudrillard's conception of post-modernism. Related to this recent work, in this talk Hanley will explore the theological implications of the so-called "simulation argument," a skeptical argument that concludes that we may be living in a computer simulation of the sort proposed by the Matrix trilogy. As he will suggest, this argument has a surprising consequence for some standard claims about mircalcs. Apparently knock-down possible evidence for the existence of God turns out to be undercut, because miracles may be just glitches in the simulation.

Having received his PhD in philosophy from the University of Maryland, Hanley is professor of philosophy at the University of Delaware. In addition to his work on philosophy and science fiction, he has coedited the forthcoming Blackwell Guide to Philosophy of Language and has published numerous articles in leading philosophical journals such as Philosophical Studies, Synthese, and Pacific Philosophical Quarterly.

His talk is sponsored by the Gould Center for Humanistic Studies as part of the series Philosophy through Science Fiction.