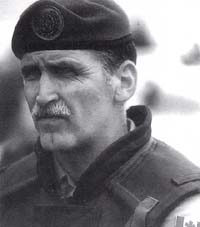 Shake Hands with the Devil: The Failure of Humanity in Rwanda
ROMEO DALLAIRE
MONDAY, JANUARY 31, 2005
The 1994 Rwandan genocide introduced a whole new level of horror to the international community. Since its inception, the United Nations had never faced a humanitarian tragedy of such magnitude. The speed of the killing was five times greater than that of the Nazis at the height of the Holocaust.

When Romeo Dallaire was called on to serve as force commander of the UN Assistance Mission for Rwanda, he believed that his assignment was to help two warring parties achieve the peace they both wanted. Instead, he was exposed to the most barbarous and chaotic display of civil war and genocide in the past decade, observing in just one hundred days the killings of more than eight hundred thousand Rwandans. With only a few troops, his own ingenuity and courage to direct his efforts, Dallaire rescued thousands, but his call for more support from the world body fell on deaf ears. General Dallaire will recount the powerful story of betrayal, naivete, racism and international politics that exposes the failures by humanity to stop the genocide in Rwanda, despite timely warnings. His message is simple and undeniable: "Never again."

General Romeo Dallaire is a bilingual, highly decorated artilleryman, senior executive and human resources generalist, and an outspoken leader for the 21st century. He served in the Canadian Forces in a series of increasingly demanding command and staff appointments before retiring after over three decades of service.

General Dallaire's visit to CMC is sponsored by the Center for the Study of the Holocaust, Genocide, and Human Rights as part the series Torture, Human Rights, and the Geneva Convention.