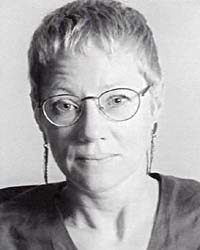 Poetry Reading
LINDA GREGERSON
THURSDAY, FEBRUARY 10, 2005
The river is largely implicit here, but part
of what
becomes it runs from east to west beside

our acre of buckthorn and elm...

Thus begins the title poem of Waterbome (2002), Linda Gregerson's third book of poems, which received the Kingsley Tufts Poetry Award in 2003. The poems in this volume build on sources of inspiration ranging from Michigan's Huron River to Shakespeare's history plays, in a language the poet Edward Hirsch describes as "at once rich and luminous, lyrical and discursive, reckless and well crafted, ancient and new." Gregerson's earlier books of poems are The Woman Who Died in Her Sleep (1996) and Fire in the Conservatory (1982).

She has received awards from the American Academy of Arts and Letters, the Poetry Society of America, and the Modern Poetry Association, and fellowships from the Guggenheim Foundation, the Institute for Advanced Study, the National Humanities Center, and the National Endowment for the Arts. Gregerson is also the author of two volumes of criticism: The Reformation of the Subject: Spenser, Milton, and the English Protestant Epic (1995), and Negative Capability: Contemporary American Poetry (2001).

Gregerson teaches Renaissance literature and creative writing at the University of Michigan, where she is Frederick G. L. Huetwell Professor and Professor of English.