Athenaeum Location
Print Newsletter
February 21, 2005
Vol. 20, No. 08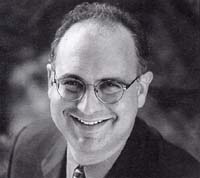 The Business of the Media
JEFFREY KLEIN '75 P'08
MONDAY, FEBRUARY 21, 2005
Is corporate ownership of newspapers, TV, radio stations, and cable outlets a good thing? Jeff Klein spent 15 years in senior management positions with the Los Angeles Times and Times Mirror, a $3 billion media company. Currently, he is the CEO of 101communications, a multimedia B2B publisher serving the information technology market. 101communications has been a player in the consolidation movement in the media industry, particularly focusing on trade magazines. Their business plan is to purchase a number of independent magazines in the same trade and then sell them as a package after establishing a market with advertisers to buy space in the entire group. This facilitates ad sales and gives small trade magazines the resources of a larger company. This consolidation has been criticized, though, for homogenizing the media.

In his Athenaeum talk, Klein will address concerns about media consolidation: Does it cause "sameness" in the news and information we receive? Is it better than the family dynasties that once owned the media? Has corporate ownership changed the way copyright law is being used here in the U.S. so that it discourages competition? What has been the impact of the internet? What is the future of publishing?

Jeff Klein graduated from CMC summa cum laude and received a law degree from Stanford and master of journalism from Columbia. He is also the father of Kevyn Klein, CMC class of '08.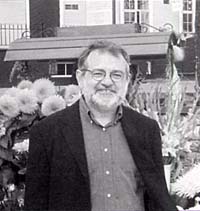 Europe- The Vulnerable Giant
ILYA PRIZEL
TUESDAY, FEBRUARY 22, 2005
The recent expansion of the European Union to twenty-five countries, the relative decline of the United States Dollar vis-a-vis the Euro, and the mere fact that the European Union has surpassed the United States in terms of population as well as the aggregate Gross Domestic Product (GDP) has spurred a series of new books arguing that Europe is destined to become the new superpower of the coming century, supplementing if not supplanting the United States on the world stage. How should the United States gauge and respond to the ascendance of the new expanded Europe?

Professor Ilya Prizel in his address entitled "Europe- The Vulnerable Giant" breaks with the standard evaluations and reinterprets common assessments of the place of Europe in the international system. Prizel will question the force of Europe's "re-emergence" in the international arena at the end of the Cold War and in the twenty-first century. In his address. Prizel will examine the slew of both domestic and external structural challenges that Europe faces. Prizel will argue that Europe is not prepared to meet these challenges and, given its emerging political structures, these burdens ultimately will lead to Europe's accelerating decline.

Ilya Prizel is professor of political science and history at the University of Pittsburgh, and the editor of the leading journal, East European Politics and Society. He is one of the country's foremost scholars on Eastern Europe. He has published numerous articles and books, including National Identity and Foreign Policy: Nationalism and Leadership in Poland, Russia and Ukraine (1998); Postcommunist Eastern Europe: Crisis and Reform (1992); Ethnicity and Foreign Relations: The Case of Ukraine (1993); and Latin America through Soviet Eyes: The Evolution of Soviet Perceptions during the Brezhnev Era 1964-1982 (1990).

Ilya Prizel's lecture is sponsored by The Keck Center for International and Strategic Studies.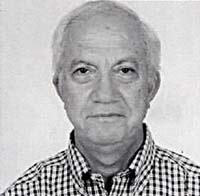 Prospects for Peace in Palestine
WALID KAZZIHA
WEDNESDAY, FEBRUARY 23, 2005
Lunch 11:45 a.m., Lecture 12:15 p.m.
Israelis and Palestinians have been locked in conflict for the past century. Periods of relative tranquility and even hope have alternated with periods of intense violence, marred by desperate acts and reprisals that seemed to doom any hopes of a peaceful settlement. Sadly, the past four years have been a time of terrorism, targeted assassination, economic loss and great suffering on both sides. Literally in the past few weeks, hope has revived following the election of Mahmoud Abbas as president of the Palestinian Authority and the decision of the Israeli government to support his efforts to halt attacks against Israel and to begin a gradual withdrawal of Israeli troops from Palestinian cities in the West Bank and Gaza.

Walid Kazziha brings an exceptional perspective to this agonizing conflict. Educated at the American University in Beirut, the University of Edinborough and the School of Oriental and Asian Studies in London, Professor Kazziha is director of the graduate department of political science at the American University in Cairo. The main focus of his work has been the politics of the Middle East with a focus in recent years on the resurgence of Political Islam in relation to more than one region, and in relation to Muslim communities living in Western societies. Professor Kazziha is the author of numerous books and articles including Revolutionary Transformation in the Arab World (1975) and Political Consciousness and the Crisis of Political Liberalization in the Arab World (2000).

Professor Kazziha's Athenaeum address is sponsored by the Center for the Study of the Holocaust, Genocide, and Human Rights.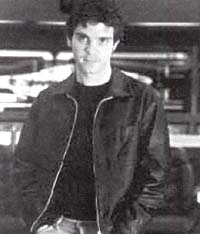 Confessions of a Star Trek Writer
BRANNON BRAGA
WEDNESDAY, FEBRUARY 23, 2005
It's not just anyone who can tell Captain Jean Luc Picard of the U.S.S. Enterprise or Captain Kathryn Janeway of the U.S.S. Voyager what to do and say. But for the last 15 years, that's exactly what Brannon Braga has been doing. As a writer, producer, and creator with Star Trek, Brannon Braga has put words in the mouths of Starfleet officers, Klingons, and the Borg queen. All in all, he has been credited with writing more than 100 episodes for the various Star Trek series, including the highly regarded series finale of Star Next: The Next Generation, for which he won a Hugo Award for excellence in Science Fiction Writing.

After first working with Star Trek: The Next Generation, Braga moved to Star Trek: Voyager when the series premiered in 1995. Currently, Braga serves as co-creator and executive producer of the UPN television series Star Trek: Enterprise. His work with Trek has not been limited to the television shows — he also co-wrote two of the feature films, Star Trek: Generations (1994) and Star Trek: First Contact (1996). First Contact, which earned close to $150 million worldwide during its theatrical release, is the highest grossing of the 10 Trek movies. Braga also received a story credit for his work on Mission: Impossible 2 (2000). He is currently in the process of developing a new television series for Paramount.

A native of Bozeman, Montana, Braga attended Kent State University before studying Theater Arts and Filmmaking at the University of California, Santa Cruz. In 1990, he received a writing internship from the Academy of Television Arts and Sciences, which led to his writing and producing position on Star Trek: The Next Generation.

His talk is sponsored by the Gould Center as part of the series Philosophy through Science Fiction.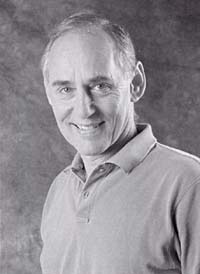 Mediating Evil, War, and Terrorism
KENNETH CLOKE
THURSDAY, FEBRUARY 24, 2005
LUNCH 11:45 a.m., LECTURE 12:15 p.m.
Following the attacks of September 11, 2001, the United States declared a "war on terror." This ongoing conflict has been described as a clash of civilizations and a battle against the forces of evil. In this presentation, acclaimed mediator Kenneth Cloke will explore the dynamics and language of deadly conflicts. What causes conflicts to escalate? Are there ways of cooling down these hot disputes so that further loss of life can be prevented? The values and political assumptions that underlie conflict resolution in serious disputes will be explored, and potential solutions will be proposed. This talk is part of the ongoing speaker series in psychology and law.

Kenneth Cloke is the director of the Center for Dispute Resolution in Los Angeles. He holds a law degree from Boalt Hall and a Ph.D. from UCLA. During his long and distinguished career, he has served as a mediator and arbitrator in international, workplace, educational, commercial, and family disputes. As an international leader in the practice of alternative dispute resolution, Kenneth Cloke has worked as a consultant and trainer in Brazil, China, Cuba, Ireland. Nicaragua, Pakistan, and Thailand. He is the author of several books on conflict resolution, including, Mediating Dangerously: The Frontiers of Conflict Resolution (2001).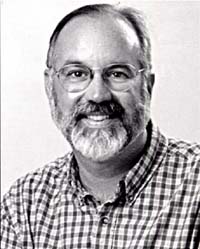 Tattoos on the Heart: Empowering Those for Whom Hope is Foreign
GREGORY BOYLE
THURSDAY, FEBRUARY 24, 2005
Father Gregory J. Boyle, S.J. is a Jesuit priest and Director of Homeboy Industries/Jobs For A Future, an employment referral center for at-risk youth and economic development organization. Begun in 1988 for at-risk and gang-involved youth, Jobs For A Future is now a nationally-recognized center that assists 1,000 people a month in re-directing their lives. Through its unique and multi-service approach, Jobs For A Future offers hope to those for whom hope is often foreign by providing employment opportunities, counseling, and many other services (including free tattoo removal). By seeking to address the root causes of gang violence, Jobs For A Future creates opportunities so that at-risk youth can plan their futures and not their funerals. "Nothing stops a bullet like a job" is the guiding principle.

In 1992, as a response to the civil unrest in Los Angeles, Father Boyle formed Homeboy Industries, to create businesses that provide training, work experience, and above all, the opportunity for rival gang members to work side by side. The following economic development enterprises have been created since the first venture, Homeboy Bakery; Homeboy Silkscreen; Homeboy/Homegirl Merchandise; Homeboy Graffiti Removal, Homeboy Maintenance; and Homehoy Landscaping.

Father Boyle was born in Los Angeles. He received his B.A. in English from Gonzaga University, an M.A. in English from Loyola Marymount University, and an STM degree from the Jesuit School of Theology. Before becoming pastor of Dolores Mission, Father Boyle taught at Loyola High School and worked with Christian Base Communities in Cochabanba, Bolivia. He has also served as Chaplain of the Islas Marias Penal Colony in Mexico and Folsom Prison. Father Boyle is a nationally renowned speaker at conferences for teachers, social workers and criminal justice workers about the importance of adult attention, guidance, and unconditional love in preventing youth from joining gangs. His Athenaeum address is sponsored by the Kravis Leadership Institute at Claremont McKenna College.
15th Annual Kravis-de Roulet Leadership Conference
"Best Practices in Leadership"
Leadership in a Morally Divided World
JOANNE CIULLA
FRIDAY, FEBRUARY 25, 2005
Joanne Ciulla is Professor and Coston Family Chair in Leadership and Ethics at the Jepson School of Leadership Studies, University of Richmond where she is one of the founding faculty members of the school. Dr. Ciulla is a leading authority on leadership and ethics.

Professor Ciulla has also held the UNESCO Chair in Leadership Studies at the United Nations International Leadership Academy in Jordan, and academic appointments at La Salle University, the Harvard Business School, The Wharton School, and Oxford University. In 2003 she received an Outstanding Faculty Award from The State Council of Higher Education of Virginia.

Ciulla writes and lectures on leadership ethics, business ethics and the philosophy of work. Her books include The Working Life: The Promise and Betrayal of Modern Work (2000), and The Ethics of Leadership (2002). She recently co-authoring a business ethics book called Honest Work: A Business Ethics Reader, which will be published by Oxford University Press (2005). Ciulla is currently writing about the origins of leadership.

Ciulla also lectures and consults with business and government agencies in the U.S. and abroad. She has appeared on numerous TV and radio programs and was featured in Bill Moyers "World of Ideas II" series. Ciulla serves on the editorial boards The Leadership Quarterly, The Business Ethics Quarterly, and Leadership. She is also on the board of the Desmond Tutu Peace Foundation.
Workplace Recovery after Major Organization Transition: Best Practices in Leading Organizational Change
MITCHELL LEE MARKS
SATURDAY, FEBRUARY 26, 2005
Lunch, 12:45 p.m., Lecture, 1:15 p.m.
Mitch Marks leads JoiningForces.org in San Francisco and is a consultant to a broad variety of organizations in the United States and abroad. Dr. Marks is a renowned expert on the processes and impact of mergers and acquisitions. He has worked extensively with firms to plan and implement mergers, restructurings, strategic changes, downsizings, alliances, large scale change and other major transitions. His areas of expertise include corporate culture, team building, organizational effectiveness, leadership development, executive coaching, senior team development, human resources management, and the strategic planning and implementation of organizational change. Clients have included firms in the financial, manufacturing, health care, entertainment, high technology, government, publishing, consumer products, and communications industries.

Reports of Mitch's work have been featured in the Wall Street Journal, Fortune, The Economist, U S. News and World Report, Business Week, The New York Times, and The Washington Post. He is the author of five books, including Joining Forces: Making One Plus One Equal Three in Mergers, Acquisitions, and Alliances (1997). He holds a Ph.D. in Organizational Psychology from the University of Michigan and has lectured at the Harvard Business School and Smithsonian Institution.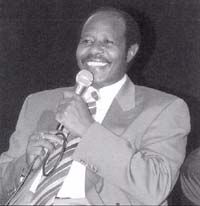 Hotel Rwanda: A Lesson Yet to Be Learned
PAUL RUSESABAGINA
MONDAY, FEBRUARY 28, 2005
Lunch 11:45 a.m., Lecture 12:15 p.m.
Ten years ago, the country of Rwanda descended into madness. Over the course of 100 days, almost one million people were killed as the majority Hutus set out with clubs, guns, and machetes to exterminate their Tutsi countrymen, while the rest of the world turned away.

Paul Rusesabagina risked his life and lives of his family to turn the Rwandan hotel he managed into a sanctuary. Driven by compassion and generosity of spirit, and armed with nothing but some convincing words, Rusesabagina saved the lives of 1,268 people, most of which were children, from being savagely executed.

Rusesabagina was born June 15, 1954 to a farming family and attended 13 years of primary and secondary at a Seventh Day Adventist missionary school. In 1984 he enrolled in the Kenya Utalii College in Nairobi in the Hotel Management course, which he completed in 1984 in Switzerland. He was employed by Sabena Hotels and promoted to general manager. Rusesabagina was at the Mille Collines Hotel in Kigali for almost the entire span of the genocide. In 1996 he went to Belgium as a refugee. From that time to date, he has worked as a businessman and owns a transport company. He is also still involved in charitable organizaions aiding survivors of the Rwandan tragedy and is in the process of setting up a foundation in his name for further assistance.

Paul Rusesabagina served as special consultant to United Artists and Lion's Gate Films' production of this year's award-winning film, Hotel Rwanda (2004). His visit to CMC is jointly sponsored by the Athenaeum and the Center for the Study of the Holocaust, Genocide, and Human Rights.

The lunch is for CMC persons only, the lecture is open to all with overflow seating in McKenna Auditorium.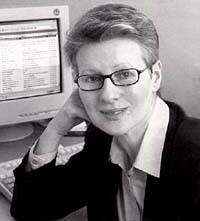 Is Russia Returning to Dictatorship?
LILIA SHEVTSOVA
MONDAY, FEBRUARY 28, 2005
Russia today under President Putin enters a turbulent period in its domestic political development and is in the process or reshaping its international role. On the one hand, Russia continues to be the U.S. partner in the antiterrorist struggle and tries to maintain constructive relations with other Western powers. On the other, Russia's leader openly turns to authoritarian means to consolidate power. Professor Lilia Shevtsova will discuss whether Putin's authoritarian modernization will succeed or whether it will plunge Russia into a new crisis. Her address will examine what Russian domestic developments mean for international relations in general and for the U.S.-Russian partnership in particular.

Lilia Shevtsova, professor of political science at Moscow State Institute for International Relations and Senior Associate at the Carnegie Endowment for International Peace in Moscow, comes to Claremont from Russia in order to analyze recent developments in Russian politics. Shevtsova has written over 400 articles in the Russian and Western press and has authored and co-authored numerous books, including Socialism and Catholicism; Inside the Russian Enigma; Democratization in Russia; Yeltsin's Russia: Myths and Reality (1999); Regime of Boris Yeltsin; Political Russia; Civil-Military Relations and Democracy; New Russia; Europe by Nature; Political Parties in Russia; Political Leadership: From Gorbachev to Putin; State Beyond Crisis: Post-Colonial Africa and Post-Soviet Eurasia in Comparative Perspective; Krieg in Kosovo.

In addition to her extensive teaching and her prolific scholarship, Shevtsova has served on many important commissions in Russia and internationally. Until the early nineties, Shevtsova worked as a department head and then the First Deputy Director of the Institute for International Economic and Political Studies at the Academy of Science. From 1991 to 1992, Shevtsova was member of the Commission investigating the activity of the Communist party of the USSR. In 1997–2002 she was chair of the Program on Eurasia and Eastern Europe of SSRC (New York). In 1999–2002 she was member of the Social Council "In Defense of Freedom of Press" headed by Mikhail Gorbachev. Since 1993 she's been member of editorial boards of the journals Polls, Pro at Contra, Journal of Democracy, Demokratizacija, Megapolis, Moscow News. She is also currently a member of Women in International Security Advising Board, and a member of the Executive Council of Russian Political Association.

Lilia Shevtsova's lecture is sponsored by The Keck Center for International and Strategic Studies.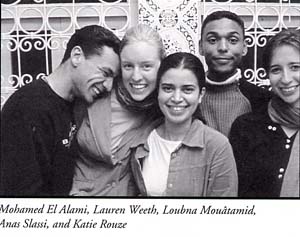 A Bridge to Islam: A Documentary Film Directed by Jean-Louis Boudart
LAUREN WEETH '05
TUESDAY, MARCH 1, 2005
Chaque connaissance est une naissance. Victor Hugo said that every introduction is a new birth. In January 2004, nine students traveled across the world to test the truth of this adage. Lauren Weeth (CMC '05), Katie Rouze (Scripps '05), Karen Chu (CMC '05), and Suzanna Rempel (Scripps '05) were among the inaugural class of a new study abroad program, aimed at improving cross-cultural understanding between America, France, and the Muslim world. At its inception, the program sought open-minded juniors to begin a serious and honest self-examination of how their own cultural biases prevented them from opening up to other cultures. Even before the first students arrived in Marseille, the French national media took an interest in the unique nature of the program, and soon a national syndicate had arranged to make a documentary of the experience—for which Weeth and Rouze were chosen as the primary subjects.

The film follows these students as they engage in intensive study of North African history, theology, and cultural studies through the American University Center of Provence. In France, they tackle internships at organizations serving Marseille's North African population, learn Arabic and belly dancing, and talk with important members of the city's Arab-Muslim community. With candid guidance from renowned Islam expert Bruno Etienne, and a pivotal two-week homestay in Fez, Morocco, the students confront their prior ignorance in order to engage with a culture that post-9/1 1 America seems increasingly willing to paint as "the other."

Lauren Weeth will introduce the film and lead the discussion following its conclusion.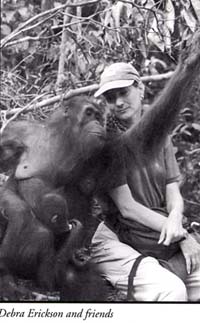 Saving the Orangutans of Borneo
DEBRA ERICKSON
WEDNESDAY, MARCH 2, 2005
There are so many words that can describe Borneo, including verdant, vast, and vibrant. It is the world's third largest island with an extremely diverse flora and fauna that includes over 380 species of birds, 222 species of mammals, and over 3,000 species of trees. Borneo is one of 17,000 islands that comprise the country of Indonesia and it is one of two places on the planet where the orangutan lives.

Unfortunately, as is the case with many other tropical paradises, Borneo's forests are rapidly disappearing and the orangutans with it. More than 80% of the forests have already been logged. If the rate of destruction continues at its current clip, the rainforests and its orangutan residents could vanish within the next 10 years.

Scripps College graduate Debra Erickson will present an overview of the work that Orangutan Foundation International (OFI) is conducting in Central Borneo to protect the orangutan and its dwindling habitat. Erickson works with Dr. Birute Mary Galdikas, the first scientist to conduct a comprehensive study of the orangutan in the wild. Erickson is Conservation Director of OFI and has previously worked for ZILOG, Inc., Anheuser-Busch Companies, SeaWorld of California, SeaWorld of Florida. the San Diego Zoo, the San Diego Wild Animal Park, and Busch Entertainment Corporation in the areas of product development, marketing, public relations, education, and conservation.

Formerly a student of professor of biology Dan Guthrie of the Joint Science Program (CMC/Scripps/Pitzer) Debra Erickson's Athenaeum presentation is sponsored by the Roberts Environmental Center at Claremont McKenna College.
The Dewey Redman Septet: An Evening with Dewey Redman
DEWEY REDMAN, tenor saxophone
TIM HAGANS, trumpet
DAVE WOODLEY, trombone
DANNY HOUSE, alto saxophone
CECILIA COLEMAN, piano
DAREK OLES, bass
JOE LABARBERA, drums
THURSDAY, MARCH 3, 2005
Dewey Redman is one of the most adventurous tenor saxophonists of our time. Downbeat magazine calls him "the greatest living tenor saxophonist." Born in Texas in 1931, Redman took up the clarinet at 13, but switched to alto sax to play in his high school marching band with buddy Ornette Coleman. After getting a masters degree in education, he moved to San Francisco, taught in public schools— and freelanced as a tenor saxophonist with the likes of Pharoah Sanders and Wes Montgomery. In 1967, he moved to New York and formed a close musical association with his friend Ornette Coleman that lasted until 1974. During this time, while on tour with Coleman's avant garde quartet, Redman recorded Tarik (1969).

After Coleman. Redman joined Keith Jarrett's quintet where his versatility brought a unique quality to Jarrett's group. There were frequent recordings during this period that led to even greater exposure. Albums with Charlie Haden, Carla Bley, Don Cherry, Roswell Rudd, and Leroy Jenkins were the result. During the mid-1970's, Redman had the opportunity to record several albums as a leader. Two albums for the Impulse! label: Ear of the Behearer (1973) and Coincide (1974) are classics. Musics (1978) and Sound Sign (1978) were recorded for the Galaxy label. His most recent recording, In London (1996), finds him in top form.

Dewey Redman is a consummate artist in his prime. His message is clear, masterful and dynamic.