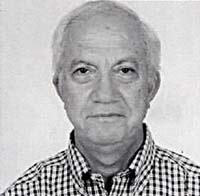 Prospects for Peace in Palestine
WALID KAZZIHA
WEDNESDAY, FEBRUARY 23, 2005
Lunch 11:45 a.m., Lecture 12:15 p.m.
Israelis and Palestinians have been locked in conflict for the past century. Periods of relative tranquility and even hope have alternated with periods of intense violence, marred by desperate acts and reprisals that seemed to doom any hopes of a peaceful settlement. Sadly, the past four years have been a time of terrorism, targeted assassination, economic loss and great suffering on both sides. Literally in the past few weeks, hope has revived following the election of Mahmoud Abbas as president of the Palestinian Authority and the decision of the Israeli government to support his efforts to halt attacks against Israel and to begin a gradual withdrawal of Israeli troops from Palestinian cities in the West Bank and Gaza.

Walid Kazziha brings an exceptional perspective to this agonizing conflict. Educated at the American University in Beirut, the University of Edinborough and the School of Oriental and Asian Studies in London, Professor Kazziha is director of the graduate department of political science at the American University in Cairo. The main focus of his work has been the politics of the Middle East with a focus in recent years on the resurgence of Political Islam in relation to more than one region, and in relation to Muslim communities living in Western societies. Professor Kazziha is the author of numerous books and articles including Revolutionary Transformation in the Arab World (1975) and Political Consciousness and the Crisis of Political Liberalization in the Arab World (2000).

Professor Kazziha's Athenaeum address is sponsored by the Center for the Study of the Holocaust, Genocide, and Human Rights.