Athenaeum Location
Print Newsletter
March 7, 2005
Vol. 20, No. 09
Families Reuniting after Work
RENA REPETTI
MONDAY, MARCH 7, 2005
Professor of psychology, Rena Repetti, is a core faculty member in the Center for the Everyday Lives of Families (CELF) at UCLA, an interdisciplinary research center funded by the Alfred P. Sloan Foundation. Repetti adopts a social ecological approach to study family and individual health and development. She is interested in how experiences outside of the family (primarily at work and at school) shape the patterning of family interactions and, ultimately, the emotional and social functioning of all family members (both children and parents). A central component of the CELF study is a microscopic investigation of a "week in the life" of a sample of families.

Repetti is also interested in the role of early family rearing environments in shaping long-term physical and mental health. The Risky Families Model (Repetti, Taylor, & Seeman, 2002) delineates biological and psychological processes through which a child's healthy development can be hindered by certain family characteristics. Their studies show how stressors spillover into the home and influence the family social environment, including both marital and parent-child interaction.

Dr. Repetti's Athenaeum lecture is sponsored the Berger Institute for Work, Family, and Children at Claremont McKenna College.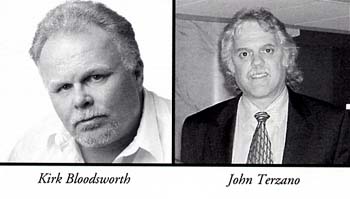 Surviving Injustice: The True Story of the First Death Row Inmate Exonerated by DNA
KIRK BLOODSWORTH
JOHN TERZANO
TUESDAY, MARCH 8, 2005
In June of 1993, Kirk Bloodsworth's case became the first capital conviction in the United States to be overturned as a result of DNA testing. A former Marine and Maryland resident, Bloodsworth was convicted of sexual assault, rape, and first-degree premeditated murder and sentenced to death in 1985.

In 1992, after years of fighting for a DNA test, evidence from the crime scene was sent to a lab for testing. Final reports from state and federal labs concluded that Bloodsworth's DNA did not match any of the evidence received for testing. On June 28, 1993, a Baltimore County circuit judge ordered Bloodsworth released from prison, and in December 1993, Maryland's governor pardoned him. By the time of his release, Bloodsworth had served almost nine years in prison, including two on death row.

On September 5, 2003, the state of Maryland announced they had found a DNA match in the 20-year-old case. That person pled guilty on May 20, 2004 to the murder for which Bloodsworth had been wrongfully convicted.

Today, Bloodsworth is a program officer for The Justice Project's Campaign for Criminal Justice Reform and the Criminal Justice Reform Education Fund, and he has been an ardent supporter of the Innocence Protection Act (IPA). The IPA will establish the "Kirk Bloodsworth Post-Conviction DNA Testing Program," a program that will help states defray the costs of post-conviction DNA testing.

John Terzano is the President of The Justice Project. He has worked on issues of social justice domestically and abroad for over 25 years. A native of Detroit, Terzano served in the U.S. Navy and did two tours of duty in Vietnam. He led the first delegation of veterans to return to Vietnam after the war and was a leading advocate for reconciliation between the United States and Vietnam. Today he is Vice President of the Vietnam Veterans of America Foundation, which he cofounded in 1980. In 1997 the VVAF received a Nobel Peace Prize for their campaign to ban land mines. Terzano is also vice chair of the American Bar Association's Section of Individual Rights and Responsibilities Criminal Justice committee.

This evening's presentation is part of an on going Athenaeum series, Psychology and Law.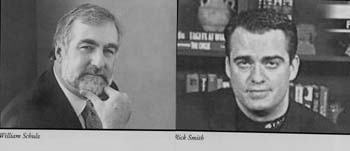 Amnesty International – TASER Debate
WILLIAM SCHULZ
RICK SMITH
P. EDWARD HALEY, moderator
WEDNESDAY, MARCH 9, 2005
William F. Schulz was appointed Executive Director of Amnesty International USA in March 1994. An ordained Unitarian Universalist minister, he came to Amnesty after serving for fifteen years with the Unitarian Universalist Association of Congregations (UUA), the last eight (1985-1993) as President of the Association.

As president of the UUA, Schulz was involved in a wide variety of international and social justice causes. During his years with Amnesty, he has traveled extensively, both in the U.S. and abroad. Throughout his career, he has been outspoken in his opposition to the death penalty and his support for women's rights, gay and lesbian rights, and racial justice. He has appeared frequently on radio and television, and has published and is quoted widely in newspapers and magazines. He is the author of several books, including In Our Own Best Interests: How Defending Human Rights Benefits Us All (Beacon Press, 2001) and Tainted Legacy: 9/11 and the Ruin of Human Rights (Nation Books, 2003).

William Schulz is a Phi Beta Kappa graduate of Oberlin College, holds a master's degree in philosophy from the University of Chicago, and the Doctor of Ministry degree from the Meadville/Lombard Theological School at the University of Chicago.

Rick Smith cofounded TASER International with his brother Thomas P. Smith, the company's president, on September 7, 1993. Rick has served as TASER's Chief Executive Officer and as a director since that time.

Rick and Thomas Smith sought to develop and provide advanced non-lethal devices for use in law enforcement, private security and personal defense markets. Over 6,000 police departments in the United States and abroad have purchased TASER devices, and hundreds have purchased TASER devices for every patrol officer.

After graduating from Harvard with a B.A. degree in Biology, Smith entered directly into the Masters of Business Administration Program at the University of Chicago, the youngest person accepted into his class at the business school. In two years, he completed both his M.B.A. with honors at the University of Chicago, and a Masters Degree in International Finance from the University of Leuven in Leuven, Belgium.

This important and timely discussion is sponsored by the Center for the Study of the Holocaust, Genocide, and Human Rights. Professor Ed Haley of the government department at CMC will moderate.

TASER:

TASER devices are among the safest and most effective use-of-force choices available.
Boards of medical experts and studies in the United States, UK, Canada, and other countries confirm the life-saving value of TASER technology.
TASER International values independent reviews of its products and supports continued study of the use of TASER technology.

AMNESTY:

Since 2001, more than 70 people are reported to have died in the USA and Canada after being struck by M26 or X26 TASERS, with the numbers rising each year.
Portable and easy to use, electro-shock weapons are particularly open to abuse by unscrupulous officials.
Suspend all transfers and use of TASERS and other electro-shock weapons pending a rigorous, independent and impartial inquiry into their use and effects.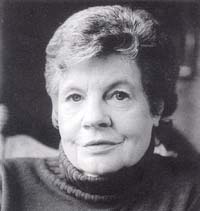 Glass as Metaphor: Reflections on the Development of My Work
A.S. BYATT
THURSDAY, MARCH 10, 2005
Already a formidable literary figure in England, A.S. Byatt achieved bestseller status in the United States with her Booker Prize-winning novel Possession: A Romance (1990), the novel was made into a film in 2002. Her novella Morpho Eugenia (1992), in which she examines the similarities between anthills and 19th century manor households, was made into the film Angels and Insects (1995). Byatt's other fiction includes The Biographer's Tale: A Novel (2001), The Djinn in the Nightingale's Eye (1994), The Matisse Stories (1993), and a quartet of novels about the 1950s and 1960s (The Virgin in the Garden (1978), Still Life (1985), Babel Tower (1996) and A Whistling Woman) (2002). Her critical work includes Degrees of Freedom: The Novels of Iris Murdoch (1965), Passions of the Mind: Selected Essays (1992) and On Histories and Stories: Selected Essays (2000). A.S. Byatt's most recent work, a collection of five short stories entitled The Little Black Book of Stories, was published in April 2004. A Whistling Woman was released in trade paperback in April 2004.

A.S. Byatt could be called the patron saint of bookworms. She describes her often-bedridden childhood self as having been "kept alive by fictions"— mostly the novels of Dickens, Austen, and Scott. She has always been a self-described greedy reader, who weaves her many interests— biology, history, philosophy among them— into her work. The results are novels with, as she has often stated, "the whole world in them"— books that teem with characters and ideas, books in which reading and writing usually prove a matter of life, death, and freedom.

Born in Yorkshire, England, A.S. Byatt read English at Cambridge and continued her studies at Bryn Mawr (PA) and Oxford. She taught English and American literature at University College in London before returning to full-time writing in 1983. In 1990, she was appointed a Commander of the Order of the British Empire by Buckingham Palace, and in 1999 she was made a Dame of the British Empire, honors which recognized her work as a writer and her overall service and contributions to the United Kingdom. In 2002, she received the German Toepfer Foundation's Shakespeare Prize for distinguished contributions to British culture. Her work is translated into 28 languages.

This evening's reading by A.S. Byatt is jointly sponsored by the Gould Center for Humanistic Studies, the department of literature at CMC, and the Athenaeum.
Tribal Gaming in California
MARK MACARRO
MONDAY, MARCH 21, 2005
Mark Macarro, tribal chairman of the Pechanga Band of Luiseno Indians, was first elected in 1992 and is serving his sixth term on the council and fifth term as chairman. Macarro's vision for the Pechanga people is to see the band strengthen its political self-determination and economic self-sufficiency by developing a diversified economy for the Pechanga Band.

A national leader, Macarro represents Pechanga in the National Congress of American Indians (NCAI) and on the board of directors for the National Indian Gaming Association (NIGA). Macarro was the only Native American to serve on the California Workforce Investment Act Board. Macarro is a traditional Luiseno singer, singing ceremonial Nukwaanish funeral songs at Indian wakes throughout area Indian reservations, and is a practitioner of Cham'teela, the Luiseno's native language. Chairman Macarro holds a Bachelor of Arts degree in political science from the University of California, Santa Barbara.

In his Athenaeum talk, Macarro will speak about the triumphs and the difficulties that tribal gaming has faced in California, from the passage of Propositions 5 and 1A, to the issues that face gaming tribes here today. Chairman Macarro will discuss the unique ways that the Pechanga Tribe and other local tribes use gaming resources to protect and expand cultural programs and resources for tribal members. He continues to be a leader in his Tribe and a tireless voice for Native American rights. His discussion will provide unique insight into the successes that are happening in Indian Country today and is second in the series Native Americans in the 21st Century sponsored by the Rose Institute for State and Local Government.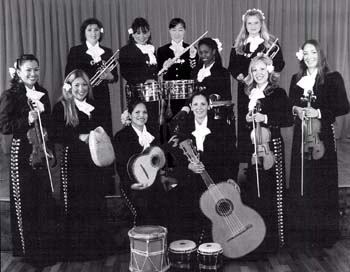 Mariachi Divas: A Musical Celebration in Honor of Cesar Chavez
CINDY SHEA, trumpet, founder, director
MONA SEDA, trumpet
ILEANA GARCIA, vocals
SUSIE GARCIA, violin
KEIKO OKAMOTO, flute
MAYRA MARTINEZ, vihuela
NELLY CORTEZ, guitarron
ROCIO MARRON, violin
LETICIA SIERRA, violin
AKIKO HORII, congas
CYNTHIA GONZALEZ, guitar, vocals
LORENA PANELLA, guitar, vocals
TUESDAY, MARCH 22, 2005
In a business traditionally dominated by men, the Mariachi Divas are making big waves on the Los Angeles scene. Founded in 1999, this all-female sensation has appeared at the Arrowhead Pond and the Universal Amphitheatre backing Grammy winning artist Joan Sebastian, as well as playing at the L.A. County Fair and numerous city-wide festivals. Their concert at the Athenaeum in March 2004 generated such an enthusiastic response that they promised to return— and it is our good fortune to be able to host them again to celebrate the occasion of Cesar Chavez's birthday.

The Mariachi Divas are a truly multi-cultural ensemble, represented by women of Mexican, Samoan, Costa Rican, Cuban, Honduran, Panamanian and Anglo heritages. "Music is a way of uniting our cultural backgrounds. Our foundation and roots are mariachi, but we have added extra elements to reflect our diversity," says director, Cindy Shea. Their lively sounds incorporate jazz, cumbia, salsa, and meringue into traditional mariachi music. By combining a variety of different musical sources, Shea says that, in this respect, the group is, "like the female version of Ozomatli."

In addition to their audio success, the Mariachi Divas appear on film in the documentary, Viva El Mariachi (2005). But the Divas' success is not pure luck, nearly all the women have college degrees and several have degrees in music. These talented female musicians are professionals with a highly contagious spirit and energy.

The Mariachi Divas' guitars, violins, and trumpets, along with their unique ranchera-style vocals, are sure to sweep you off your feet. Celebrating Hispanic culture, the performance is part of Claremont McKenna's 2005 Cesar Chavez Commemoration.
Democracy, Democratization, and Violence: A Dialogue Between Adam Michnik and Jonathan Schell
ADAM MICHNIK
JONATHAN SCHELL
ROBERT FAGGEN, moderator
TUESDAY, MARCH 22, 2005
7:00 p.m. Mary Pickford Auditorium
Adam Michnik, former dissident, historian, writer, lecturer and one of Poland's leading journalists, has been the editor in chief of the first independent Polish daily newspaper, Gazeta Wyborcza, since its inception in 1989. It is now Poland's largest newspaper and one of Europe's most influential dailies. A life-long activist for human rights, he was detained many times between 1965 and 1986, spending a total of six years in prison for his opposition to the communist regime. An adviser to the Solidarity trade union during the 1980s, he was a negotiator for the Solidarity team during the Round Table negotiations of 1989 between representatives of the government, Solidarity and other groups that brought an end to communist rule in Poland. Michnik is the author of countless essays, articles and books, including Letters from Prison and Other Essays (1985), Letters from Freedom: Post-cold War Realities and Perspectives (1998), and The Church and the Left (1993). He has received numerous awards in recognition of his eloquently articulated advocacy of democracy and freedom of the press. He joins Claremont McKenna College this spring as a Podlich Distinguished Fellow.

Jonathan Schell is the Harold Willens Peace Fellow at the Nation Institute, where he is now based, and the Peace and Disarmament Correspondent for The Nation magazine. He has taught at Wesleyan University, Emory University, and Harvard University. From 1967 to 1987, Mr. Schell was a staff writer at The New Yorker magazine. His reflective work on nuclear armament, The Fate of the Earth (1982), became a best-seller and was hailed by The New York Times as "an event of profound historical moment." Mr. Schell's other books include The Village of Ben Sue (1967), The Time of Illusion: Vietnam (1976), The Real War: The Classic Reporting on the Vietnam War with a New Essay (1987), Observing the Nixon Years (1989), and The Unconquerable World: Power, Nonviolence, and the Will of the People (2003). He received the Lannan Award for Literary Non-fiction in 2000.

This event will begin at 7:00 p.m. at the Mary Pickford Auditorium. Professor Robert Faggen will moderate.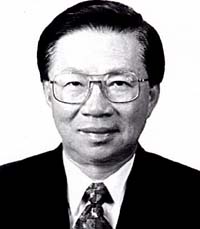 The Cross-Straits Relations: Recent Developments and Future Prospects
HUNG-MAO TIEN
WEDNESDAY, MARCH 23, 2005
Potential conflict in the Taiwan Straits continues to draw widespread attention. In 1996 there was a military crisis that compelled the United States to dispatch two aircraft carrier battle-groups to the area. Since then there have been occasions of tension. Many analysts regard the Taiwan Straits to be one of the hot-spots in today's world.

Dr. Hung-mao Tien will present an analysis on the current state of Taiwan-China relations across the Taiwan Straits. He will examine political, economic and military features that affect the relationship. As China is becoming a major economic and military power, and with rising political influence, many in Washington D.C. are anxious to see that the cross-Straits remains peaceful and stable. But will it be?

Hung-mao Tien has been Taiwan's Minister of Foreign Affairs and its Ambassador to the United Kingdom in recent years under the current administration of President Chen Shui-bian. Prior to that, he served as a senior policy advisor to former President Lee Teng-hui. He also served at the National Unification Council that dealt with Taiwan policy toward China.

Hung-mao Tien received his Ph.D. in Political Science from the University of Wisconsin, and taught for many years in the United States until the early 1990s when he returned to Taiwan, his homeland. He is author, editor, and co-editor of numerous publications on subjects related to Taiwan politics, Chinese politics, the cross-Strait relations, security in Asia, and democracy, among others. He has been an invited lecturer at Harvard, Stanford, U.C. Berkeley, Oxford and Cambridge. He also has spoken at the Council on Foreign Relations in New York and the French Institute of International Relations in Paris.

The Keck Center for International and Strategic Studies is pleased to host The Honorable Hung-mao Tien's visit to CMC as a Freeman Foundation Visiting Professor.
Cesar Chavez Commemoration Keynote speaker
The UFW: Past, Present, and Future
DOLORES HUERTA
THURSDAY, MARCH 24, 2005
For more than thirty years Dolores Huerta was Cesar Chavez's most loyal and trusted advisor. Together they founded the United Farm Workers at a time when the AFL-CIO did not think farm workers could be organized. Her leadership was an integral part of the late 1960's grape boycott that led to collective bargaining agreements for the UFW.

Huerta became involved in the farm workers' movement in 1955, when she quit her job as a teacher because in her words, "I couldn't stand seeing kids come to class hungry and needing shoes. I thought I could do more by organizing farm workers than by trying to teach their hungry children."

She was a founding member of the Stockton chapter of the Community Service Organization, a grass roots organization started by Fred Ross, Sr. The CSO worked at the local level to promote change on issues ranging from segregation to police brutality. It was through her work with the CSO that Huerta met Cesar Chavez. In 1962, after the CSO turned down Chavez's suggestion to organize farm workers, Chavez and Huerta resigned from the CSO and formed the National Farm Workers Association, the predecessor to the UFW. At the time Huerta was a single mother of seven children.

In 1966, Dolores negotiated the first UFW contract with the Schenley Wine Company. This was the first time in the history of the United States that a negotiating committee comprised of farm workers reached a collective bargaining agreement with an agricultural corporation. Besides negotiating, Huerta also helped establish hiring halls, farm worker ranch committees, administered the contracts, and conducted over one hundred grievance procedures on the workers' behalf.

Huerta was an active lobbyist as well, working for key legislation in California including: removing the citizenship requirements from pension, and public assistance programs, allowing voters the right to vote in Spanish, and the right of individuals to take the driver's license examination in their native language. She was instrumental in securing Aid For Dependent Families for the unemployed and underemployed, and disability insurance for farm workers in the State of California. Robert F. Kennedy acknowledged her help in winning the 1968 California Democratic Presidential Primary moments before he was shot in Los Angeles.

In 1984 the California State Senate bestowed upon her the Outstanding Labor Leader Award and in 1993 Dolores was inducted into the National Women's Hall of Fame. In 1998 she was one of three Ms. Magazine's, "Women of the Year" and the Ladies Home Journal ranked her one of the "100 Most Important Women of the 20th Century".

She is currently the Secretary-Treasurer of the United Farm Workers, the Vice-President for the Coalition for Labor Union Women, the Vice-President of the California AFL-CIO, and a board member for the Fund for the Feminist Majority. In 2003 she founded the Dolores Huerta Foundation to provide leadership training in low-income, under-represented communities.

Dolores Huerta is the keynote speaker for The Claremont Colleges annual commemoration of the birthday of Cesar Chavez and is sponsored by the 5-college Cesar Chavez commemoration committee.
STUDENT FELLOW APPLICATIONS
2005—2006
Application forms for the position of Athenaeum Fellow for the 2005—2006 academic year will be available in the Athenaeum office on Friday, March 4, 2005. Completed applications must be returned by Thursday, March 24, 2005, at 5:00 pm. Students desiring to be considered for the following year (2006—2007) but who will be away from campus during the next year's selection process may submit their application now in order to be considered for the future position.