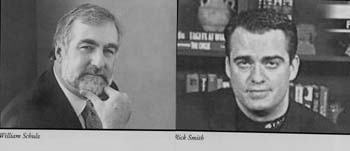 Amnesty International – TASER Debate
WILLIAM SCHULZ
RICK SMITH
P. EDWARD HALEY, moderator
WEDNESDAY, MARCH 9, 2005
William F. Schulz was appointed Executive Director of Amnesty International USA in March 1994. An ordained Unitarian Universalist minister, he came to Amnesty after serving for fifteen years with the Unitarian Universalist Association of Congregations (UUA), the last eight (1985-1993) as President of the Association.

As president of the UUA, Schulz was involved in a wide variety of international and social justice causes. During his years with Amnesty, he has traveled extensively, both in the U.S. and abroad. Throughout his career, he has been outspoken in his opposition to the death penalty and his support for women's rights, gay and lesbian rights, and racial justice. He has appeared frequently on radio and television, and has published and is quoted widely in newspapers and magazines. He is the author of several books, including In Our Own Best Interests: How Defending Human Rights Benefits Us All (Beacon Press, 2001) and Tainted Legacy: 9/11 and the Ruin of Human Rights (Nation Books, 2003).

William Schulz is a Phi Beta Kappa graduate of Oberlin College, holds a master's degree in philosophy from the University of Chicago, and the Doctor of Ministry degree from the Meadville/Lombard Theological School at the University of Chicago.

Rick Smith cofounded TASER International with his brother Thomas P. Smith, the company's president, on September 7, 1993. Rick has served as TASER's Chief Executive Officer and as a director since that time.

Rick and Thomas Smith sought to develop and provide advanced non-lethal devices for use in law enforcement, private security and personal defense markets. Over 6,000 police departments in the United States and abroad have purchased TASER devices, and hundreds have purchased TASER devices for every patrol officer.

After graduating from Harvard with a B.A. degree in Biology, Smith entered directly into the Masters of Business Administration Program at the University of Chicago, the youngest person accepted into his class at the business school. In two years, he completed both his M.B.A. with honors at the University of Chicago, and a Masters Degree in International Finance from the University of Leuven in Leuven, Belgium.

This important and timely discussion is sponsored by the Center for the Study of the Holocaust, Genocide, and Human Rights. Professor Ed Haley of the government department at CMC will moderate.

TASER:

TASER devices are among the safest and most effective use-of-force choices available.
Boards of medical experts and studies in the United States, UK, Canada, and other countries confirm the life-saving value of TASER technology.
TASER International values independent reviews of its products and supports continued study of the use of TASER technology.

AMNESTY:

Since 2001, more than 70 people are reported to have died in the USA and Canada after being struck by M26 or X26 TASERS, with the numbers rising each year.
Portable and easy to use, electro-shock weapons are particularly open to abuse by unscrupulous officials.
Suspend all transfers and use of TASERS and other electro-shock weapons pending a rigorous, independent and impartial inquiry into their use and effects.