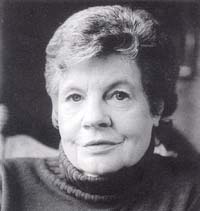 Glass as Metaphor: Reflections on the Development of My Work
A.S. BYATT
THURSDAY, MARCH 10, 2005
Already a formidable literary figure in England, A.S. Byatt achieved bestseller status in the United States with her Booker Prize-winning novel Possession: A Romance (1990), the novel was made into a film in 2002. Her novella Morpho Eugenia (1992), in which she examines the similarities between anthills and 19th century manor households, was made into the film Angels and Insects (1995). Byatt's other fiction includes The Biographer's Tale: A Novel (2001), The Djinn in the Nightingale's Eye (1994), The Matisse Stories (1993), and a quartet of novels about the 1950s and 1960s (The Virgin in the Garden (1978), Still Life (1985), Babel Tower (1996) and A Whistling Woman) (2002). Her critical work includes Degrees of Freedom: The Novels of Iris Murdoch (1965), Passions of the Mind: Selected Essays (1992) and On Histories and Stories: Selected Essays (2000). A.S. Byatt's most recent work, a collection of five short stories entitled The Little Black Book of Stories, was published in April 2004. A Whistling Woman was released in trade paperback in April 2004.

A.S. Byatt could be called the patron saint of bookworms. She describes her often-bedridden childhood self as having been "kept alive by fictions"— mostly the novels of Dickens, Austen, and Scott. She has always been a self-described greedy reader, who weaves her many interests— biology, history, philosophy among them— into her work. The results are novels with, as she has often stated, "the whole world in them"— books that teem with characters and ideas, books in which reading and writing usually prove a matter of life, death, and freedom.

Born in Yorkshire, England, A.S. Byatt read English at Cambridge and continued her studies at Bryn Mawr (PA) and Oxford. She taught English and American literature at University College in London before returning to full-time writing in 1983. In 1990, she was appointed a Commander of the Order of the British Empire by Buckingham Palace, and in 1999 she was made a Dame of the British Empire, honors which recognized her work as a writer and her overall service and contributions to the United Kingdom. In 2002, she received the German Toepfer Foundation's Shakespeare Prize for distinguished contributions to British culture. Her work is translated into 28 languages.

This evening's reading by A.S. Byatt is jointly sponsored by the Gould Center for Humanistic Studies, the department of literature at CMC, and the Athenaeum.