Athenaeum Location
Print Newsletter
March 28, 2005
Vol. 20, No. 10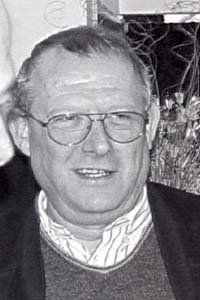 Podlich Distinguished Fellow
The Legacy of Czeslaw Milosz
ADAM MICHNIK
MONDAY, APRIL 4, 2005
Adam Michnik, former dissident, historian, writer, lecturer, and one of Poland's leading journalists, will speak in Parents dining Room at the Athenaeum to discuss the legacy of Czeslaw Milosz. Those wishing to reserve a space at the dinner preceding his talk, please call the Athenaeum at ext. 18244. Seating is limited and on a first-come basis.

A hero to many, Adam Michnik ranks among the most fearless and respected public intellectuals of the last half century. Counted high among Michnik's own heroes is the late Czeslaw Milosz (1911-2004), the poet and essayist who was an inspiration to many who resisted totalitarianism, oppression, and coercion. Michnik has told the story of how during the days of Solidarity, underground publishing was trying to return the opposition in Parliament into a culture: "I remember when I once was arrested the police found a box of treatises by Milosz in my apartment. And during the interrogation the officer was saying, 'Mr. Michnik do you believe that with the help of this little poetry you are going to win against Communism?' And we won."

Michnik, who joins Claremont McKenna College this semester as a Podlich Distinguished Fellow, has been the editor in chief of the first independent Polish daily newspaper, Gazeta Wyborcza, since its inception in 1989. It is now Poland's largest newspaper and one of Europe's most influential dailies. A lifelong activist for human rights, he was detained many times between 1965 and 1986, spending a total of six years in prison for his opposition to the communist regime. An adviser to the Solidarity trade union during the 1980s, he was a negotiator for the Solidarity team during the Round Table negotiations of 1989 between representatives of the government, Solidarity, and other groups that brought an end to communist rule in Poland.

He is the author of countless essays, articles, and books, including Letters from Prison and Other Essays (1985), Letters from Freedom: Post-Cold War Realities and Perspectives (1998), and The Church and the Left (1993). He has received numerous awards in recognition of his eloquently articulated advocacy of democracy and freedom of the press.

Czeslaw Milosz served in the Polish diplomatic corps, defecting from the communist state and settling in the U.S. during the Cold War years. The Nobel Laureate, who died last year, was honored during the Milosz International Festival: The Exile in California, a four-day event held on the CMC campus in 1998, which Michnik attended.
One Step Forward, Two Steps Back? Anti-terrorism Measures and the Implications for Political Liberalization
HEIDI RUTZ
TUESDAY, MARCH 29, 2005
Professor Heidi Rutz joined the faculty of the Strategy and Policy Department at the United States Naval War College in Newport, Rhode Island in August 2003. Prior to joining the Naval War College, she taught as a visiting instructor in the department of government at Claremont McKenna College during 2002-03. She has conducted approximately five years (cumulatively) of field research in Syria, Israel, and Jordan. As a U.S. Fulbright scholar, she also spent two years in Damascus, Syria and has also been a research affiliate with the Truman Institute for the Advancement of Peace at the Hebrew University of Jerusalem. Her dissertation research focused on the increased importance of transnational networks among ethnic and religious opposition movements in the Middle East, particularly in the Palestinian and Israeli context. Professor Rutz received her B.A. from the University of Chicago and her M.A. and her Ph.D. from the University of California, Los Angeles.

Rutz's current research focuses on emerging evidence that many states have begun to face significant choices when deciding on how to pursue and implement anti-terrorism measures at the same time that liberalization programs remain a priority. It addresses the possible setbacks that the U.S.-led GWOT, as both a war on terrorism and an engine of democratization, may encounter during the long and uneven process of political and economic liberalization in the region of the Middle East.

This lecture by Professor Rutz is sponsored by the Center for the Study of the Holocaust, Genocide, and Human Rights as part of the Human Rights emphasis of the Center.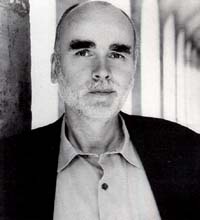 The Poet Reads from His Work
ADAM ZAGAJEWSKI
WEDNESDAY, MARCH 30, 2005
Adam Zagajewski is one of the great poets writing today. In October 1945, when he was four months old, Zagajewski's family was forced to move from their beloved native city of Lovov to the industrial and, until then, German city of Gliwice, Poland. He later moved to Krakow, where he was graduated from the Jagellonian University. Passionately opposed to the ruling Communist regime, Zagajewski was the best-known figure of the in the "Generation of 1968," a group of dissident young poets. He continued to rage against the government until the late 1970s, when he largely abandoned defiant political poetry for more lyrical and meditative verse.

In 1982 he moved to Paris, where his mature work flowered, and he produced work that explored the relationship of the individual and history, reality, and art. "Seldom has the muse of poetry spoken to anyone with such clarity and urgency," wrote Nobel Laureate Joseph Brodsky, "as in Zagjewski's case." His collections of poems in English include Tremor (1985), Canvas (1991), Mysticism for Beginners (1997), and Without End (2002). A pioneer of the modern prose poem, Zagajewski's collections of essays include Two Cities (1995) and Another Beauty (2000). He was awarded the prestigious Neustadt International Prize for Literature in 2004, and teaches half the year at the University of Houston.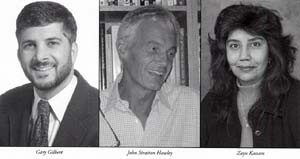 Teaching Difficult Subjects: World Religions in a Divisive World
GARY GILBERT
JOHN STRATTON HAWLEY
ZAYN KASSAM
THURSDAY, MARCH 31, 2005
LUNCH, 11:45 a.m., PANEL DISCUSSION, 12:15 p.m.
The subject of religion in the world is increasingly and pervasively front page news. How do world religion professors approach the study of religion in the classroom under such circumstances? Three professors— specialists in Hinduism, Islam, and Judaism— will discuss their own pedagogical models, and illustrate from their own experience how they have shifted their own strategies in response to a divisive world.

Zayn Kassam is associate professor of religious studies at Pomona College, Claremont, and is also on the faculty at Claremont Graduate University. A graduate of McGill University (Ph.D. 1995), she teaches courses in Islamic philosophy, mysticism, gender and literature as well as a course on philosophical and mystical texts from a comparative perspective. She has been honored with a Wig Award for Distinguished Teaching at Pomona College, and has lectured widely on gender issues in the United States, Canada, and Britain. Her published articles include: "Muslim Women Writers in South Asia"; "Our Worlds and His: Naguib Mahfouz's Palace Walk" (1997); "Mindfield or Minefield: Teaching Religion in a Multicultural Classroom" (1997); "The Individual and Notions of Community"; and others dealing with ethics and gender. She is currently working on two books, one on aspects of Quranic interpretation in medieval Islamic philosophy, and one on gender issues in the Islamic world.

Gary Gilbert received his B.A. in classics from Haverford College and his doctorate in biblical studies from Columbia University with additional studies in ancient Jewish history and literature at The Jewish Theological Seminary, and New Testament and early Christianity at Union Theological Seminary. Gilbert is associate professor of religious studies at CMC and coordinator of the Jewish Studies program at The Claremont Colleges. He has published many articles on the New Testament and ancient Judaism and is currently completing a book on the influence of Roman political propaganda on early Christian thought. Gilbert will spend academic year 2005-06 as a visiting scholar at the Oxford Centre for Hebrew and Jewish Studies.

John Stratton Hawley is Ann Whitney Olin Professor of Religion at Barnard College, Columbia University. Most of his books explore aspects of Hindu religion, often featuring gender, but others range more widely, especially toward comparative questions. Recently published are a revised edition of Songs of the Saints of India (2004, with Mark Juergensmeyer) and Three Bhakti Voices: Mirabai, Surdas, and Kabir in Their Time and Ours (2005), both from Oxford University Press, Delhi. Hawley has served as director of Columbia's Southern Asian Institute; has received multiple awards from NEH, the Smithsonian, and the American Institute of Indian Studies; and has been a Guggenheim Fellow. This panel discussion is sponsored by the CMC Teaching Resource Center.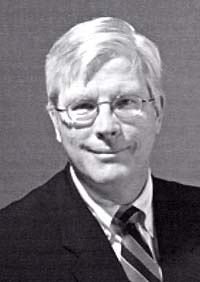 Bloggers: The Rise of the New Media and the Decline of the Old
HUGH HEWITT
THURSDAY, MARCH 31, 2005
Blogs are fast replacing traditional media as the source for reliable information, and now Hugh Hewitt, whom The Wall Street Journal calls the "unofficial historian of the blogging movement," reflects on the decline of the Old Media and the rise of the New.

"Blog" is short for "Web log"— an online site with time-dated postings, maintained by one or more posters, that features links and commentary. But that is like saying a car is a means of transportation featuring four wheels. Millions are changing their habits when it comes to information acquisition, and the blogosphere has appeared so suddenly as to surprise even the most sophisticated of analysts.

In Blog: Understanding the Information Reformation That's Changing Your World (2005), currently number three on the New York Times non-fiction list, author Hugh Hewitt details the rise of blogging and the veritable information revolution in some ways comparable to the invention of the printing press. Examining a number of recent national issues– from "Rathergate" to John Kerry's difficulties with the Swift Boat Veterans for Truth- Hewitt shows how the blogosphere has influenced, and shaped, public debate. Hewitt helps us both to understand, and to take advantage of, this revolution.

Hugh Hewitt is the host of a nationally syndicated radio show heard in more than 70 cities nationwide, and a professor of law at Chapman University Law School, where he teaches Constitutional Law. Besides Blog, he is the best-selling author of If It's Not Close, They Can't Cheat: Crushing the Democrats in Every Election and Why Your Life Depends on It (2004), as well as four other books. Hewitt received 3 Emmys during his decade of work as co-host of the PBS Los Angeles affiliate KCET's public affairs show Life & Times. He is a weekly columnist for The Daily Standard, the online edition of The Weekly Standard, and writes for World Magazine. Hugh Hewitt's Athenaeum lecture is sponsored by the Salvatori Center at Claremont McKenna College.
Building a Career in International Development: Pros and Cons of Taking the Road Less Traveled
ASHLEY ORTON '91
MONDAY, APRIL 4, 2005
LUNCH 11:45 a.m., LECTURE 12:15 p.m.
Ashley Orton was raised in California and graduated from CMC in 1991 with a double major in philosophy/public affairs and French. In 1992 she taught English in China for one year and then traveled overland across China, Tibet, Nepal, and India. She lived in Budapest, Hungary from 1994-1999, teaching English, learning Hungarian, and working for a USAID-funded Hungarian development program. From 1999-2000 she worked on a "yard crew" in a rural Mississippi town and then moved to Washington, D.C. to take a job with the National Democratic Institute for International Affairs. Orton currently works for Amnesty International USA designing and delivering training for human rights activists across the country.

Take advantage of this opportunity to meet a CMC graduate who, for the past 14 years, has "followed her bliss."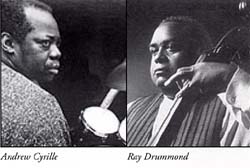 Cyrille and Drummond Play Thelonious Monk
ANDREW CYRIILE, drums
RAY DRUMMOND '68, bass
GARY FOSTER, alto saxophone
BILLY HARPER, tenor saxophone
GARY SMULYAN, baritone saxophone
RON STOUT, trumpet
DAVE WOODLEY, trombone
MONDAY, APRIL 4, 2005
The New York Times calls Andrew Cyrille "a consummate modern drummer." Born in Brooklyn in 1939, Cyrille studied with Philly Joe Jones and spent the first half of the 1960s studying in New York at Juilliard and the Hartnett School of Music. At the same time, he was performing with famed jazz artists that included Mary Lou Williams, Coleman Hawkins, Illinois Jacquet, Kenny Dorham, Freddie Hubbard, Walt Dickerson, and Rashaan Roland Kirk. In 1964 he formed what would prove to be an 11-year association with Cecil Taylor that brought him new acclaim and established him in the vanguard of jazz drumming.

Starting in 1969, Cyrille played in a number of percussion groups with notable drummers including Kenny Clarke and Rashied All. He formed his own group Maono in 1975 and has also worked with such top-flight peers as David Murray, Muhal Richard Abrams, Mal Waldron, Horace Tapscott, James Newton, and Oliver Lake.

Joining Andrew Cyrille for this special concert is a stellar octet of East Coast and West Coast artists that includes master bassist and frequent collaborator Ray Drummond, CMC class of '68. Internationally acclaimed bassist, Ray Drummond has over 100 jazz albums to his credit, and has performed with artists that include Wynton Marsalis, Betty Carter, Woody Shaw, Art Farmer, and Andrew Cyrille. He has taught at music schools all over the world, including the Stanford Jazz Workshop, the Berklee School of Music, the University of Massachusetts, and the Sibelius Academy of Music in Helsinki, Finland. Drummond is director of the Institute for Music and the Performing Arts at the California State University at Monterey Bay.

This concert is sponsored by the American Jazz Institute, the Claremont McKenna College Oral History Project, the Gould Center for Humanistic Studies, and the Marian Miner Cook Athenaeum.
Religion, Rhetoric, and Presidential Leadership
RON RIGGIO
ELIZABETH SPALDING
ANDREW BUSCH
TUESDAY, APRIL 5, 2005
LUNCH 12:00 p.m., LECTURE 12:15 p.m.
Ron Riggio is the Henry R. Kravis Professor of Leadership and Organizational Psychology and Director of the Kravis Leadership Institute, CMC. He is a pioneer in the study of leadership and has authored, co-authored, or co-edited fifteen books including, The Charisma Quotient (1987), Communicate with Confidence (1993), Multiple Intelligences and Leadership (2002), The Future of Leadership Development (2003), and Transformational Leadership (2004).

Elizabeth Spalding is assistant professor of government at Claremont McKenna College and director of the CMC Washington Program. She has written on FDR, Truman, Reagan, and George W. Bush. She is currently working on her forthcoming book entitled, The War of Nerves: Harry S. Truman and the Origins of Containment.

Andrew Busch is associate professor of government at Claremont McKenna College. He is the author or co-author of seven books including, Ronald Reagan and the Politics of Freedom (2001), The Perfect Tie: The True Story of the 2000 Presidential Election (2001), and The Front-loading Problem in Presidential Nominations (2003).
Media, Religion, and the 2004 Election
DAVID AIKMAN
TUESDAY, APRIL 5, 2005
David Aikman is an award-winning print and broadcast journalist, author, and a foreign policy consultant based in the Washington, D.C.-area. Aikman was born in England and educated at Oxford University in England (B.A. with honors in Russian and French). He later came to the U.S. and earned an M.A. in Central Asian languages and a Ph.D. in Russian and Chinese history from the University of Washington in Seattle. He is a U.S. citizen.

Aikman spent 23 years reporting for Time magazine and has reported from five continents and more than 55 countries. He wrote three consecutive Time Man of the Year cover stories and has interviewed Nobel laureates and world leaders including Mother Teresa, Manuel Noriega, Boris Yeltsin, Aleksandr Solzhenitsyn, and Billy Graham.

Aikman joined Time in 1971 in the New York Bureau, then reported from Washington before becoming correspondent in Hong Kong (1972-1976); bureau chief in Eastern Europe (1977-1978); staff writer in New York (1978-1980); bureau chief in Jerusalem (1980-1982) and in Beijing (1982-1985); then State Department Correspondent and Senior Correspondent in Washington during 1985-1994. He covered the war in Indochina, dissent in Communist Eastern Europe, and was an eyewitness to the Tienanmen Massacre in China in 1989. He has made additional television appearances on CNN, CBC, FOX News, NBC's Today Show, the BBC, C-Span, and ABC's Nightline.

Aikman has recently authored two ground-breaking books, A Man of Faith: The Spiritual Journey of George W. Bush (2004) and Jesus in Beijing: How Christianity is Transforming China and Changing the Global Balance of Power (2003). A six-part documentary based on A Man of Faith is due to be broadcast on PBS.
Congregations and the American Presidency
LESLIE BERGSON
JOE FENTON
JESSE MIRANDA
CECIL MURRAY
WEDNESDAY, APRIL 6, 2005
LUNCH 11:40 a.m., LECTURE 11:55 a.m.
Rabbi Leslie Bergson is the Jewish Chaplain and Hillel Director at the Claremont Coueges. She was ordained by Hebrew Union College-Jewish Institute of Religion in May 1995, after five years of study in Jerusalem, Los Angeles, and New York. She served as a rabbinic intern for the American Jewish Congress (AJC). She received her Master of Arts in Hebrew Letters from Hebrew Union College in 1993.

Father Joe Fenton, S.M., is Catholic Chaplain at the Claremont Colleges. After attending seminary at the Catholic University of America, he took an M.A. in journalism and public affairs from the American University, Washington, D.C., and a Ph.D. in history and theology from the Catholic University of America. He has produced radio and television programs and documentaries for American and British networks and has served as the American Catholic Bishops liaison with ABC, NBC News, and CBS-TV. He recently served as Director of Media Relations for the Diocese of Orange County, CA.

Rev. Jesse Miranda is Distinguished Professor of Religion and Director of the Center for Urban and Latino Leadership at Vanguard University, President of the Monza de Ministerios Evangelicos Nacionales (AMEN), and co-principal investigator of the 51.3 million Hispanic Churches in American Public Life research project. He is the co-editor, co-author, or author of three books, including, Latino Religions and Civic Activism in the United States (2005), The Christian Church in Ministry (1980), and Liderazgo y Amistad (1998). He is also co-authoring the forthcoming Latino Religions and Politics in American Public Life.

Rev. Cecil "Chip" Murray has a doctorate from The Claremont School of Theology. As one of the leading black clergy leaders in Los Angeles, he has been featured in Time, Ebony, CNN, Network News, and the Los Angeles Times. In 1977 Dr. Murray was assigned to the First African Methodist Episcopal (AME) Church, the oldest black church in L.A. His grew his church from 300 to more than 17,300 members during his twenty-seven year ministry and sponsored more than 40 task forces on health, substance abuse, homelessness, tutoring, and employment services. President George Bush named First AME Church the nation's 177th Point of Light for its community outreach.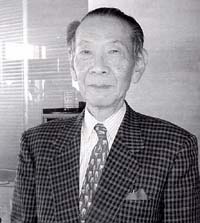 Japan-U.S. Relations— Strong or Fragile?
TAKAKAZU KURIYAMA
WEDNESDAY, APRIL 6, 2005
According to a recent poll, majority of both the Japanese and Americans think that Japan-U.S. relations are in good shape. On the other hand, there are some troubling signs— increasing trends of mistrust on both sides. In the age of globalization, America and Japan both face new challenges: for America, to maintain its global leadership without losing its soft power; for Japan, to assume a major international role with its graying and shrinking population. These are among the issues that Takakazu Kuriyama will explore in his Athenaeum lecture.

Takakazu Kuriyama studied law at the University of Tokyo, passed the foreign service examination in 1953, and entered the Japanese foreign service the following year. He spent two years (1954–56) in the United States under the foreign service training program (Lawrence College and Amherst College). After serving in various posts at home and overseas, he became Ambassador to Malaysia (1985–87), Deputy Foreign Minister (1987–89), Vice Minister for Foreign Affairs (1989–91), and Ambassador to the U.S. (1992–95). Ambassador Kuriyama retired from the foreign service in 1996 and currently holds the title of Advisor to the Ministry of Foreign Affairs. He also taught at Waseda University (1997–2002) and the International Christian University (1999–2002) as visiting professor.

The Keck Center for International and Strategic Studies is honored to host Ambassador Kuriyama's visit to CMC as a Freeman Foundation Visiting Professor.
International Perspectives on Religion and the Presidency
ZAHID BUKHARI
RODERIC CAMP
KJELL LEJON
THURSDAY, APRIL 7, 2005
LUNCH 11:40 a.m., LECTURE 11:55 a.m.
Zahid H. Bukhari is Director of the American Muslim Studies Program at the Center for Muslim-Christian Understanding, Georgetown University, Washington, D.C. From 1999-2004, he directed the Muslims in American Public Square (MAPS) project, which examined the contributions of the Muslims to American public life. He is co-editor of Muslims' Place in the American Public Square: Fears, Hopes and Aspirations (2004) and the forthcoming Muslims in America: Engaging Politics and Society in Post 9/11 Era.

Roderic Camp is the Philip M. McKenna Professor of the Pacific Rim and adjunct scholar with the Center for Strategic and International Studies, Washington, D.C. He has served as a visiting professor at Colegio de Mexico and the Foreign Service Institute, and carried out research as a fellow at the Woodrow Wilson Center for International Scholars. He is the author of twenty books on Mexico including, Crossing Swords: Politics and Religion in Mexico (1997), Politics in Mexico: The Democratic Transformation (2003), and Mexico's Mandarins: Crafting a Power Elite for the 21st Century (2002).

Kjell O. Lejon is assistant chair and director of religious studies at Linkoping University, Sweden. He has a Ph.D. from the University of Lund and a Ph.D. from the University of California, Santa Barbara. He is a minister of the Church of Sweden and was past Deputy Member of the Swedish Parliament 1998-2002. He has written or edited seven books including, Reagan, Religion and Politics: The Revitalization of "a Nation under God" during the 80s (1988) and God Bless America! President George Bush's Religio-politiska Budskap (1994).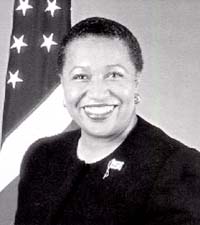 The Religion Factor in the 2004 Election
CAROL MOSELEY BRAUN
THURSDAY, APRIL 7, 2004
Carol Moseley Braun has served her country as a United States Senator from 1992-98, U.S. Ambassador from 1999-2001, as well as County Executive Officer, State Representative, and Assistant United States Attorney.

A graduate of the Chicago Public Schools, she received her Bachelor of Arts degree from the University of Illinois-Chicago in 1968, and her law degree in 1972 from the University of Chicago. She joined the United States Attorney's office in Chicago in 1973.

The hallmark of her public service has been dedication to the harmony of the community. She is an advocate of diversity and has consistently worked to build an inclusive society. Her extensive and constructive legislative record reflects this commitment to social justice and good government.

In 1998, after Moseley Braun was narrowly defeated in her race for re-election, President Clinton named her special consultant to the Department of Education on school construction- one of her longtime special concerns. She was then nominated to be U.S. Ambassador to New Zealand. As United States Ambassador, her portfolio included New Zealand, Samoa, the Cook Islands and Antarctica. She is fond of calling this time in her public service "Ambassador to Paradise." Since her return in 2001 from her ambassadorial posting to New Zealand, she has taught law and political science at Morris Brown College and DePaul University, as well as maintaining a business consultancy and law practice in Chicago.

In September 2003, she announced her candidacy for the U.S. Presidency, one of the first African-American women to seek this office. She withdrew from the race in January 2004 and endorsed the candidacy of Howard Dean.
RELIGION AND THE AMERICAN PRESIDENCY CONFERENCE
APRIL 5-7, 2005
The Religion and the American Presidency conference will analyze the critical role that religious rhetoric, symbols, values, and worldviews have played in shaping the American presidency over the past thirty years. In particular, it will explore how the personal religion of Jimmy Carter, Ronald Reagan, George Bush, Bill Clinton, and George W. Bush has shaped their domestic and/or foreign policies; the complicated and often utilitarian relationship between American presidents and African Americans, Latinos, Asian Americans, and Women; and the sometimes rocky and often conflicting relationships between American presidents and Catholics, Mainline Protestants, Evangelicals, Mormons, Muslims, Jews, and people with no particular religious preference.

CONFERENCE SCHEDULE

TUESDAY, APRIL 5, 2005 — PERSONAL FAITH AND THE AMERICAN PRESIDENCY

8:00 Registration — All presentations will be given at Mary Pickford Auditorium in Bauer Center.
9:00 Welcome & Opening Remarks — Gaston Espinosa, Director, and President Pamela Gann
9:30 Religion and the Presidency of Jimmy Carter, Kenneth E. Morris, Presidential Biographer
10:40 Break
10:50 Religion and the Presidency of Ronald Reagan, Paul Kengor, Grove City College
12:00 Lunch & Panel Discussion — Religion, Rhetoric, and Presidential Leadership (Athenaeum)
Ron Riggio, Elizabeth Spalding, Andrew Busch
1:00 Religion and the Presidency of George Bush Sr., Kjell Lejon, Linkoping University, Sweden
2:10 Break
2:20 Religion and the Presidency of Bill Clinton, Gaston Espinosa, Claremont McKenna College
3:10 Break
3:40 Religion and the Presidency of George W. Bus, David Aikman, Former Time Bureau Chief
4:50 Break until Dinner
6:00 Dinner & Keynote — David Aikman, Media, Religion & the 2004 Election (Athenaeum)

WEDNESDAY, APRIL 6, 2005 — RELIGION, RACE, GENDER, AND THE AMERICAN PRESIDENCY

8:00 Registration
9:00 Welcome & Opening Remarks — Gaston Espinosa
9:10 Women, Religion, and the Presidency, Katherine Stenger, University of Washington
10:20 Break
10:30 African Americans and the Presidency, Melissa Harris-Lacewell, University of Chicago
11:40 Lunch & Panel Discussion — Religious Congregations and the American Presidency (Athenaeum)
Rabbi Leslie Bergson, Father Joe Fenton, Rev. Jesse Miranda, Rev. Cecil "Chip" Murray
1:00 Latinos and the American Presidency, Gaston Espinosa, Claremont McKenna College
2:10 Break
2:20 Asian-Americans and the Presidency, So Young Kim, Florida Atlantic University
3:30 Break
3:40 Mormons, No Religious Preference, and the Presidency, Lyman A. Kellstedt, Furman University
4:50 Break for the day

THURSDAY, APRIL 7, 2005 — RELIGION, PLURALISM, AND THE AMERICAN PRESIDENCY

8:00 Registration
9:00 Welcome & Opening Remarks - Gaston Espinosa
9:10 Catholics and the Presidency, David Leege, University of Notre Dame
10:20 Break
10:30 Evangelicals and the Presidenc, Corwin Smidt, Calvin College
11:40 Lunch & Panel Discussion - International Perspectives on Religion and the Presidency
Zahid Bukhari (Pakistan), Kjell Lejon (Sweden), Roderic Camp (Mexico)
1:00 Mainline Protestants and the Presidency, Laura Olson & Adam Warber, Clemson University
2:10 Break
2:20 Jews and the Presidency, Rabbi David Dalin, Ave Maria University
3:30 Break
3:40 Muslims and the Presidency, Zahid Bukhari, Georgetown University
6:00 Dinner & Keynote — Carol Moseley Braun, The Religion Factor in the 2004 Election

Please see RESERVATIONS page or the Athenaeum website to sign up for conference lunches.