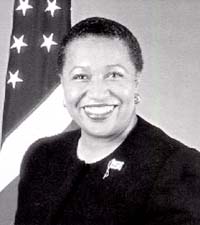 The Religion Factor in the 2004 Election
CAROL MOSELEY BRAUN
THURSDAY, APRIL 7, 2004
Carol Moseley Braun has served her country as a United States Senator from 1992-98, U.S. Ambassador from 1999-2001, as well as County Executive Officer, State Representative, and Assistant United States Attorney.

A graduate of the Chicago Public Schools, she received her Bachelor of Arts degree from the University of Illinois-Chicago in 1968, and her law degree in 1972 from the University of Chicago. She joined the United States Attorney's office in Chicago in 1973.

The hallmark of her public service has been dedication to the harmony of the community. She is an advocate of diversity and has consistently worked to build an inclusive society. Her extensive and constructive legislative record reflects this commitment to social justice and good government.

In 1998, after Moseley Braun was narrowly defeated in her race for re-election, President Clinton named her special consultant to the Department of Education on school construction- one of her longtime special concerns. She was then nominated to be U.S. Ambassador to New Zealand. As United States Ambassador, her portfolio included New Zealand, Samoa, the Cook Islands and Antarctica. She is fond of calling this time in her public service "Ambassador to Paradise." Since her return in 2001 from her ambassadorial posting to New Zealand, she has taught law and political science at Morris Brown College and DePaul University, as well as maintaining a business consultancy and law practice in Chicago.

In September 2003, she announced her candidacy for the U.S. Presidency, one of the first African-American women to seek this office. She withdrew from the race in January 2004 and endorsed the candidacy of Howard Dean.