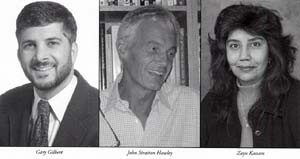 Teaching Difficult Subjects: World Religions in a Divisive World
GARY GILBERT
JOHN STRATTON HAWLEY
ZAYN KASSAM
THURSDAY, MARCH 31, 2005
LUNCH, 11:45 a.m., PANEL DISCUSSION, 12:15 p.m.
The subject of religion in the world is increasingly and pervasively front page news. How do world religion professors approach the study of religion in the classroom under such circumstances? Three professors— specialists in Hinduism, Islam, and Judaism— will discuss their own pedagogical models, and illustrate from their own experience how they have shifted their own strategies in response to a divisive world.

Zayn Kassam is associate professor of religious studies at Pomona College, Claremont, and is also on the faculty at Claremont Graduate University. A graduate of McGill University (Ph.D. 1995), she teaches courses in Islamic philosophy, mysticism, gender and literature as well as a course on philosophical and mystical texts from a comparative perspective. She has been honored with a Wig Award for Distinguished Teaching at Pomona College, and has lectured widely on gender issues in the United States, Canada, and Britain. Her published articles include: "Muslim Women Writers in South Asia"; "Our Worlds and His: Naguib Mahfouz's Palace Walk" (1997); "Mindfield or Minefield: Teaching Religion in a Multicultural Classroom" (1997); "The Individual and Notions of Community"; and others dealing with ethics and gender. She is currently working on two books, one on aspects of Quranic interpretation in medieval Islamic philosophy, and one on gender issues in the Islamic world.

Gary Gilbert received his B.A. in classics from Haverford College and his doctorate in biblical studies from Columbia University with additional studies in ancient Jewish history and literature at The Jewish Theological Seminary, and New Testament and early Christianity at Union Theological Seminary. Gilbert is associate professor of religious studies at CMC and coordinator of the Jewish Studies program at The Claremont Colleges. He has published many articles on the New Testament and ancient Judaism and is currently completing a book on the influence of Roman political propaganda on early Christian thought. Gilbert will spend academic year 2005-06 as a visiting scholar at the Oxford Centre for Hebrew and Jewish Studies.

John Stratton Hawley is Ann Whitney Olin Professor of Religion at Barnard College, Columbia University. Most of his books explore aspects of Hindu religion, often featuring gender, but others range more widely, especially toward comparative questions. Recently published are a revised edition of Songs of the Saints of India (2004, with Mark Juergensmeyer) and Three Bhakti Voices: Mirabai, Surdas, and Kabir in Their Time and Ours (2005), both from Oxford University Press, Delhi. Hawley has served as director of Columbia's Southern Asian Institute; has received multiple awards from NEH, the Smithsonian, and the American Institute of Indian Studies; and has been a Guggenheim Fellow. This panel discussion is sponsored by the CMC Teaching Resource Center.