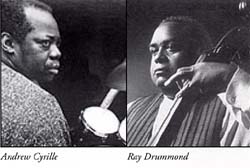 Cyrille and Drummond Play Thelonious Monk
ANDREW CYRIILE, drums
RAY DRUMMOND '68, bass
GARY FOSTER, alto saxophone
BILLY HARPER, tenor saxophone
GARY SMULYAN, baritone saxophone
RON STOUT, trumpet
DAVE WOODLEY, trombone
MONDAY, APRIL 4, 2005
The New York Times calls Andrew Cyrille "a consummate modern drummer." Born in Brooklyn in 1939, Cyrille studied with Philly Joe Jones and spent the first half of the 1960s studying in New York at Juilliard and the Hartnett School of Music. At the same time, he was performing with famed jazz artists that included Mary Lou Williams, Coleman Hawkins, Illinois Jacquet, Kenny Dorham, Freddie Hubbard, Walt Dickerson, and Rashaan Roland Kirk. In 1964 he formed what would prove to be an 11-year association with Cecil Taylor that brought him new acclaim and established him in the vanguard of jazz drumming.

Starting in 1969, Cyrille played in a number of percussion groups with notable drummers including Kenny Clarke and Rashied All. He formed his own group Maono in 1975 and has also worked with such top-flight peers as David Murray, Muhal Richard Abrams, Mal Waldron, Horace Tapscott, James Newton, and Oliver Lake.

Joining Andrew Cyrille for this special concert is a stellar octet of East Coast and West Coast artists that includes master bassist and frequent collaborator Ray Drummond, CMC class of '68. Internationally acclaimed bassist, Ray Drummond has over 100 jazz albums to his credit, and has performed with artists that include Wynton Marsalis, Betty Carter, Woody Shaw, Art Farmer, and Andrew Cyrille. He has taught at music schools all over the world, including the Stanford Jazz Workshop, the Berklee School of Music, the University of Massachusetts, and the Sibelius Academy of Music in Helsinki, Finland. Drummond is director of the Institute for Music and the Performing Arts at the California State University at Monterey Bay.

This concert is sponsored by the American Jazz Institute, the Claremont McKenna College Oral History Project, the Gould Center for Humanistic Studies, and the Marian Miner Cook Athenaeum.