Athenaeum Location
Print Newsletter
April 11, 2005
Vol. 20, No. 11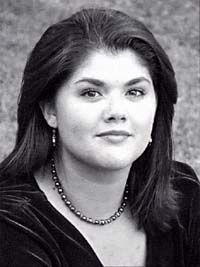 A Recital of Songs and Arias
TARYN BENARROCH '05, soprano
MARIBEL LIM, piano
MONDAY, APRIL, 11, 2005
Taryn Benarroch began her musical studies at age seven with the violin, which she pursued until the end of high school. During her freshman year at Ramona Convent Secondary School in Alhambra, CA, she joined the concert and chamber choirs, and has been singing ever since.

Taryn is a senior completing a dual major in government and music. She pursues her music major through Pomona College, and studies there with Donald Brinegar, conductor of the nationally acclaimed Donald Brinegar Singers, recently featured at Walt Disney Concert Hall. In the fall of 2003 she studied abroad in Milan, where she enrolled at the Accademia Internazionale Della Musica, the undergraduate conservatory. In addition to instruction under New York City Opera soprano Patrizia Zanardi, she took classes in performance practice and opera translation and interpretation.

During the summer of 2004 Taryn traveled to Burgas, Bulgaria, where she sang the role of First Boy, and understudied the role of Papagena in W.A. Mozart's Die Zauberfloete (1791) (The Magic Flute) at the Burgas Opera Festival. After graduation Taryn plans to work in New York or Washington, D.C. before going to law school. Taryn's program will include pieces by Bellini, Faure, Handel, Schubert, and arias from Mozart's The Marriage of Figaro (1786) and Puccini's La Boheme (1896).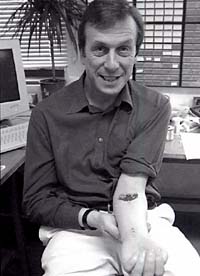 Practical Experiments Using Implant Technology
KEVIN WARWICK
TUESDAY, APRIL 12, 2005
Cyborgs– organisms that are part human and part machine– have long provided fodder for science fiction literature. Who can forget our current governor in the role of the Terminator telling audiences, "I'll be back"? But cyborgs are no longer mere creatures of fantasy and imagination. In 1998, Kevin Warwick, Professor of Cybernetics at the University of Reading, underwent an operation that implanted a silicon-chip transponder into his arm, turning him into the world's first cyborg. Through the use of this transponder, a computer monitored Warwick as he moved through his office building, allowing him to operate doors, lights, heaters and other computers without lifting a finger. More recently, in 2002, an electrode array was surgically implanted into the median nerve fibers of Warwick's left arm, linking his nervous system directly to a computer. As a result of this operation, not only was Warwick able to receive artificial stimulations from the implant, but he was able to control an electric wheelchair and an intelligent artificial hand simply through the use of the neural interface.

Implant technology has much to offer in terms of assisting those affected by a spinal injury, MND, MS or other related issues. By directly sending neural signals to a computer this opens the possibility of either bringing about much improved body coordination or alternatively allowing an individual to control their (networked) environment. However the available technology needs to be tested in real world (human) applications to assess problems of compatibility and effectiveness.

Warwick was born in Coventry, UK and left school at the age of 16 to join British Telecom. At 22, he received his first degree at Aston University, followed by a Ph.D. and a research post at Imperial College, London. He subsequently held positions at Oxford, Newcastle and Warwick universities before taking his current post at Reading, at the age of 33.

At the University of Reading, Warwick conducts research in artificial intelligence, control, robotics, and cyborgs. He has produced over 400 publications on his research, including more than 90 refereed journal articles and 25 books. His work has been discussed by the United States Presidential Council on Bioethics, the European Commission FTP, and has led to him being widely referenced and featured in academic circles as well as in magazines such as Time, Newsweek, and Wired. He has also been called "Britain's leading prophet of the Robot Age" by Gillian Anderson of television's The X-Files.

His talk, sponsored by the Gould Center, is the final talk in the series Philosophy Through Science Fiction.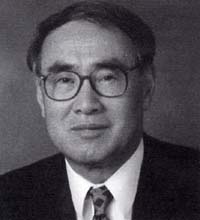 Korea, Asia, and the United States
HONG-KOO LEE
Wednesday, April 13, 2005
Has the current crisis around the six-party talk in Beijing on the North Korean nuclear issue marked a turning point in the history of Northeast Asia and Korea? Not quite so. We might say, however, the talk reflected a real possibility of change for North Korea, Northeast Asia and indeed the global security relations. In many ways, the current situation in Korea is a product of the regional history, geopolitics of Northeast Asia, and the tremendous change in technology and market. In order to properly diagnose the current problems facing Korea and Asia, we have to develop a broad perspective incorporating all those factors that jointly produce a special regional dynamics. It certainly is a gigantic intellectual challenge for all parties concerned, especially the United States. The Honorable Hong-koo Lee will address these questions in his speech.

Dr. Lee was the Prime Minister of South Korea (1994–1995). Before that, he served twice as the deputy prime minister for unification dealing with the relation between the divided two Korean states. He was also a member of the Korean National Assembly and the chairman of the then ruling New Korea Party.

Dr. Lee was educated at Seoul National University, Emory University, and Yale University where he received a Ph.D. in political science. He was on the faculty of Seoul National University for twenty years (1968–1988). Professor Lee was the president of the Korean Political Science Association and a member of the executive committee of the International Political Science Association. He spent a year each as a fellow at Woodrow Wilson International Center (1973) and Harvard Law School (1974). His publications include a five volume collected works.

Dr. Lee was the South Korean ambassador to the United Kingdom (1991–1993) and most recently to the United States (1998–2000). He was a member of the Commission on Global Governance (1991–1994) which proposed restructuring of the United Nations. As the Chairman of the World Cup Bidding Committee, he successfully won the right to co-host the 2002 World Cup in Korea and Japan.

The Keck Center for International and Strategic Studies is pleased to host The Honorable Hong-koo Lee's visit to CMC as a Freeman Foundation Visiting Professor.
Under the Lights Presents
Dinner Theater
The Real Thing by Tom Stoppard
DIRECTED BY BETH BRUNNER '06
THURSDAY-SATURDAY, APRIL 14-16, 2005
Dinner and Play at 6:00 p.m.
Tom Stoppard's The Real Thing (1982) won several 2000 Tony Awards, including Best Revival of a Play. This beautifully written work, first performed in America in 1984 (a performance which won the Tony for Best Play) examines issues of love and truth in relationships, love, marriage, and sex.

The story follows the trials and tribulations of a playwright and his actress wife as they leave their current relationships to pursue marriage with each other. He is ever faithful while she finds herself occasionally straying, perhaps only to test him, perhaps because she has not yet found happiness or the truth in love, or perhaps because she is still struggling to find the "real" thing. The couple works through these struggles in the hope of realizing the truth of the nature of love despite infidelity, jealousy, and other relationships that threaten to disillusion them. In their relationship with each other and in their relationships with the other people in their life, both characters attempt to find themselves as well as the truth in love. The work takes a refined, fresh, and honest look at love in all of its various forms. The Real Thing abounds in wit, insight, love, pain, and truth, and comes from the hand of a skilled playwright and master of human emotion. Brilliantly written, The Real Thing attempts to answer the age-old question of "what is love?" The question of whether it succeeds or not is left for the audience to answer.

The Real Thing is directed by Beth Brunner '06, and the cast includes Joanna Marks '07, Greg Gallagher '07, Annie Fairman '07, Dave Mistysyn '05, Alex Hwang '08, Ariel Boorstin '07, and Jules Dormady '08. The play does contain some adult humor and scenes and seating will be limited so sign up early. This Dinner Theatre production is made possible by Under the Lights, the Marian Miner Cook Athenaeum, and ASCMC.

Claremont Colleges students, faculty, and staff- NO CHARGE
Community guests- $17.00 per person

Seating will be festival style and is limited. Sign up as soon as possible, circling your first, second, and third chioce of date. You will be contacted if your first choice reservation date is unavailable.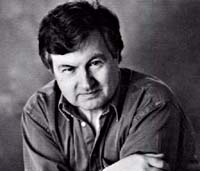 History, Truth and Memory: Reflections on the Irving-Lipstadt Libel Case
RICHARD EVANS
MONDAY, APRIL 18, 2005
LUNCH 11:45 a.m., lecture 12:15 p.m.
Writing in The New Criterion in May, 2001, David Pryce-Jones identified "an underworld ... of people who believe that we are deceived about the nature of much recent history in general and the Second World War in particular. To them, Hitler was a great man and Churchill was evil. To bypass the objection that Hitler launched not only war but also mass murder on a continental scale, these people have to deny that there ever was a Holocaust, that nothing much happened to the Jews in the war, or if it did then they deserved it and more." Within the "underworld" Pryce-Jones describes, one David Irving, putatively a historian and authority on the Third Reich, has long held sway. Irving has maintained that Hitler knew nothing of the Holocaust before 1943, nor did he order or was he in any way responsible for any systematic extermination of European Jewry. Irving once told a Canadian audience that "more people died on the back seat of Edward Kennedy's car at Chappaquiddick than ever died in a gas chamber at Auschwitz." Yet it was Irving who, in January 2000, approached the High Court on London's Strand as the plaintiff in a notorious libel case. His charge: that Deborah Lipstadt, Professor of Jewish Studies at Emory University, had, in her 1993 book, Denying the Holocaust: The Growing Assault on Truth and Memory, irreparably damaged Irving's reputation by singling him out as a falsifier whose denial of the Holocaust was motivated by a personal agenda to exonerate Hitler and Nazism. Because of Britain's peculiar libel laws, which impose upon the defendant the burden of proof, it was Lipstadt and her publisher, Penguin Books, who found themselves on trial.

Professor Richard Evans was retained by the defense as historical advisor and expert witness, helped carry the day for Lipstadt and her publisher. In the ruling of Justice Charles Gray, Evans had provided evidence sufficient to prove that the plaintiff did indeed have a political agenda that "disposes him, where he deems it necessary, to manipulate the historical record." Ultimately, Irving's libel action was rejected.

Richard Evans, Professor of Modern History at Gonville and Caius College, Cambridge (UK), has written extensively on German history. Currently at work on a large-scale history of the Third Reich, Evans has also authored In Hitler's Shadow: West German Historians and the Attempt to Escape from the Nazi Past (1989); and Telling Lies About Hitler: History, the Holocaust, and the David Irving Trial (2002). In his Athenaeum talk, Evans will address issues of historical objectivity, relativism, and perspective in the light of his experience in the Irving-Lipstadt libel case. Professor Evans's talk is cosponsored by the Family of Benjamin Z. Gould Center for Humanistic Studies and the Center for the Study of the Holocaust, Genocide, and Human Rights.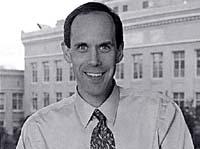 Cancer Therapy in the 21st Century
BRIAN DRUKER
MONDAY, APRIL 18, 2005
Cancer is a complex and serious disease. Unlike other diseases, it cannot be treated with a single shot or with antibiotics. There are many cancers that cannot be cured with current treatments and half a million Americans die of cancer each year. Each of us has about a 1 in 3 chance of getting malignant cancer during his or her lifetime, and a l in 4 chance of dying from it.

Dr. Brian Druker's goal is to treat and hopefully cure cancer, and he has reached a significant milestone: he helped to develop a revolutionary type of cancer drug and get it into the hands of patients suffering from chronic mylogenous leukemia (CML). Unlike traditional chemotherapy, the drug, marketed as Gleevec, targets the genetic abnormality that causes the cancer and leaves healthy cells alone, thereby causing far fewer side effects. Druker's work represents a major transition in medicine toward a rational approach to treating difficult diseases like cancer. Many patients have achieved complete remission of the disease while on the drug, and the clinical trials with Gleevec have been heralded as a new paradigm in cancer therapy.

Brian Druker is the Director of the Leukemia Center at Oregon Health Sciences University (OHSU). He received his M.D. degree from the University of California, San Diego, School of Medicine and completed an internship and residency in internal medicine at Barnes Hospital, Washington University School of Medicine, St. Louis. He then trained in medical oncology at the Dana-Farber Cancer Institute, Harvard Medical School.

For his role in the development of Gleevec and application in the clinic, Dr. Druker has received numerous awards, including the Richard and Hinda Rosenthal Award from the American Association for Cancer Research, the Warren Alpert Prize from Harvard Medical School, the American Society of hematology's Dameshek Prize, the Karnofsky Award from the American Society of Clinical Oncology, the American Cancer Society's Medal of Honor, and the Kettering Prize from the General Motors Cancer Research Foundation. He was recently elected to the Institute of Medicine.
The Mind in Captivity: Czeslaw Milosz and Modernity
JOANNA ZACH
TUESDAY, APRIL 19, 2005
LUNCH 11:45 a.m., LECTURE 12:15 p.m.
Czeslaw Milosz (1911-2004) was a poet whose work was a window through which to view the 20th century: the struggle of democracy and totalitarianism, human rights and genocide, faith and science, being and nothingness. Born in Lithuania, writing in Polish, and eventually living and teaching for many years in the United States at Berkeley, Milosz became an embodiment of the postmodern condition of exile. In addition to his poetry, Milosz's The Captive Mind (1953) remains one of the classic books on the dangers of the lures of totalitarian thought. And he also wrote Native Realm: A Search for Self-Definition (1959) about the spiritual phenomenon of exile faced by many in modern Europe.

Professor Joanna Zach, one of this year's Podlich Distinguished Fellows, knew and worked with Milosz, and has published widely on his work. Her ongoing project is "Mind in Captivity and Exile: Czeslaw Milosz and European Modernity" and follows her first book on Milosz's Search for Self (2002), and her numerous articles have focused on the theme of exile and the role of former exiles in the New Europe. Since 2000 Professor Zach has been a member of the Helsinki Forum, an independent cultural project to foster Pan-European critical debate that brings together writers, philosophers, historians, and social scientists from all parts of Europe.

Professor Zach is a graduate of the Jagiellonian University in Cracow. Since then, she has taught at the Institute for Polish Literary Studies. She has also taught at St. Anne's College in Oxford and at Harvard University as Research Fellow.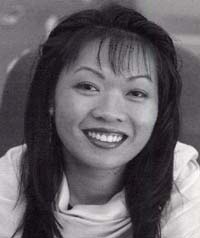 Leaving the Killing Fields Behind: A Quest for Social Justice and Human Dignity
CHIVY SOK
TUESDAY, APRIL 19, 2005
In 1975, the Khmer Rouge took over Cambodia and enslaved the entire population. Overnight, all Cambodians were stripped of their rights and individuality and forced to work as slaves to help build the Khmer Rouge's utopian society. At the end of the process, approximately 1.7 million people died of torture, summary execution, starvation, and malnutrition.

Chivy Sok, a child survivor of the Cambodian Killing Fields, will talk about life under the Khmer Rouge and the journey that led her to international human rights advocacy. As an advocate for international human rights with a focus on child labor issues, Sok is currently collaborating with several institutions to advance the teaching and curriculum development about child labor.

Most recently, Sok served as the Deputy Director of the University of Iowa Center for Human Rights (UICHR) and Project Director of the $1.2 million Child Labor Research Initiative at the University of Iowa. Prior to joining the UICHR, she worked as a consultant to the Cambodian Association of Illinois that raised funds to build the first Killing Fields Memorial and Museum in the United States.

Chivy Sok earned a B.A. in Political Science from the University of California at Santa Barbara and a Master of International Affairs degree from Columbia University School of International and Public Affairs with a special concentration in East Asia and human rights.

Chivy Sok's Athenaeum presentation is held in observance of April 17, the day 30 years ago when Cambodia fell to the Khmer Rouge. She is sponsored by the Center for the Study of the Holocaust, Genocide, and Human Rights.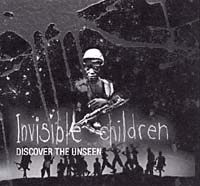 Invisible Children: Discover the Unseen
INVISIBLE CHILDREN: A FILM VIEWING
WEDNESDAY, APRIL 20, 2005
LUNCH 11:45 a.m., FILM BEGINS 12:00 p.m.
The film Invisible Children (2004) was born from a trip to Africa by three Southern California college students desiring to produce a documentary on the persecuted church in Southern Sudan. What they discovered was a much more compelling story about the invisible children of Northern Uganda who for 18 years have been systematically turned into soldiers for local warlords. Children as young as elementary students are methodically kidnapped and desensitized to the horror of brutal violence and killing as they themselves are turned into vicious killers.

Invisible Children is dedicated to initiating, developing, and funding programs to protect, educate, and rehabilitate children in the Sudan and Northern Uganda who have been brainwashed and who live in a world ravaged by war.

Claremont McKenna College sophomores James Kezele and Kyle Salter are hosting this film on behalf of producers Jason Russell, Bobby Bailey, and Laren Poole. Their goal is to raise everyone's awareness of the atrocities suffered by these children. They invite you to join your friends at the Athenaeum to discover the unseen.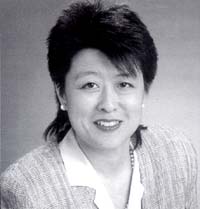 Building Bridges Across Communities
HELEN ZIA
WEDNESDAY, APRIL 20, 2005
Helen Zia is an award-winning journalist and scholar who has covered Asian American communities and social and political movements for more than twenty years. A second generation Chinese American, Zia advocates against racism and hate crimes that affect the Asian American community. She was a leading voice in organizing Asian Americans' protests after Vincent Chin, a Chinese American, was killed in 1982 after a racially motivated bar fight. Her work on the landmark civil rights case is documented in the Academy Award nominated film, "Who Killed Vincent Chin?" (1989)

Zia's activism has included fighting hate crimes, organizing for battered Asian American women, and speaking out against ethno-rape, or rape that is motivated by racial bias. In 1997 she testified before the U.S. Commission on Civil Rights on the impact of the campaign finance hearings on Asian Americans, and helped author a complaint to the Commission against Congress, the Democratic and Republican National Committees, and the news media for racially discriminatory treatment of Asian Americans.

Her acclaimed book Asian-American Dreams: The Emergence of an American People (2000) interweaves the remarkable history of a people with her own unique journey as a pioneer activist and writer. The book is now in its fifth edition. Zia is also a contributing editor to Ms. magazine, where she was formerly executive editor. Her articles, essays, and reviews have appeared in numerous newspapers, magazines and anthologies. Zia is an Expert Fellow with University of Southern California's Justice and Journalism program of the Annenberg School of Journalism.

Helen Zia's presentation is sponsored by the Athenaeum and the Dean of Students with funding from the Irvine Foundation.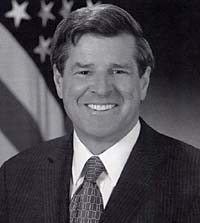 A Conversalion with the Ambassador
L. PAUL BREMER, III
THURSDAY, APRIL 21, 2005
Named Presidential Envoy to Iraq on May 6, 2003, Ambassador L. Paul Bremer, III, served for 14 months as the Administrator of the Coalition Provisional Authority and spearheaded the coalition in building the new framework of Iraq. He completed his mission on June 28, 2004, when he handed over power to the interim government of Iraq.

Ambassador Bremer is one of the world's leading experts on crisis management, terrorism and homeland security. In September 1999, the Speaker of the House of Representatives appointed him Chairman of the National Commission on Terrorism. In June 2002, President Bush appointed Ambassador Bremer to the President's Homeland Security Advisory Council. He also has served on the National Academy of Science Commission examining the role of science and technology in countering terrorism and chaired a Heritage Foundation study, "Defending the Homeland."

Prior to Iraq, Ambassador Bremer was Chairman and Chief Executive Officer of a crisis management firm, Marsh Crisis Consulting Company. From 1989 to 2000, he was Managing Director of Kissinger Associates, a strategic consulting firm headed by former Secretary of State, Henry Kissinger.

Ambassador Bremer received his B.A. from Yale University, a CEP from the Institut D'Etudes Politiques of the University of Paris, and an MBA from Harvard Graduate School of Business Administration. In December 2004, President Bush awarded him the Presidential Medal of Freedom, the nation's highest civilian award, for his service in Iraq. For that service, Ambassador Bremer was also given the Department of Defense award for Distinguished Public Service. During his time in government, Ambassador Bremer received the State Department Superior Honor Award, two Presidential Meritorious Service Awards, and the Distinguished Honor Award from the Secretary of State. He is a member of the International Institute for Strategic Studies and The Council on Foreign Relations.

Ambassador Bremer served as Special Assistant or Executive Assistant to six Secretaries of State, during his 23-year State Department career. His overseas assignments have included service at the Embassies in Afghanistan and Malawi and service as Deputy Chief of Mission at the American Embassy in Norway. President Reagan named him as Ambassador to the Netherlands in 1983, were he served for three years. Ambassador Bremer also served as Executive Secretary of the State Department and was President Reagan's Ambassador at Large for Counter Terrorism.

The dinner is for CMC persons only, the talk is open with seating on a first-come basis.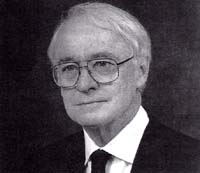 Character and Culture
JAMES Q. WILSON
WEDNESDAY, APRIL 27, 2005
In July, 2003, President George W. Bush remarked that "Professor James Q. Wilson may be the most influential political scientist in America since the White House was home to Professor Woodrow Wilson. ... He writes with authority on a range of subjects, from the workings of government to the causes and prevention of crime. Whatever his subject, James Q. Wilson writes with intellectual vigor, with moral clarity ... And now it is my honor to present the award [the Presidential Medal of Freedom] ...."

Over the past four decades, Wilson has earned an international reputation for his research, writing, and insight on all manner of political, social, economic, and criminological issues. The twelve books (which include The Moral Sense (1993), Bureaucracy: What Governments Do and Why They Do It (1991), and Crime and Human Nature: The Definitive Study of the Causes of Crime (1985)) he has authored or co-authored have helped shape public policy on juvenile delinquency, drugs, penology, and government regulation of business. His service on national commissions includes membership on the Attorney General's Task Force on Violent Crime (1981) and the President's Foreign Intelligence Advisory Board (1985-1990), and chairmanship of the White House Task Force on Crime (1966) and National Advisory Commission on Drug Abuse Prevention (1972-73).

To Wilson, character— and the conditions under which it may develop— has always been a primary civic concern, and a matter that should be of paramount importance not only to social scientists, but also to legislators, teachers, and leaders in local, state, and national government. In his Athenaeum address, he will talk about recent developments in character-related programs— welfare, education, and crime— and about what may account for such trends as the recent decline in felony violence within the U.S. at a time when other industrial democracies have seen marked increases.

Professor Wilson appears as this year's Ricardo J. Quinones Distinguished Lecturer. Established in honor of the founding director of the Family of Benjamin Z. Gould Center for Humanistic Studies, the Quinones Lectureship brings to the Athenaeum some of the world's preeminent intellectuals, writers, and public figures. Professor Wilson's talk is co-sponsored by the Gould Center and the Salvatori Center for the Study of Individual Freedom in the Modern World.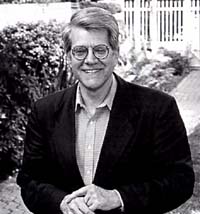 Measuring the Value of a Statistical Life: Problems and Pitfalls
ORLEY ASHENFELTER '64
TUESDAY, MAY 3, 2005
Orley Ashenfelter is Joseph Douglas Green 1895 Professor of Economics at Princeton University. Ashenfelter graduated from CMC in 1964, and completed his Ph.D. at Princeton in 1970. He has since been on the faculty at Princeton, and has held various visiting positions and fellowships. He edited the American Economic Review from 1985 until 2001, and was co-editor until 2002. He co-edited the Handbooks in Labor Economics series, and currently edits the American Law and Economics Review, in addition to holding other editorial positions. He has been the recipient of many awards, including the IZA Prize in Labor Economics in 2003. He recently became a Corresponding Fellow of the Royal Society of Edinburgh. This learned society has included among its ranks Adam Smith (co-founder), Charles Darwin, and many others of note.

Ashenfelter's research, contained in countless journal articles, spans an array of topics, primarily, but not exclusively, in labor economics. His early work led to the development of rigorous methods for the quantitative evaluation of social programs. Among methods he has developed is the use of "natural" experiments to infer causality, such as using twins to control for genetic factors that may confound the estimation of the effect of schooling. Some of his recent work has focused on auction markets, such as those for wine and art. His upcoming talk at the Athenaeum will focus on the "problems and pitfalls" of "measuring the value of a statistical life." In this work he uses mandated speed limits to infer something about the value of life.

The department of economics annual presentation of awards will immediately precede Professor Ashenfelter's lecture.