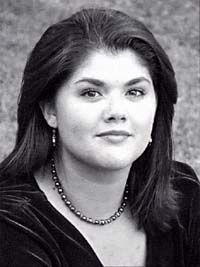 A Recital of Songs and Arias
TARYN BENARROCH '05, soprano
MARIBEL LIM, piano
MONDAY, APRIL, 11, 2005
Taryn Benarroch began her musical studies at age seven with the violin, which she pursued until the end of high school. During her freshman year at Ramona Convent Secondary School in Alhambra, CA, she joined the concert and chamber choirs, and has been singing ever since.

Taryn is a senior completing a dual major in government and music. She pursues her music major through Pomona College, and studies there with Donald Brinegar, conductor of the nationally acclaimed Donald Brinegar Singers, recently featured at Walt Disney Concert Hall. In the fall of 2003 she studied abroad in Milan, where she enrolled at the Accademia Internazionale Della Musica, the undergraduate conservatory. In addition to instruction under New York City Opera soprano Patrizia Zanardi, she took classes in performance practice and opera translation and interpretation.

During the summer of 2004 Taryn traveled to Burgas, Bulgaria, where she sang the role of First Boy, and understudied the role of Papagena in W.A. Mozart's Die Zauberfloete (1791) (The Magic Flute) at the Burgas Opera Festival. After graduation Taryn plans to work in New York or Washington, D.C. before going to law school. Taryn's program will include pieces by Bellini, Faure, Handel, Schubert, and arias from Mozart's The Marriage of Figaro (1786) and Puccini's La Boheme (1896).