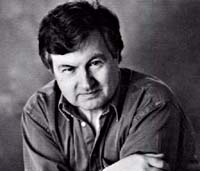 History, Truth and Memory: Reflections on the Irving-Lipstadt Libel Case
RICHARD EVANS
MONDAY, APRIL 18, 2005
LUNCH 11:45 a.m., lecture 12:15 p.m.
Writing in The New Criterion in May, 2001, David Pryce-Jones identified "an underworld ... of people who believe that we are deceived about the nature of much recent history in general and the Second World War in particular. To them, Hitler was a great man and Churchill was evil. To bypass the objection that Hitler launched not only war but also mass murder on a continental scale, these people have to deny that there ever was a Holocaust, that nothing much happened to the Jews in the war, or if it did then they deserved it and more." Within the "underworld" Pryce-Jones describes, one David Irving, putatively a historian and authority on the Third Reich, has long held sway. Irving has maintained that Hitler knew nothing of the Holocaust before 1943, nor did he order or was he in any way responsible for any systematic extermination of European Jewry. Irving once told a Canadian audience that "more people died on the back seat of Edward Kennedy's car at Chappaquiddick than ever died in a gas chamber at Auschwitz." Yet it was Irving who, in January 2000, approached the High Court on London's Strand as the plaintiff in a notorious libel case. His charge: that Deborah Lipstadt, Professor of Jewish Studies at Emory University, had, in her 1993 book, Denying the Holocaust: The Growing Assault on Truth and Memory, irreparably damaged Irving's reputation by singling him out as a falsifier whose denial of the Holocaust was motivated by a personal agenda to exonerate Hitler and Nazism. Because of Britain's peculiar libel laws, which impose upon the defendant the burden of proof, it was Lipstadt and her publisher, Penguin Books, who found themselves on trial.

Professor Richard Evans was retained by the defense as historical advisor and expert witness, helped carry the day for Lipstadt and her publisher. In the ruling of Justice Charles Gray, Evans had provided evidence sufficient to prove that the plaintiff did indeed have a political agenda that "disposes him, where he deems it necessary, to manipulate the historical record." Ultimately, Irving's libel action was rejected.

Richard Evans, Professor of Modern History at Gonville and Caius College, Cambridge (UK), has written extensively on German history. Currently at work on a large-scale history of the Third Reich, Evans has also authored In Hitler's Shadow: West German Historians and the Attempt to Escape from the Nazi Past (1989); and Telling Lies About Hitler: History, the Holocaust, and the David Irving Trial (2002). In his Athenaeum talk, Evans will address issues of historical objectivity, relativism, and perspective in the light of his experience in the Irving-Lipstadt libel case. Professor Evans's talk is cosponsored by the Family of Benjamin Z. Gould Center for Humanistic Studies and the Center for the Study of the Holocaust, Genocide, and Human Rights.