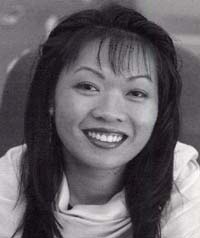 Leaving the Killing Fields Behind: A Quest for Social Justice and Human Dignity
CHIVY SOK
TUESDAY, APRIL 19, 2005
In 1975, the Khmer Rouge took over Cambodia and enslaved the entire population. Overnight, all Cambodians were stripped of their rights and individuality and forced to work as slaves to help build the Khmer Rouge's utopian society. At the end of the process, approximately 1.7 million people died of torture, summary execution, starvation, and malnutrition.

Chivy Sok, a child survivor of the Cambodian Killing Fields, will talk about life under the Khmer Rouge and the journey that led her to international human rights advocacy. As an advocate for international human rights with a focus on child labor issues, Sok is currently collaborating with several institutions to advance the teaching and curriculum development about child labor.

Most recently, Sok served as the Deputy Director of the University of Iowa Center for Human Rights (UICHR) and Project Director of the $1.2 million Child Labor Research Initiative at the University of Iowa. Prior to joining the UICHR, she worked as a consultant to the Cambodian Association of Illinois that raised funds to build the first Killing Fields Memorial and Museum in the United States.

Chivy Sok earned a B.A. in Political Science from the University of California at Santa Barbara and a Master of International Affairs degree from Columbia University School of International and Public Affairs with a special concentration in East Asia and human rights.

Chivy Sok's Athenaeum presentation is held in observance of April 17, the day 30 years ago when Cambodia fell to the Khmer Rouge. She is sponsored by the Center for the Study of the Holocaust, Genocide, and Human Rights.