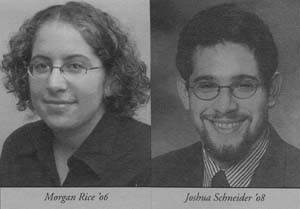 ATHENAEUM STUDENT FELLOWS 2005-06
MORGAN RICE `06
JOSHUA SCHNEIDER `08
A native of Oakland. CA, Morgan is a senior government major at CMC. On campus, Morgan has been involved with Upward Bound tutoring, the Keck Institute for International and Strategic Studies, and the Pomona College Orchestra. Last year she spent a semester studying in Beijing and since then has been an enthusiastic resident of Southern California. Morgan is particularly interested in developing an Athenaeum series focusing on Law and Economics.

Joshua Schneider, a history and government major at CMC, spent most of his youth in Hastings-on-Hudson, New York. During his sophomore year he hopes to continue to achieve success academically as well as fulfilling his responsibilities as student fellow at the Athenaeum and the Rose Institute for State and Local Government. Josh's plans for the Athenaeum tend to focus on public policy, journalism, and government.

The Athenaeum has a reputation for bringing distinguished speakers and artists to campus. You will not be disappointed this year.