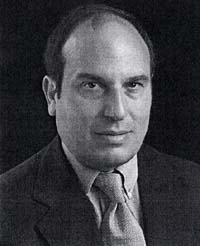 Barton Evans and H. Andrea Neves Professor of Literature Installation Lecture
Tree of Life or Burning Bush: Science and Myth in the Age of Politics
ROBERT FAGGEN
THURSDAY, SEPTEMBER 8, 2005
Debate about whether and how to teach evolution continues to flare in the United States, with a great deal of concern from many about the stakes for our humanity and freedom of intellectual exchange. Who has or should have authority in this debate?

Since coming to CMC in 1988. Robert Faggen has been interested in the interaction between science and faith in the modern world, particularly its expression in literature. He has taught seminars on that topic, including one with Podlich Distinguished Fellow, philosopher Leszek Kolakowski, as well as courses on "Literature in the Age of Darwin," and "The Bible." The author of Robert Frost and the Challenge of Darwin (Michigan 1997, 2001), his research in modern literature focuses on those writers — from Robert Frost to Czeslaw Milosz and Ken Kesey — for whom literature has been a way to assert independence of mind and to demand justice in light of the political, religious, and scientific pressures of their times.

Faggen is the first holder of the Barton Evans and H. Andrea Neves Chair in Literature, a gift to CMC given in the spirit of academic freedom and social justice. Faggen is the editor of The Writings of Robert Frost, and the first volume, The Notebooks of Robert Frost, is forthcoming from Harvard University Press. His edition of Herman Melville's poetry will be published by Penguin Classics this spring, and he is also working on a biography of novelist and renegade Ken Kesey for Farrar, Straus & Giroux. A graduate of Princeton University, Faggen earned his M.A. and Ph.D. from Harvard. He has been a Graves Fellow and a National Endowment for the Humanities Fellow.

Faggen is also a founder of the Czeslaw Milosz Archive and Institute.