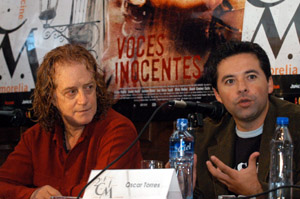 Innocent Voices
OSCAR TORRES
MONDAY, OCTOBER 24, 2005
FILM SHOWING, 6:00 p.m.
When civil war broke out in El Salvador in the early 1980s, Oscar Torres, like all Salvadorenos, feared stray bullets. As an 11 year old boy, though, he faced a graver threat: conscription.

Innocent Voices (2004) is the graphic true story of Torres's struggle to dodge the government's routine youth roundups and bear the harrowing alternative — fighting for the guerilla movement, Farahunclo Marti parer la Liberation National.

This intimate, gripping portrayal of war and childhood resonates not only with the history of El Salvador but also with the estimated hundred of thousands of children currently involved in armed conflict worldwide.

Now 33 and a resident of Los Angeles, Torres co-wrote the screenplay with director Luis Mandoki. Scheduled to open in the U.S. on October 14th Innocent Voices has already received awards for best picture at international film festivals in Seattle, Berlin, and Toronto. Last year it was Mexico's entry to the Academy Awards.

The reception and dinner will be altered slightly in order to accommodate the showing of the film: the reception will begin at 5:00 p.m.. dinner at 5:30. with the film beginning at 6:00. Following the film, Oscar Torres will be interviewed by CMC Professor Gaston Espinosa and take questions from the audience.

Oscar Torres's visit to campus and the CMC screening of Innocent Voices are jointly sponsored by the Gould Center for Humanistic Studies, the Center for the Study of the Holocaust, Genocide, and Human Rights, the Chicano/Latino Student Affairs Center, and the Athenaeum.