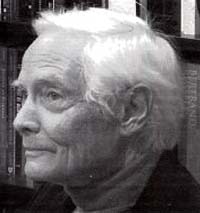 The Poet in Nature
W.S. MERWIN
THURSDAY, OCTOBER 27, 2005
Over the course of a career that has spanned five decades, W.S. Merwin has become one of the most influential poets in America. His deep personal beliefs, profound love for language, and constant ability to renew and reinvent his poetic persona have led to widespread recognition among both literary and popular circles. His first published work, A Mask for Janus, came in 1952 as a part of the Yale Younger Poets Award, which was chosen by W.H. Auden. He won the Pulitzer Prize in 1970 for The Carrier of Ladders (1970), a book of poems, and his career would eventually include poetry, prose, translations, essays, and a personal memoir Summer Doorways, published in September 2005.

In 1999, Merwin was named Poetry Consultant to the Library of Congress along with poets Rita Dove and Louise Gluck. Besides the Pulitzer Prize he is also the recipient of the Tanning Prize, the Bollingen Prize, and the Ruth Lilly Poetry Prize, as well as the beneficiary of the prestigious Lannan Lifetime Achievement Award. In 2005 he was honored as laureate of the Struga Poetry Evenings Festival in Macedonia, and in the process he received the Golden Wreath Award, a prominent award in international poetry.

Merwin finds much of his motivation in the natural world, and his deeply held environmentalist and pacifist beliefs seamlessly blend together to discover the relationship between nature and the language of mankind. His lecture at the Athenaeum will delve into these personal beliefs that shape the writings of one of America's premier literary minds.