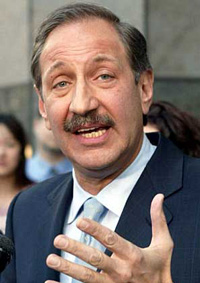 Sometimes Justice Takes Time
MARK GERAGOS
MONDAY, NOVEMBER 21, 2005
As Turkey attempts to gain entry into the European Union over the next decade, one of the thorniest dilemmas facing both parties concerns the Armenian Genocide of 1915. In that horrific episode, which most western scholars and an increasing number of Turkish scholars believe was largely perpetrated by the authorities of the Ottoman Empire, an estimated 1.5 million Armenians died during the course of their displacement and the subsequent massacres that took place. The Turkish government refuses even today to designate the affair "genocide", instead alleging that the deaths occurred as a result of the anarchy and disintegration of the Ottoman Empire in the later stages of World War I; but its position is widely rejected among western governments and Armenian historians. The issue hangs as a Sword of Damocles over Turkey's efforts to integrate into western and global institutions.

One of the many fronts on which this fight is waged is the legal front, and it is here that Mark Geragos is determined to win justice on behalf of the descendants of the Armenian genocide. Mr. Geragos, a managing partner in the Los Angeles based law firm Geragos & Geragos, has twice successfully represented Armenian descendants in class-action lawsuits against insurance companies whose subsidiaries engaged in business within the Ottoman Empire. On behalf of his clients, who could number over 5,000, Mr. Geragos has won settlements of $20 million from the New York Life Insurance Co. and $17 million from AXA, an insurance company based in France but with holdings in the United States. Geragos has publicly stated that, beyond financial compensation, his ultimate goal is to help in the effort to gain official recognition of the Armenian Genocide.

The lecture and conversation with Mark Geragos at the Athenaeum is sponsored by the Center for the Study of the Holocaust, Genocide, and Human Rights at Claremont McKenna College.