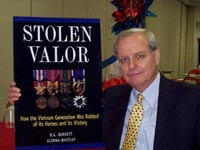 Commemorating Veteran's Day
After Vietnam: The Myth, the Media, the Truth
B.G. BURKETT
THURSDAY, NOVEMBER 10, 2005
Three decades later, "the only war America ever lost" continues to haunt the national consciousness. Major Hollywood movies, bestselling books, and scores of newspaper articles have documented a generation of Vietnam veterans disabled both physically from Agent Orange and psychologically from Post Traumatic Stress Disorder.

In the mid 1980s, Vietnam veteran B.G. "Jug" Burkett began to question society's hardened veteran stereotypes. In a decade of research at the National Archives Burkett discovered what he interpreted to be a massive distortion of history perpetuated by the entertainment industry, the Veterans Administration, and the legal system.

In his controversial book, Stolen Valor: How the Vietnam Generation Was Robbed of Its Heroes and Its History (1998), Burkett seeks to debunk myths about which segments of the population actually fought in Vietnam and how they felt about participating. Stolen Valor also exposes more than 1,200 people, including politicians and entertainers, who fabricated claims of serving in the war.

For his work defending the honor of American troops, in 2003 Burkett received the Army's Distinguished Civilian Service Award from former President George H. W. Bush. He has also been the object of numerous journal articles as well as an award-winning segment on ABC's "20/20."

B.G. Burkett is a graduate of Vanderbilt University and the University of Tennessee. He served in Vietnam with the 199th Light Infantry Brigade and was awarded the Bronze Star Medal, Vietnamese Honor Medal, and Vietnamese Cross of Gallantry with Palm.

B.G. Burkett's visit to the Athenaeum is hosted by the Claremont McKenna College Army ROTC program.