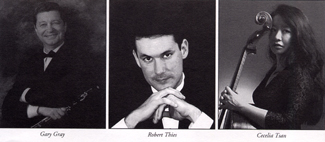 Tres Amis Trio: 19th Century German Romantic Chamber Music of Beethoven, Schumann, and Brahms
GARY GRAY, clarinet
ROBERT THIES, piano
CECILIA TSAN, cello
MONDAY, JANUARY 23, 2006
The Tres Amis Trio came about when three musician friends decided to combine their talents and perform the chamber music masterworks composed for their combination of instruments....cello, clarinet and piano. Cellist, Cecilia Tsan and pianist, Robert Thies have concertized together in the Thies Piano Quartet along with violinist, Roger Wilkie and violist, Brian Dembow. Clarinetist, Gary Gray and Cecilia have collaborated on the Pacific Palisades concert series, and Robert and Gary first played together on the Sedona Chamber series, along with the New Hollywood Quartet.

The instrumental combination of clarinet/cello/piano has attracted many composers, including two featured on today's program, Beethoven and Brahms. Other composers would include Vincent D'Indy, Mikhail Glinka and Robert Muczynski. The wide range of tessitura and dynamic possibilities, as well as the color contrast between string, wind, and keyboard, makes this Trio combination one of the most successful of all such mixed ensembles. This program can be thought of as a trip through some of the best of 19th century German Romantic chamber music; with the Beethoven Trio Op. 11 being at the beginning of the 1800s, the Schumann "Fantasy Pieces" from 1849, and the Brahms Trio Op. 114 coming at the end of that century.

The Athenaeum is honored to open spring semester 2006 by hosting this distinguished trio of musicians in a concert sponsored by the Gould Center for Humanistic Studies.