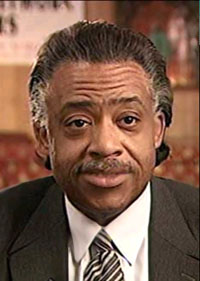 CMC'S 18th ANNUAL LECTURE COMMEMORATING THE BIRTHDAY OF MARTIN LUTHER KING JR.
Revisiting the "Dream"
AL SHARPTON, JR.
WEDNESDAY, JANUARY 25, 2006
6:45 p.m. McKenna Auditorium
When an injustice has occurred, the victims don't look for the public official with the most credentials, or the preacher with the largest church. They just call Rev. Al and they know that he 'll do something about it.
-Rev. Jesse Jackson

For more than two decades Rev. Al Sharpton has played a major role in virtually every move for civil liberty, community empowerment and economic equality. As founder and president of the National Action Network (NAN), Rev. Sharpton heads an organization that fights for progressive, people-base social policies by providing extensive voter education and registration campaigns and economic support for small community businesses.

Recently, Sharpton signed a contract with Matrix Media, Ind., to produce and host a live daily talk program for the EBN Radio Network. He joined forces with former New York City Mayor Ed Koch and Harvard Law School professor Charles Ogletree to form "Second Chance," a program for non-violent felony offenders who have served their prison sentences. The project offers counseling and support for ex-convicts with non-violent records and is available to all without regard to race or gender.

Known as "The Wonder Boy Preacher," Rev. Sharpton was licensed and ordained by legendary Bishop F.D. Washington and was appointed Junior Pastor of the 5,000 member Washington Temple Congregation in Brooklyn.

Interested in politics since the age of 12, Rev. Sharpton has run for political office in several unsuccessful bids: as a candidate for the New York State Senate (1978); the U.S. Senate (1992 and 1994); the mayor of New York City (1997); and the U.S. Presidency (2004).

The 5:30 to 6:30 p.m. buffet reception will be held at the Athenaeum and attendance is by reservation only. The lecture will be held in McKenna Auditorium and is open to the public with seating on a first come basis.