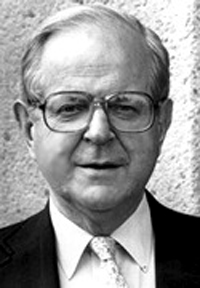 The Open Society and the Open Mind
ROBERT CONQUEST
MONDAY, JANUARY 30, 2006
Robert Conquest argues that the culture of Law and Liberty embodied in the U.S. Constitution, and more generally in the political institutions of the English-speaking countries, is subject increasingly to distortion, misunderstanding, and, in effect, disruption by ideological thinking.

Anglo-American culture accepts that institutions grow on the soil of custom and tradition, and thus begets a philosophical, pluralist outlook. But the culture of the free society faces the temptation of ideology or theoretical simplification, which at worst produced and still produces the unfree society, and at best induces a narrowing of social and political consciousness. To resist this temptation and defend the open society and the open mind, history – a variety of histories from Russia to France, from England to India – must speak to us.

To make this argument in behalf of the free society, the Henry Salvatori Center for the Study of Individual Freedom in the Modern World is proud to welcome to the Athenaeum the distinguished writer and scholar Robert Conquest.

Conquest is the author of twenty hooks on Soviet history, politics, and international affairs, including The Great Terror: Stalin's Purge of the Thirties (1968), and most recently The Dragons of Expectation (2005). He has been literary editor of the London Spectator, has brought out seven volumes of poetry and one of literary criticism, edited the seminal New Lines anthologies, and published a verse translation of Aleksandr Solzhenitsyn's epic Prussian Nights: A Poem (1977). He has also published a science fiction novel and is joint author, with Kingsley Amis, of The Egyptologists (1968).

Educated at Winchester College, the University of Grenoble, and Magdalen College, Oxford, he was an exhibitioner in modern history and took his B.A. and M.A. degrees in politics, philosophy, and economics and his D. Litt. degree in Soviet history. Ile served through World War II in the British infantry and thereafter in His Majesty's Diplomatic Service.

In 1996 Conquest was named a Companion of the Order of St. Michael and St. George. His other awards and honors include the Order of the British Empire, the Jefferson Lectureship, tthe Richard Weaver Award for Scholary Letters, the Alexis de Tocqueville Award, and the Presidential Medal of Freedom.